Talkin' Baseball with Kazuhiro Yamauchi
The Baseball Series > Matsuzaka > Trey Hillman > Gyroball > Kazuhiro Yamauchi > Bobby V. > Rakuten
"Pine tar. You can never use enough." This was the Captain's motto during his playing days whenever he found himself caught in a slump. It also might explain his eventual transition to alcoholism...er...journalism.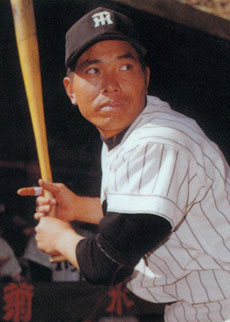 This week he is talkin' baseball with Kazuhiro Yamauchi, one of Japan's legendary hitters. Read on to see if the Captain can reach that slider just off the outside edge
Just be the ball. Be the ball. Be the ball...
During his playing days, Kazuhiro Yamauchi measured five-foot-nine and weighed 170 pounds - a modest frame by today's baseball standards for a power-hitting leftfielder.
Instead of brawn, he relied on concentration to lead him to 396 home runs, a lifetime .295 average, and one MVP award during his 17-year career that began in the early 1950s.
"From when I was a rookie, I imagined the ball being hit before the pitch was delivered," explains the seventy-three-year-old from his office in Nakameguro, Tokyo.
This method, which he calls "image training," took him all the way to the Japanese Hall of Fame in 2002.
"I was good because I had strong concentration," he says.
As a player, manager, and coach, Yamauchi has emphasized bat control and a steady eye, in addition to a keen focus, as the keys to hitting. This old-school approach might seem simple but it has earned him the reputation as one of Japan's premier hitting technicians.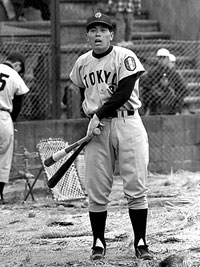 Every player has his own hitting theory, explains Yamauchi. But the general hitting philosophies of Japan and the big leagues are quite different.
"Willie Mays," says Yamauchi, "had a compact style that allowed him to not only try for home runs but also hit for a high average. On the other hand, Mickey Mantle swung the bat in a big, sweeping stroke to hit home runs."
With each, though, the key was timing.
Yamauchi, who began his career with the Orions franchise before continuing on to the Hanshin Tigers and Hiroshima Carp, clearly remembers many years ago when a sports writer asked an American player during the "hero" interview, which customarily takes place on the field after a game in Japan, what type of pitch he had hit during a key at-bat. All the slugger could offer was that he hit a nice pitch that came over the plate.
"The player didn't care if it was a fastball, curve, or slider," Yamauchi says in amazement. "Timing was the most important thing to him."
Timing is vital to Yamauchi, too, but only in a relative sense. Bat control is first.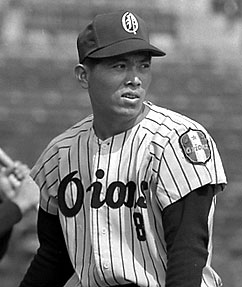 Players in Japan often wait at the plate with the bat gripped just below the chin, elbows in tight against the sides. As the pitcher winds and completes his delivery, the batsman will drop and raise his hands just slightly.
The major difference, explains Yamauchi, begins once the bat starts moving through the hitting zone. "American and Latin American players don't use their front shoulder," says Yamauchi.
As exemplified by Ichiro Suzuki, the Japanese hitter will straighten his leading elbow and drag the bat with his front shoulder, trying to adjust to the pitch location by moving his arms and bat together.
Dubbed the "just meet" swing in Japan, it contrasts mightily with the corkscrew twists that often sent Mickey Mantle and Reggie Jackson to their knees.
Yamauchi lead the Pacific League in batting in 1957 (.331). He collected four Pacific League RBI titles and two home run crowns in the late 1950s and early '60s. He made the "Best Nine" team, an end-of-the-year collection of each league's best players, ten times. His Pacific League MVP award came in 1960, a campaign in which he belted 32 home runs, drove in 103 runs, and batted at a .313 clip.
"I simulated how to hit every pitch," he says of his mental practice routine in his playing days, "whether it be a fastball, curve, or change. So when I dug into the batter's box, I was able to move and swing naturally... and knock the ball into the bleachers."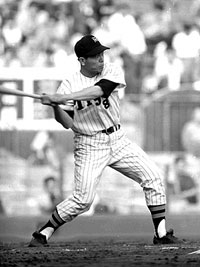 Experience and practice eventually allowed him to break down a pitch's trajectory. He realized that he could determine the type of pitch once a ball was three to 4 meters from the plate. Within the two- to 3-meter range, he decided whether to swing or not.
In 1960, Yamauchi's intense focus on hitting resulted in one of the more bizarre plays in the history of Japanese ball. With the bases loaded, a full count and two outs in the eighth, and his Daimai Orions trailing 3 to 1 to the Toei Flyers at Tokyo's Komazawa Stadium, Yamauchi swung and missed at a low-and-inside pitch, Yamauchi's admitted weakness.
When the ball slipped past Flyers catcher Junzo Ando to the net, a dejected Yamauchi trudged toward the dugout, his head down and forgetting that he should run to first.
"Go back to the bench, Yamauchi!" heckled the Flyers manager.
But the Orions players screamed otherwise. "Go! Go to the first base!"
By then, Ando and the rest of the Flyers had assumed the out was conceded. And with the runners moving on the pitch, it was the Flyers' best chance; at least two runs would have likely scored if the out was not deemed to have already been recorded.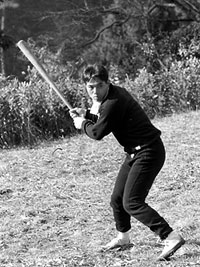 But given that a force-out at the plate was not made and Yamauchi not tagged, the umpire didn't make a call. So Yamauchi collected himself and headed down to first. He soon came around to score as well when the confusion continued to engulf home plate. The Orions wound up victorious, 5-3.
After the conclusion of his playing career in 1970, Yamauchi dabbled in managing and coaching throughout the 1970s and '80s.
"Stan Musial told me," he remembers, "that Japanese hitters do not understand their own strike zone. Not the zone in rulebook, but the one in which the player can hit within easily. He said American players focused on that zone. I was a young boy then and didn't understand the meaning."
He does now, and it is something he tries to impart on his disciples, one of which included Ichiro during his initial years with the Orix Blue Wave.
"Ichiro didn't know what I was talking about during his first year," Yamauchi says of the difficulty in realizing that such a zone is critical. "But he told me he understood by the second."
Yamauchi, who today sells sports-related products through his company Eight Yamauchi (named after his jersey number), believes that a hitting coach must correct peculiarities in a player's form while not altering his hitting style. This is as true for a contact hitter like Tony Gwynn as it is for a thumper like Mark McGwire.
But after the pitch has started its approach to the plate, it is up to the batter to put the bat on the ball.
"I can only give advice," Yamauchi says. "I cannot demand that a player do one thing or another. It is up to his feeling and instinct."
Be the ball...
Note: Tomotada Yamamoto and Natsuki Fukuda contributed to this report from the Tokyo Bureau. Photos courtesy of Eight Yamauchi.
The Baseball Series > Matsuzaka > Trey Hillman > Gyroball > Kazuhiro Yamauchi > Bobby V. > Rakuten