Japanese Baseball's Search for Line Drives
Thoughts from Former Foreign Players
In my office in the newsroom one recent morning, I stood, feet slightly spread at the plate (my trashcan), with a gleaming black bat gripped in my hands over my left shoulder. I stared out to the mound (the doorway), waiting for the pitcher to deliver his first pitch. He dangled his right arm down at his side and shook his hand. As he checked the catcher's sign, he wiped his fingers on his right pant leg. With some heavy thunder waiting in the on-deck circle (my ashtray), I then began to quickly wag the bat back and forth, anticipating a grooved fastball out over the plate. He reached into his glove and began his windup.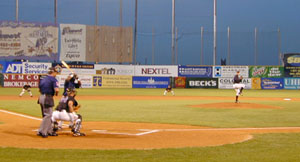 The pitch (an annoying woman's voice) came sailing in high and tight: "So you come back from covering the Newark Bears and all of a sudden you think you're a hitter with power to all fields?"
I ducked and it (the voice) smacked the wall behind me. When I returned my gaze to the pitcher's mound, I saw junior reporter Junko grinning in my doorway and motioning for another ball.
I dropped the barrel onto the floor and leaned on the knob with my left hip. I crossed my left foot over my right. "A simple 'welcome back' would have sufficed, my dear."
"There isn't time for pleasantries when there are stories to report," she said. "Especially considering that potentially many more Japanese players will soon follow the lead of Ichiro, Shinjo, Sasaki, and Nomo and head stateside, perhaps as early as next year."
I slouched back in my chair, put the bat on my left shoulder and performed a double play - collecting my lighter and pack - with my right.
"Did any players on the Bears roster that spent time in Japan give any insight into the state of the Japanese game?" she wondered. "Or did you just practice taking outside pitches to the opposite field?" She then frowned, as she is wont to do.
I lit a cigarette.
"A hundred bucks if you hit the screen on the next pitch with a line drive," Newark Bears manager Tom O'Malley says while leaning on the batting cage as one of his players takes some swings just prior to their Atlantic League match-up with the Somerset Patriots.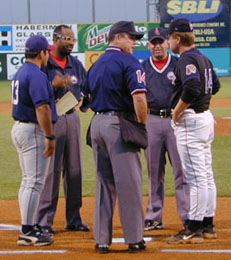 Tom O'Malley (right) going over the pre-game ground rules

The next ball is hit long and far over the left field fence and into the screen above the brokerage company billboard at the Bears' home park Riverfront Stadium. "I was talking about the screen in front of the pitching mound!" O'Malley barks and then laughs while shaking his head. The player shrugs his shoulders and steps aside as the next hitter jumps in the cage for his hacks.

Though a lot of the Bears players are veterans (recently Jim Leyritz and Jose Canseco spent time on the Bears' roster) that use the team as a proving ground for a shot back in the majors (the Atlantic League is an independent minor league), preaching the fundamentals of the game, like hitting line drives back through the middle, is still what Tom O'Malley emphasizes to all his players. It is this approach and his desire to recruit true team players that has steadily improved the Bears' record since their inception in 1998. In fact, this year the Bears have clinched a playoff spot.

When considering the fact that O'Malley spent a considerable amount of his career in Japan (Hanshin Tigers, 1991-94 and Yakult Swallows, 1995-96), it is not surprising then that his idea of a true team player consists of one who is very coachable, highly disciplined, and always willing to give 150% - in other words, a guy that is pretty darn close to fitting the mold of the average Japanese ballplayer. The one-time Central League batting champion (1993) explains, "I wish I could have 25 guys from Japan. At times you have to babysit the other players, but not the Japanese, they're hungry."

But with Japan not exactly being in the vicinity of Newark, New Jersey and the lack of any significant monetary incentive (the maximum salary for any player in the Atlantic League is only $3,000 per month), getting players to come from Japan is not quite feasible. So O'Malley tries the next best thing - collect former Japan foreign players, or suketto (helpers), that still have what it takes to throw a lot of innings or hit for a decent average. "I know most guys that go to Japan are obviously good players," he says, "but they are also good people. Those are the kinds of guys I want on this team. They make my job easier. Not only are they good athletes, they are like player-coaches. They make for a good chemistry and a good clubhouse. It's a good fit for all of us."

The reason for this is that in order to succeed in Japan, the foreign ballplayer generally has to first adapt to certain cultural concepts. These primarily include developing a sense of unity and team spirit, collectively referred to as wa. Playing baseball comes second.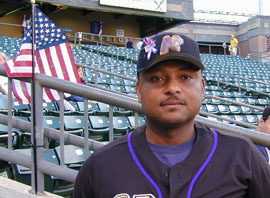 Dwayne Henry

As a result, showboats and players with Barry Bonds-like mannerisms are frowned upon. The team comes before the individual. O'Malley says of the foreign player in Japan, "You can't be a prima donna. You can't be a guy that expects to be catered to. You have to earn respect. You cannot cause waves. You cannot be disruptive. You can't be a jerk. You have to be a good guy." Dwayne Henry, former pitcher for the Chunichi Dragons, puts it bluntly, "You have to work really hard and keep your mouth shut if you want to succeed over there."

Japan's game today, however, is not quite the same one that O'Malley's good guys hit, ran, and threw in just a few years ago. It is in a state of flux. Star players have defected (Ichiro Suzuki, Kazuhiro Sasaki, Tsuyoshi Shinjo, Hideo Nomo et al.). Others are talking about it. Also, as the Los Angeles Times reports, TV ratings are down 15% and attendance for the Ichiro-less Orix Blue Wave is off 40%. Even the fans are decrying the Japanese game in the press. One fan says in the Times, "These days, watching major league baseball is more exciting than watching games in Japan." This fan would have to be a frustrated Blue Wave fan, right? Or maybe a saddened Yokohama Bay Star backer? Nope, it's Prime Minister Koizumi.

What then has become of the Japanese game where even its head of state has lost interest? Will the loss of more players to the major leagues make the situation even more dire? What direction will the game take in the future? Could allowing more foreign players on Japanese team rosters to achieve a sort of "balance" with the west be possible? Would it even be welcomed? O'Malley and his former Japan cohorts certainly don't have all the answers but they do like talking about their days in Japan.

"If I had to hit off Sasaki everyday," recalls outfielder Alonzo Powell, former Chunichi Dragon (1992-97) and Hanshin Tiger (1998), "I'd have been working at a ramen shop somewhere. He's one of the toughest pitchers I've faced in my life." As a result, Powell doesn't find the success of Sasaki at all surprising. Hensley Meulens, former Chiba Lotte Marine and Yakult Swallow (1994-96), concurs, "He was nasty. He was like Bryan Harvey. Hard fastball. Good splitter." In fact, with the exception of Shinjo's potent bat (he was just an average hitter in Japan), not one member of the Bears is surprised by the success any of the players from Japan have been enjoying in the major leagues in recent years.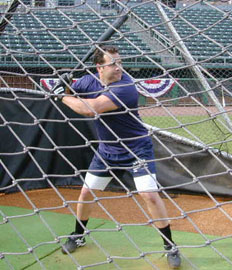 Pete Incaviglia

However, this success is leading to the decrease in popularity of the Japanese game, as fans increasingly turn their attention to major league box scores. And it appears to just be the beginning. A number of other stars are looking to come stateside as early as next year. Of those rumors, O'Malley says, "The two Matsuis could come [to the major leagues] and play well. Then Ishii is a good left-handed pitcher. I could see him winning 15-18 games over here."

The players he is referring to are Hideki Matsui, Kazuo Matsui, and Kazuhisa Ishii, the backbones of their respective clubs, the Yomiuri Giants, Seibu Lions, and Yakult Swallows. Former outfielder for the Chiba Lotte Marines (1995), Pete Incaviglia, describes the loss of players like these as being "like Michael Jordan retiring from basketball."

Indeed, it could be devastating to their teams as well as to the popularity of Japanese baseball. O'Malley says, "Those are the guys that are the big draws. Those are the superstars. You lose those kinds of players and it's got to take the wind out of the Japanese game. The Ichiros and the Matsuis don't come along that often, let's face it."

Still, the losses might not continue to be just in the form of superstars. Slightly better than average guys like Shinjo could add to the erosion as well. Incaviglia says, "There's a lot of Shinjos over there [in Japan], a lot of guys that can do all the fundamental things; play the game as a situational hitter and play solid defense."

Being a good all around ballplayer might be enough for a Japanese player to win over the fans and gain acknowledgement in the media in Seattle and New York. In Japan too, success by a foreign ballplayer is largely based on the basics of baseball: throwing strikes or hitting the ball out of the ballpark. But at the same time, expectations to perform immediately are high for the foreign player in Japan and slumps of any length of time are not tolerated. "If you don't start off fast, they're going to be all over you, blackball you," former Hiroshima Carp (2000) infielder Jeff Ball says.

This is because the foreign players are paid considerably more than their Japanese counterparts. As a result, they are expected to do better, and rightly so. But adjusting to sushi as well as seeing more breaking pitches all at the same time can be difficult. Often, players are run out of the country in the middle of their first season, never able to get comfortable in the batter's - or karaoke - box. Still, some see foreigners as the answer to Japan's present baseball woes.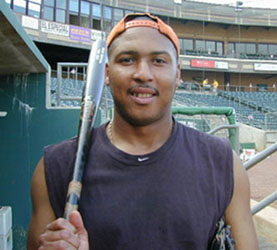 Alonzo Powell

The New York Times reports that "just as many economists say that Japan's prolonged recession is the price of heavy regulation and widespread protectionism, some critics of the game say that competition from the major leagues is just what Japanese baseball needs to revive itself." Powell couldn't agree more.

"What Japan has to do," he says "is open their market. Let the best players play. If you are from the moon and you can hit the ball or you can pitch, you should be able to play in Japan. Now that would make the Japanese talent have to get better. The only way to get better is to play the best."

Right now there is a limit in place that only allows two foreign position players and two foreign pitchers per Japanese team. Outfielder Greg Blosser of the Somerset Patriots says this puts a lot of pressure on the foreign players. He recalls his 1999 season playing for Seibu Lions manager Osamu Higashio as "a tough thing" and says that the tolerance to let a player get out of a slump by playing him is "very small." The large salaries that the foreign players receive tend to erase from a manager's mind the fact that baseball is a game of averages measured over an entire season.

While the high expectations are justified, finding a manager that has the patience to understand that there are 140 games in a season is helpful. In conversations with Phil Clark and Tuffy Rhodes of the Kintetsu Buffaloes, Tuffy told Blosser that both he and Clark struggled early on in their careers but that the manager "just kept throwing us in [the lineup] everyday."

Still, even achieving great success after early difficulties does not guarantee receiving the proper accolades one is due. Rhodes is finding that out this year. He is one home run shy of tying Sadaharu Oh's single-season record of 55 set in 1964. Yet product endorsements have been nonexistent and the New York Times reports, "One would have to search long and hard in the Japanese press to find a chart plotting his assault on the historical standard." David Picker in the Japan Times describes the treatment Rhodes is receiving from the Japanese media as akin to "a sideshow."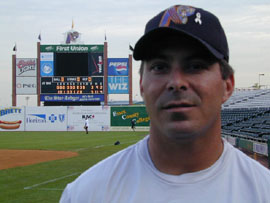 Jeff Ball

Ball sees it as a cultural difference. In the major leagues, the focus is just baseball. In Japan, he explains, "They don't want the foreign players to come in and break their records." Randy Bass of the Hanshin Tigers, the last foreigner to approach Oh's record, would have to agree. His experience of not seeing a strike in the last three games of the 1985 season, while he was stuck on 54 home runs, against the then Oh-managed Yomiuri Giants has gone down in Japanese baseball lore as the most glaring example of the protection to which Ball refers.

Compounding this lack of respect as a superstar is the selective amnesia that sometimes afflicts team management after a foreign player has had a number of productive seasons in Japan but follows them with a less than spectacular campaign. "I hit .300 five years in a row," remembers Powell, the three-time Central League batting champion (1994-96). "Then I had an off year, so to say, and I got released. I know that if I was Japanese that would have never happened."

In Rhodes's situation, his lack of credit could be due to the fact that he plays in the less popular Pacific League and that Japanese baseball simply is not that popular this year. Meulens likes to think that, like encountering a tolerant manager, a foreigner's popularity in Japan is a case by case situation. In speaking about Tom O'Malley's 1995 season when he was the Central League MVP, Meulens says, "They [the Japanese fans] knew him better than they knew their own prime minister. As far as his facial expression, they thought he was [Bill] Clinton. But they knew he was Tom O'Malley. So players do get their recognition."

But baseball is a universal game. If you play well, no matter where you are from or where you are, you'll generally get the attention you deserve. Japan is no different (unless of course you happen to be threatening to break a hallowed 37-year old record). Powell played winter ball in the Dominican Republic, Puerto Rico and Venezuela. He says, "It is the same. They love baseball, just like Japan. If you do a good job, the fans will respect you and love what you do." Meulens, in speaking about his days in Mexico, agrees, saying that since he speaks Spanish he found himself especially welcome in Mexico. But the popularity he achieved, he adamantly maintains, was mostly because of his hard play and "always doing the job to help the team win." He says in that sense the game is the same as in Japan.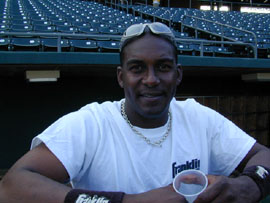 Hensley Meulens

However, the way the Japanese game is played on the field is unique. It has subtleties that exist no place else. "A lot of it is the culture," Meulens explains. "It is very passive, not very aggressive. You don't see too many guys diving for balls or breaking up double plays. It is not polite to play like that." Japanese fans fear this unique style of play could be lost if four or five foreigners are allowed on the field at the same time. Would the special character of the game today be replaced by a brand similar to that played in the major leagues?

"It won't change one bit. It's been like that for 120 years," Meulens says. "I don't care how many foreign players they take over there. They've taken foreign coaches over there and it didn't change. [Bobby] Valentine was over there for a year and he couldn't change anything. He had to leave. The way they think is never going to change."

I had worked the count full. I stubbed out my smoke in preparation for the payoff pitch. The pitcher wound up and delivered: "Well, I'm not so sure I agree with the last comment of Mr. Meulens," Junko said. "We Japanese are always open to new ways of thinking; take, for example, our recent reforms in construction contract bid rigging and bad bank loans."

I took a nice smooth cut: "Okay then, how about getting me a nice hot cup of coffee?"

She dashed out of the room and back to her desk in the newsroom, a screaming line drive up the middle.

Even though I didn't get the cup of coffee, I am sure Tom O'Malley would be proud of my hitting skills.

Note: Mark Sinclair contributed to this report. Baseball statistics were accurate as of press time. A special thanks goes out to Glen Fallon of the Newark Bears for organizing the player interviews.