Oh, No! Super Cab Comes Up Short
It was early morning on Tuesday and I was eagerly awaiting a brand new workday at my desk.
"When national holidays fall on a Monday, I always hope that the extra day will allow you to sober up after a weekend of drunken debauchery. But as the years pass, I've learned there is a better chance of banks disposing of bad loans..."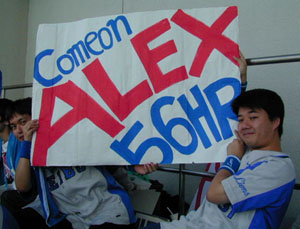 "Morning, my dear," I said, peeling my right cheek from my desktop and separating my eyelids with my fingers. Through a slight haze, junior reporter Junko came into view in my doorway. "Very, very busy yesterday," I assured.
"I can imagine," she said, her lack of sincerity glaring as much as her new brown dye job.
I took a stab at my pack of cigarettes on my desk, but missed, then squinted and said, "If you must know, yesterday was Cabrera's last chance to break the single season home run record. I figured on covering the story and getting myself a little souvenir." My glove sat next to my now empty styrofoam ramen container. After making circular motions with my thumbs against my temples, I reached again for my smokes. Strike two.
"Let me get this straight," she said, "with a ball coming screaming over the fence at your toasted noggin you were expecting to be able to unwrap your paw from your cup of beer for a moment to catch..."
My right index and middle finger immediately went into the air to clarify that it was most certainly both paws - each with cups. She acknowledged her foolishness by nodding and continued, "Anyway, did he hit the homer?"
I reached for my pack for a third time. A single past the mound and on into center.
They threw him strikes and the fans loved it.
The thunderous roars, drum beats, horns, and chants started in the Lions' left field cheering section when it was announced before the game that he was hitting leadoff and continued during each of his at-bats until he flailed at a pitch off the plate for strike three in his final try in the seventh inning.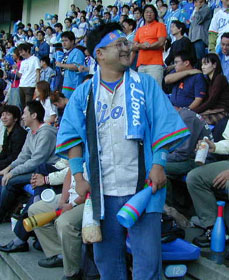 On Monday, Alex Cabrera of the Seibu Lions made his last attempt of the year at the single season home run record shared by Sadaharu Oh and Tuffy Rhodes. Frustrated by a lack of strikes in his four games since equaling the record, Cabrera missed again in his attempts to hit home run number 56. But, to their credit, the Chiba Lotte Marines gave him plenty of opportunities.
The burly Venezuelan slugger was battling more than just the opposing pitcher in these final few games. In recent years, it has become a ritual in Japanese baseball: protect the home run record from the foreign players by not throwing them strikes. A lot of fans though - including many in attendance on Monday - are growing tired of this practice. But even though he came up short, Cabrera's chase turned a meaningless game into a festive afternoon at the ballpark.
As the media were readying their fleet of cameras in the left field stands just prior to the start, fans showing off their Seibu blue attire chowed down on ramen and guzzled beer with ball gloves on their laps, all asking each other the question of the day: Will he see any strikes?
The protective antics first started with the legendary incident of 1985. With Randy Bass of the Hanshin Tigers at 54 home runs with two games to go, the Yomiuri Giants (managed by Oh at the time) didn't give him anything hittable in his final two games of the season. He walked in six of his nine at-bats, and in those three times where he didn't get a free pass, he swung at pitches far from being strikes. Then, near the end of last year with Rhodes sitting on 55 homers, the Fukuoka Daiei Hawks - also skippered by Oh - threw pitch after pitch out of the strike zone, walking him 4 times. Oh set the record when he hit 55 home runs while playing for the Yomiuri Giants in 140 games in 1964.
"The pitchers are always under the direction of the manager. So it is not up to them," explains 25-year old Tigers fan Yasuhisa Tadera, seated in the left field stands, of the practice of intentionally not throwing strikes.
Sitting behind Tadera is Eiji Matsumoto. "The Japanese just don't want the record broken by a foreigner," he says.
So then if a Japanese player approached the record, would he see strikes?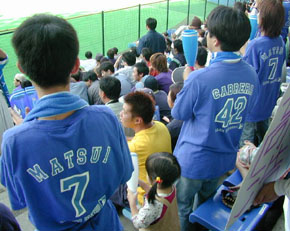 "If [Hideki] Matsui of the Giants, for example, were close, they'd give him a chance," admits Matsumoto, a 52-year old Giants fan, "The Japanese don't play fair."
When asked why this is, Tadera frowned a few times, sighed, and then said: "It is very difficult to say. But Oh and [others like him] have a very old way of thinking."
This "old way of thinking" designates the foreign player to be in a different category from the Japanese players. They are referred to as suketto, or helpers.
This reactionary philosophy goes beyond baseball; political and business relationships are often rooted in the commands given by an "old guard" of leaders and bosses that refuse to acknowledge or encourage change of any sort, no matter the consequences or lack of logic.
"In Japanese baseball," Tadera continues, "there are only three things: the wins, the losses, and the records." In other words, he implies, records are far too important to have just anyone break them.
Further to this, even though the plights of Bass and Rhodes get the most press, this sort of "strategy" is not limited to foreigners and the single season home run record. Japanese baseball history is filled with events where pitchers have not thrown strikes to opposing players in contention for a particular offensive title so as to allow their teammates to claim the title.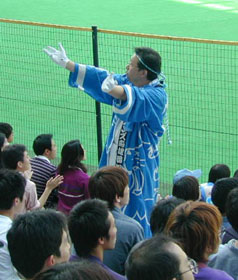 After Cabrera tied the record this year in his 135th game against the Kintetsu Buffaloes, he received the same kind of treatment as his foreign predecessors; he was walked, hit by pitches, and generally not given anything in the strike zone. In one game against Oh's Hawks, he was walked twice and hit by a pitch. Oh later defended his strategy as being necessary to attempt a come-from-behind victory.
Then things became really ugly last week at Kobe Green Stadium when fans tossed debris onto the field after Cabrera was intentionally walked by an Orix Blue Wave pitcher with a runner on second in the ninth inning. Though a legitimate strategy, given that it was a reasonably tight game and taking the bat out of Cabrera's hands was a smart move, the game was meaningless considering the Lions wrapped up the Pacific League title weeks before. This then was an opportunity for the fans to let out their ongoing frustration.
Lions fans encouraged Cabrera all day. Chants for him to smack the ball were heard each time he stepped up to the plate, "Katobase Cabrera! Go, go, let's go, Cabrera!" Posters splashed with his image and such encouraging words as "Super Cab" and "Come On Alex" were waved continually.
Marines pitchers, the only staff to truly give Rhodes anything to hit last year as the season wound down, challenged him from the start. Southpaw starter Koji Takagi threw him only one ball in his first 3 at-bats. There was a brief moment of tension in his final at-bat in the 7th inning when it appeared for a brief moment that right-handed reliever Masahide Kobayashi would give him an intentional pass with a runner on second. But when catcher Tomoya Satozaki settled down into his crouch, the fans roared their approval. Cabrera then wound up waving at three straight pitches down and away.
For Cabrera, his season is still not over. The Seibu Lions will meet the Yomiuri Giants in the Japan Series later this month.
"I want him to do it, I welcome it," Matsumoto says of Cabrera eventually breaking the record.
He and Cabrera will have to wait until next year.
Note: Yumi Hara contributed to this report from the Chiba Bureau.