The Meaning of Ichiro
A rifle for an arm. A gazelle's speed. A locomotive's power. Indeed, the scouting report on the Captain in his minor league days was impressive. The Hall of Fame never came calling, however, as the bottle was easier to hit than the strike zone.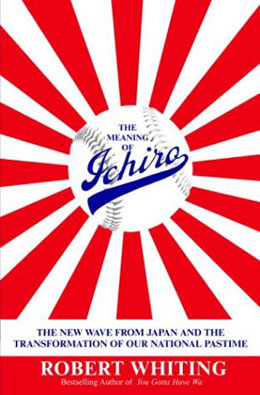 Years later the Captain finds himself throwing strikes against one of Japan's most respected foreign authors, Robert Whiting, and his new book The Meaning of Ichiro. So don't get too comfortable in the box, the Captain is coming with some serious heat high and tight.
As the only foreigner working in a Japanese company in the '70s, author Robert Whiting was puzzled by a number of peculiarities: unpaid overtime, 60-hour work weeks, daily meetings with nothing to discuss, and unions that never went on strike.
Soon Whiting realized that similar anomalies existed in Japanese baseball as well. "Baseball teams had something called 'voluntary training' that was compulsory," he explained last week during a speech for his latest book The Meaning of Ichiro at the Foreign Correspondents' Club Japan.
It was soon after that he discovered that his complaints to management at his company on these issues were the same as those American baseball players made to their Japanese managers and coaches. The responses both parties received were identical as well: you don't understand anything about Japanese wa, or group harmony.
Chrysanthemum and the Bat, which was initially turned down by thirteen publishers before its release in 1977, was Whiting's first attempt at using the baseball and bat to explain foreigners' endless battles in understanding the concept of wa.
Nearly three decades - and three books - later he's still swinging for the fences. The Meaning of Ichiro documents Japan's recent baseball pioneers who have defected to the major leagues. The meaning of which, Whiting argues, has been the tremendous sense of local pride instilled in the Japanese people and the narrowing of the gap of understanding between Japan and America.
"An electric grip on the United States" is how Whiting described Ichiro Suzuki's amazing first year with the Seattle Mariners in 2001, a season in which he batted .350 on his way to winning the American League MVP and Rookie of the Year awards.
The slick right fielder, who was also awarded a Gold Glove, became the first everyday player to achieve success in the major leagues, capping a Japanese movement that essentially began with pitcher Hideo Nomo's spectacular Rookie of the Year campaign in 1995.
As a result, Whiting said, "there is a new-found respect, a new type of respect for Japanese as individuals, as human beings. People have stopped looking at Japanese as creators of products."
The initial chapters of Ichiro focus on the making of Ichiro, from the relentless training imposed upon him by his father on up through his debut in the big leagues.
His father's upbringing of his son is provided in all of its intensity: there is Ichiro taking 250 swings at the Nagoya "Airport Batting Center" until 11 p.m. each night from the age of seven; there is the "life or death" drill in which Ichiro was required to hit balls to the right or left of his father as he delivered pitches from a mere six feet away; and there is the story of his father angrily firing baseballs at Ichiro as he sat on the diamond in protest of the excessive work load.
Interviewing Ichiro was a challenge, Whiting remembered. Finding out as much about his subject beforehand was vital. "By the time I was ready to talk to him I knew more about him than he did," Whiting said of his prep work, which in addition to reading most of the 30 books written on his subject involved talking to beat writers who covered Ichiro's former Orix Blue Wave team and visiting the museum dedicated to Ichiro near his hometown in Nagoya. "I really had him down cold."
First there was the matter of gaining access to this notoriously unapproachable star, which Whiting accomplished by pulling a number of strings within his media contacts. Then there was the intimidation. Of Ichiro's traveling entourage, he said, "interviewing him was like interviewing Elvis."
When Whiting mentioned to Ichiro in Japanese (as his interviews were conducted) how his father in his autobiography described their training sessions as being simply father-son bonding, Whiting said that Ichiro responded in English: "He's a liar." Then he added in Japanese: "That bordered on child abuse."
Ichiro provides lesser-known highlights and scandals of Ichiro's first season as well. Who knew, for example, that Ichiro was thought by some to have used steroids just prior to his first season in Seattle?
Some aspects of the book, however, are a bit difficult to completely digest. Of the impact of Ichiro's first season, Whiting writes: "Twenty years earlier, most Seattleites had not even known what sushi was. Now they were eating it at the ballpark and shouting 'gambare,' along with other demotic Japanese phrases of encouragement. It was no small achievement."
While perhaps true to some extent, such broad strokes make for skeptical reading. As well, the retelling of the rigors of the Japanese baseball training programs, which comprised a large part of Whiting's earlier work You Gotta Have Wa, seems excessive. Even though perspective is necessary to demonstrate that Japanese players are trained by different means (the philosophy of bushido, or the way of the samurai) as opposed to their Western counterparts, the same tales of the overworking of the players - like the "Thousand Fungo Drill" - are all here for the reader to relive again. The same is true of the inclusion of recent examples of foreign players struggling to adjust to Japan's wa-based culture. While interesting, this theme has been presented before and does not help Whiting develop the premise of this book.
These small faults can be overlooked because Ichiro shines in its revelations. The chapter on the ultimate wa-buster, Hideo Nomo, and his agent Don Nomura, who exploited a contract loophole that allowed Nomo to leave Japan, is truly a gem.
The ragged beginnings in the United States of Don Nomura, who was born in Japan to a Japanese mother and American father, as an employee in a dodgy Los Angeles hotel and eventually a minor-league team owner in Salinas, California are supplied in colorful detail. (It was this minor league team that would be used for training Japanese players like Mac Suzuki.)
Though Ichiro garners the book's title, Whiting acknowledged that Nomo is the true pioneer of this movement. "Without him there wouldn't be an Ichiro," Whiting said of Nomo's bold move nearly a decade ago. "I think they should build a statue of him at Narita Airport."
A Hanshin Tigers fan himself, the New Jersey-born Whiting evenly tempers the book with positives and negatives with regard to the way the game is played on both sides of the Pacific. The Epilogue touches upon the difficulty the Japanese game is facing in light of its recent decrease popularity, with departing stars being a major factor. (A merger between the Pacific League's Orix Blue Wave and Kintetsu Buffaloes is currently being discussed.)
To Whiting, if it continues, the owners of the teams only have themselves to blame. Given that there are 4,000 high schools across Japan playing baseball, the major problems are the fact that only single-team farm systems exist for all clubs and teams are operated more for promotional benefit of the controlling company's name rather than with any long-term profit as a goal.
"The fundamental problem with Japanese baseball is that it is not run as a business," Whiting said, citing the New York Yankees as a team that uses its money to buy players and invest in a farm system. With only 30 players on a single farm team and half of them are sitting on the bench, finding a replacement for a Matsui or an Ichiro can be daunting. "If they had really sophisticated farm systems," Whiting explained, "then it wouldn't matter so much if they lost a star; they'd have a lot of players coming out of the hopper."
Major-league managers like the Japanese players because of their work ethic. "Japan is crawling with major league scouts who want more Japanese players," Whiting said.
A lack of greed on the part of the Japanese is an inducement as well. Whiting noted that Hideki Matsui turned down a 64 million-dollar, 6-year contract to sign with New York for 21 million dollars over 3 years. "He wanted to test himself," Whiting said. "Ichiro turned down 35 million dollars worth of endorsements in his first two years because he said they would either detract from his image or take away from his concentration on baseball."
But the movement to the majors is only in its infancy. "This is only the beginning," Whiting predicted.