Dubbing Godzilla: All in a Day's Work
The random nature of the inner workings of the Newsroom would surprise many. Most readers probably believe that stories develop logically after leads have been tracked down or sources milked for facts. Sure, that can happen - but not all of the time. Take the Captain's latest, which began with a simple memo left on his desk from junior reporter Junko: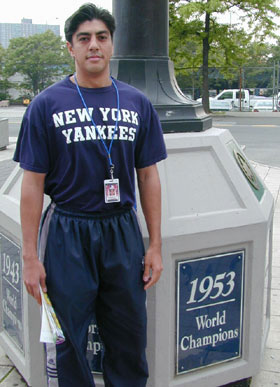 The Yankees called.
- Junko
During a rare moment of semi-sobriety, and with a grin forming within his morning stubble, he exclaimed (rather loudly, and with both fists thrust in the air): "Just give me the ball!"
In anticipation, he molded the fingers of his right hand into his four-seamer grip, all the while assuming that initially he, and his dominating curve and cutter, would be showcased in late-inning set-up situations until eventually moving into the starting rotation. Then he whipped out his glove from his desk drawer and started working the pocket with a ball.
But in the end, sadly, it just wasn't to be.
Later, after Junko heard the ruckus in his office, she scorned him for his hubris, mentioned that his tie was spotted with drool (amongst other things), and informed him that he was actually going to New York to interview Hideki Matsui's interpreter. It was two days later that he found himself sipping vodka sodas in economy on a red-eye bound for the Big Apple.
Ridiculous? Not on your life. And the result is this week's feature.
The first day at any job is always a bit nerve-racking. For one, there's the general uneasiness of being in a different environment. For another, there's the new faces with which to work as a team. Combined, this usually makes first impressions especially important, and poses a common conundrum: What to wear?
"You can't go wrong with a suit," explains Rogelio Kahlon of the rather formal wear he selected on his first day of spring training in Florida as interpreter for Hideki Matsui of the New York Yankees.
But given that this is the baseball world of pine tar rags and resin bags, he was casually informed that such attire wasn't necessary.
Interpreting in the big leagues isn't as simple as working as one of many minions on a paved path at a standard corporation. Going with the flow, adapting to new environments, and expecting the unexpected - in relation to everything, appropriate working-wear included - are all requirements in this occupation.
So, after a quick trip to a local Tampa Bay Marshalls department store for a few golf shirts and a couple pairs of khaki pants, he was properly attired to begin giving "Godzilla," as Matsui is often affectionately referred to as, his English voice.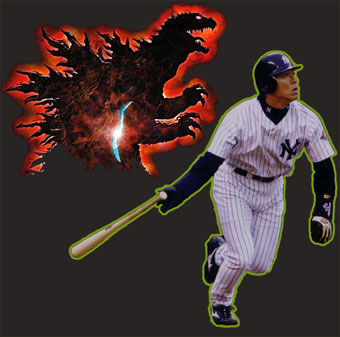 "People can only tell you so much," says the 29-year old Rogelio, outfitted before a recent home game in blue sweatpants and t-shirt with the name of his employer stenciled in bold, of his initial days in this unique position. "You have to go through it yourself to know what it feels like."
Now, after getting into the swing of things during the season's first two months, he has developed that feel. And armed with only a Japanese-English baseball dictionary, he's taking upon himself the monstrous responsibility of playing the middleman between Japan's most popular baseball son and Major League Baseball's most celebrated organization.
The spotlight - quite literally - settles upon Rogelio in the locker room when each game is finished. Standing next to Japan's most heralded ballplayer of the last decade, cameras roll and microphones and tape recorders are thrust before him. It's show time.
In these situations, the questions are generally limited to important events that transpired during the game. Initially, Rogelio found it helpful to jot down a few notes as the questions or answers were being delivered, and providing the interpretation afterwards. Now, after a bit of experimentation, he interprets as the conversations unfold, breaking up the dialogue as needed.
"If he has a long answer, he'll stop, and I just sort of jump in and translate that part," Rogelio explains of his stop-and-go approach.
Though doing locker room interviews is his time to shine, this work comprises only a tiny fraction of his daily routine, which usually begins four hours before the first pitch and concludes about an hour after the last out is recorded.
The majority of job is with members of the Yankee organization. For example, hitting coach Rick Down might want to run through some tendencies of a particular opposing pitcher; or an outfield positioning alignment may need to be discussed with first base coach Lee Mazzilli. While simple sounding, such tasks can be vital.
When Matsui is slipping on his batting gloves in preparation for an at-bat, Rogelio will move from the clubhouse to a position a few feet from the on-deck circle. From there, he is able to easily relay any crucial game information from Yankee coaches or players to the left-handed slugger before he steps into the batter's box.
"The more you [as an interpreter] understand about the game, the easier the communication is," he emphasizes, adding that he is not allowed in the dugout during the game.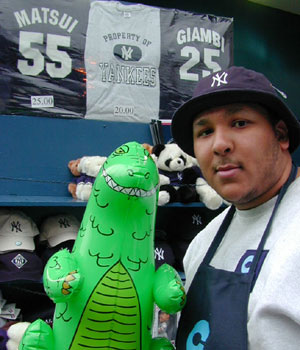 The history of interpreting for Japanese baseball players in the majors is a short one, primarily due to the fact that Hideo Nomo's groundbreaking move to the Los Angeles Dodgers took place a mere 8 years ago. But back in Japan, the relationship between major league ballplayers and their trusty intermediaries has a tumultuous past, often the result of a cultural clash between an interpreter who has less than adequate English skills and an ego-driven player expecting to be treated with kid gloves.
This special arrangement is perhaps best outlined by Robert Whiting in You Gotta have Wa - a book that describes the complex troubles a foreign ballplayer faces in Japan. "The skilled translator, of course, is the one who can come up with the word appropriate to the cultural context," Whiting writes of the tact an interpreter must have. "But there are fundamental differences in Japanese and American thinking that make this very difficult."
This leads to the art needed in the delivery. Straight translations of colloquialisms, idioms, or slang might not make sense, lose their meaning, or worse - be offensive. As a result, should, say, first baseman Jason Giambi casually ask how Matsui's feeling, Rogelio would relay the information more in terms of a friendly greeting, not as a literal inquiry into his personal health - as the Japanese media are known to do repeatedly.
Rogelio emphasizes: "You have to understand the culture and the feeling of what's intended, then translate accordingly."
A friendship is vital as well. Matsui's lack of ego and relaxed demeanor, according to Rogelio, makes this very easy. "At the same time you are there all the time to interpret for him, I think it also important to build a trusting relationship."
This easy-going nature on the part of the man with the mighty swing responsible for lofting many balls into the right field bleachers at Tokyo Dome during his 10 seasons with the Yomiuri Giants comes in spite of the tremendous pressure he is under. After all, the weight of baseball-mad Japan rests upon his 185-centimeter frame continually. Hordes of Japanese media members track his every move, asking in detail about each pitch thrown to him. The Yankees, too, have great expectations after he signed a $21 million, 3-year contract.
Still, Rogelio assures that Matsui hasn't let any of these exterior distractions get to him. "He's a great guy - very down to earth, very accommodating. He treats everyone with respect, regardless of who it is."
This job is a career change for Rogelio. Prior to this supporting role, his interpretation skills were used only occasionally while working for a management consulting company that deals with Japanese clients.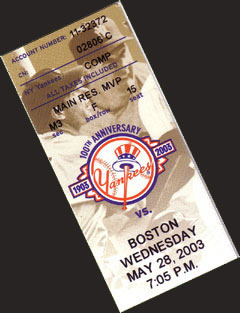 Rogelio, who goes by "Roger" around the Yankee clubhouse, is fluent in both English and Japanese, a product of his multicultural background (an Indian father and a Filipina mother) and an upbringing consisting of international schooling in Japan. After leaving Tokyo for Arizona in 1991, he settled in New Jersey six years ago.
Word of the job opening came to him through a friend. After enduring a battery of English tests with Kota Ishijima, a veteran interpreter who worked with hurlers Masato Yoshii and Hideki Irabu for one season each, and an interview with Matsui himself, he was picked at the end of January from a field of several other candidates for the one-year contract.
But given that his employer is the 26-time World Champion New York Yankees, the organization whose list of legends includes such greats as DiMaggio, Mantle, and Ruth, there are times when Rogelio feels the need to separate his kid-in-a-candy-store instincts from the fact that there is a job to do.
"It is such a great experience," he says. "This is so unique to be in an environment like this - the New York Yankees, the clubhouse, working with the coaches, the players.
"When you see people you've seen all the time on TV, like Derek Jeter - and he says, 'Hey, what's up Rog?' - it is just overwhelming. But it's your job. Day by day you have to do what you have to do. You can't be nervous or overwhelmed."
Does Rogelio plan to be featured in a sequel with Gozilla next year?
"He might be a master of English by the end of the season," Rogelio jokes. "We'll see."
Note: A special thanks goes to Ranjit "Indo" Kahlon for arranging the interview with his brother.