Where Eagles Dare: Rakuten to Play Hard Ball
The Baseball Series > Matsuzaka > Trey Hillman > Gyroball > Kazuhiro Yamauchi > Bobby V. > Rakuten
Temporarily setting aside his paper and typewriter, the Captain this week finds himself dusting off his legendary pitching skills for Japanšs newest pro baseball team owner - Hiroshi Mikitani of Rakuten. Does the Captain's curve still have enough bite to turn a few heads? Dig your back foot into the batter's box and see for yourself...
Hie entered the game in the late innings but still managed to hit one out of the park.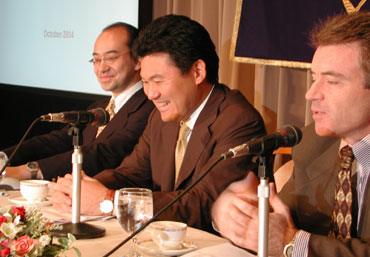 Hiroshi Mikitani, president and CEO of online shopping mall Rakuten, was last week awarded by Nippon Pro Baseball the opportunity to start a new Pacific League franchise in Sendai, the major metropolis of Japan's Tohoku region.
"If we have new blood in the league, with innovative ideas, we will be able to turn the industry around," Mikitani explained at a recent press conference at the Foreign Correspondents' Club of Japan before the decision was announced last week.
After a contentious audition with Livedoor, another Japan-based Internet company, Rakuten's triumph and future infusion of "innovative ideas" could possibly be a changing of the guard in the business.
"Many successful Japanese people have tried for a long time to turn the baseball business around," the 39-year old entrepreneur said of the actions (or lack thereof) of the current cabal of NPB owners. "I respect their efforts; I have no doubt that they have tried their best."
Current ownership represents a near hall-of-fame roster of companies within industries - mainly in the transportation, retail, and newspaper sectors - that have lagged considerably since the bursting of Japan's economic bubble over a decade ago. Mikitani and his Tohoku Rakuten Golden Eagles club are set to change the baseball business in Japan and score a few runs in the process.
Mikitani's motivations are many. For one, there is the prestige. Ownership of a ball club is a measure of success given the importance baseball plays within Japanese culture.
But he's also very open with the fact that he wants to extend his company's brand name. He hopes involvement in baseball will boost sales at his company, a shopping website boasting 28 million users that sells everything from wrist watches to travel packages.
Others in the industry have similar sentiments. In recent weeks, the Internet investment company Softbank has reportedly been involved in negotiations to buy the Fukuoka Daiei Hawks club, whose parent company has been on the verge of bankruptcy for the last several years. Livedoor, the Internet services company which threw the first new ownership pitch when it attempted to purchase the Kintetsu Buffaloes last season, has been reported (ever since its loss to Rakuten for the Sendai team) to now be switching its attention to buying the financially struggling Seibu Lions franchise, the controlling company of which is now mired in a scandal involving securities fraud.
Much of this activity is a spillover from events that took place over the summer. The proposed merger between the Kintetsu Buffaloes and the Orix Blue Wave resulted in the sport's first (labor) strike, a one-weekend affair that was settled when the players and owners agreed that another team would be added to bring the number of Pacific League teams back to six. When Livedoor president Takafumi Horie's offer to purchase the Buffaloes was denied, he later applied along with Mikitani to start the new team in Sendai.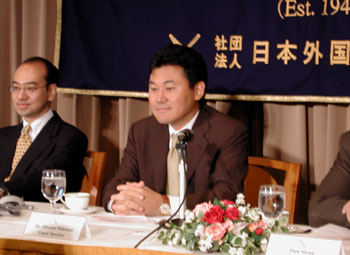 The battle for Sendai included presentations by both presidents and extensive question and answer sessions before a five-member NPB panel. Rumors spread later that the adult content on Livedoor's website and Rakuten's superior financial standing were important elements in Mikitani's victory.
At present, NPB clubs show balance sheets as attractive as stale Cracker Jacks. When the merger talks were initiated with Orix, the Buffaloes were said to be reporting a loss of more than 30 million dollars a year. The unraveling of the Seibu scandal revealed a loss of 20 million dollars for this year's Japan Series champions.
Most would shy away from investing in such an industry, and given that the Eagles will be slotted into the less attractive Pacific League - a truism since the monstrously popular Yomiuri Giants help to prop up most of the teams in the Central - what then makes Mikitani think he can do better?
"What they (the owners) are telling me is that they are losing so much money - 25 million, 30 million, 35 million (dollars)," he said. "It is very difficult to lose 30 million dollars."
For Mikitani, profit will be a priority. He will start by renovating the 54-year-old, 25,000-capacity Miyagi Stadium, abandoning plans submitted by major construction firms for the building of an all-weather dome due to the fact that very few domes in Japan are profitable.
He expects to spend 27 million dollars on the aging facility, whose confines are considered slightly cramped by baseball standards (left and right field lines measure just 300 feet from home), in two phases; one will conclude in March of next year and the second will take place during the following off-season.
Getting help from the outside will be crucial for Mikitani as well. In addition to attaining corporate sponsorships from companies for such necessities as uniforms, Mikitani has turned to the Miyagi Prefectural Government, which anticipates a baseball boost to the local economy of 120 million dollars annually. The government offered Rakuten the use of the stadium for around a half million dollars, a discount of 70 percent. Mikitani noted that most NPB teams pay between 10 and 20 million dollars for use of their stadiums.
Broadcasting and gate revenue could be larger than before for Pacific League clubs next year. Interleague play will begin and the Eagles will host three match-ups with the cash-cow Giants and Hanshin Tigers.
"If you go to Tohoku, there is a large Giants crowd but I think we will be able to beat them (in competing for fans)," he laughed, knowing full well that even with 9.8 million people living in the six Tohoku prefectures, competing with the nationwide popularity of the Yomiuri club will be tough to do.
Though such a prediction by Mikitani, who brings a Harvard MBA to the plate, is mainly rooted in pre-season swagger, such a comment is consistent with his style; he exudes confidence.
After acquiring over twenty companies for Rakuten, which opened for business in 1997, he indicated that he feels he is suited to take on baseball operations next. He also said that a lot of his ideas are from his experience in running Vissel Kobe, the J-league soccer franchise.
Mikitani has already hired a number of coaches and staff. Though he admits he won't be able to throw large sums of cash at big-name free agents, like slugging outfielder Tuffy Rhodes, Mikitani isn't worried about fielding a competitive team: "It's going to be tough but I'm confident."
Marty Kuehnert, a longtime Tokyo hand with experience in various managerial capacities in the MLB minor leagues, will be working the phones to get a starting lineup ready before next spring. Of Kuehnert, Mikitani said, "One of the most important issues is to bring someone who doesn't have a relationship with the old Japanese business community."

The tactics of this "old" community has been the stuff of legend. The inflation of game attendance totals, rampant bribery scandals, and associations with gangsters by NPB barons has called their integrity into question on many occasions.
Mikitani will instead provide a "crystal clear" disclosure of the team's books and actions. "I am not telling any other team that they should do it. I'm just saying we are going to do it."
Not all of the hallmarks of NPB, however, will be abandoned. Rakuten's corporate name will be firmly placed within the team name. This practice has been used by teams past and present, from meat packers to drink companies. Mikitani predicted that this will be the case until the team can turn a profit, something he thinks could take place a few years down the road.
Mikitani feels he can set an example for young people through his entrepreneurial spirit. His reason for starting Rakuten had nothing to do with garnering fame; it was more about showing that goals can be achieved through aggressive actions.
"I just wanted to show to younger people that if you work real hard, and become very innovative, that you can become successful."
The first pitch for the Eagles will come in April 2005.
The Baseball Series > Matsuzaka > Trey Hillman > Gyroball > Kazuhiro Yamauchi > Bobby V. > Rakuten