Muneo Suzuki: On the Comeback Trail
Respect is a tough commodity for a newsman to garner these days. The "crisis of confidence" is what it is being called. Fabricated stories, imaginary sources, and other bits of journalist fraud are making the profession an easy target. Add to this the silly utterances from junior reporters and antacid has become my new best friend. For example, there was this morning.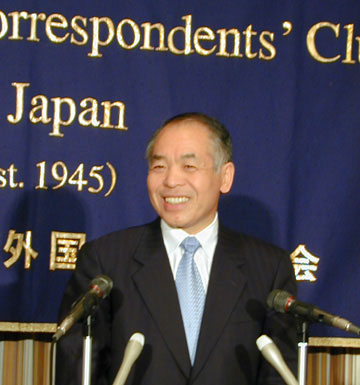 The first time junior reporter Junko made the request I smirked and pulled on my lower lip. She then repeated it for clarity, perhaps foolishly thinking I wasn't listening the first time: "The Boss wants to know if you can handle a quick spot piece on the Muneo Suzuki speech." She paused, looking a bit worried. "Well?"

I straightened myself in my chair for dramatic effect. "Listen, lady," I steamed, "just because I've been hitting the pavement, penning award-winning features, do you think for a second that I couldn't handle a simple spot piece?" I rose to a hunch over the desk, both fists on top.

She tried to open her mouth but I wouldn't let her.

"No, you don't say anything," I continued. "Here's what you do. You tell the Boss that spot piece will be on his desk tomorrow morning."

"But can you do it sober?"

I slumped back to my seat.

It wasn't a joke, and neither is his comeback.

Flashbulbs popped and cameras rolled for Muneo Suzuki's speech entitled "Ethics In The Japanese Political World" on April 1st at the Foreign Correspondents' Club of Japan.

"I actually thought that I was being set up for a joke," said the Diet member from Hokkaido of the fact that he asked his secretary to confirm that he was indeed invited to speak on April Fool's Day. He didn't mention the irony within the speech's title.

Politics and ethics make for a sizeable contradiction in Japan, and former ruling Liberal Democratic Party member Muneo Suzuki ought to know. Once the ultimate symbol of greed within Japan's political world, he is now set for a comeback. His speech was light on political morality, but it made two things clear: He has done nothing wrong, as he says, and Japan hasn't seen the last of the man with the eternal smile.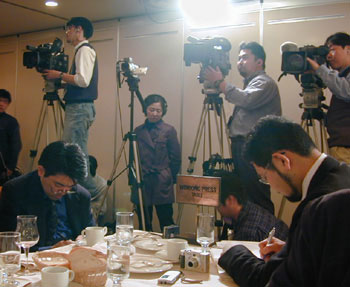 A summary of Muneo Suzuki's last two years reads like a manual on political graft. In 2002, he was charged in two separate cases of taking bribes from lumber and construction companies in exchange for his influence in lucrative local contracts. As well, that same year top aides of his were arrested for participating in bid-rigging incidents for housing and power plant construction projects. Today he is on trial at the Tokyo District Court for the bribe charges.

Suzuki never confessed to any wrongdoing or apologized for his actions. That is because, according to him, he's innocent. (He maintained that one sum of money he received was a congratulatory "gift" after an election and not a bribe.)

"I would like to make it very clear," he said, "as a politician, I can declare unequivocally I have not done anything wrong. And because of this stance, I spent 437 days in detention."

Suzuki was held while he was being investigated at the Tokyo Detention Center until it was determined by the Tokyo District Court that he would not be able tamper with any evidence in the cases against him. It was August of last year that he posted a 50 million yen bail and was released.

Detention is not for the weary, he said. He suffered physically and psychologically in his 6.6-square meter confines of concrete-block walls and limited access to radio and newspapers.
During the second month of the investigation, the pain was the greatest. Seeing that he was suffering, the prosecutors began torturing him with, as he said, "the sweet whispering of the demon." They wanted to weaken him further so they started to prod him: "Take off your diet Member pin, give up being a politician." He lost 5 kilograms during the whole ordeal.

In spite of this experience, Suzuki is sharp. Not only is he smartly attired in a suit and blue tie, but he delivers his words at a rapid-fire pace with dates, times, places all easily recollected. And rarely will he ever miss a chance to flash those white teeth between his cheek-to-cheek smile.

Through the support of his wife, who he said "saved" him, and the strength of his family ties, he fought the prosecutors. And all this in the face of ongoing rumors that "I was a full department store of suspicious activities, I was a full trading company of suspicious activities."

So then if he did nothing wrong, what was the reason for his arrest and detention?

"During this time I felt that a great and powerful force was moving in this country around me," he said. "It felt very strange."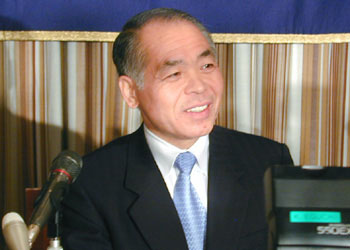 This "strange" feeling came about by the influence of the mass media and was bolstered by, Suzuki said, the prosecutor's interest in Suzuki's involvement in the bid-rigging of the diesel power plant project.

The power plant project had been organized by the Ministry of Foreign Affairs through Japan's Official Development Assistance program. Suzuki said he didn't know why they wanted to implicate him. He did, however, provide a hint.

He described in great length a period when he was Deputy Chief Cabinet Secretary, relating an incident concerning a potential policy shift with regards to Japan's treatment of Chechnya in 1999. As a patriot, Suzuki feared that if Japan recognized the Chechnya situation as an international human rights issue (as the then Obuchi cabinet was proposing) - instead of maintaining the domestic stance the previous Hashimoto cabinet had taken - then Japan might be subject to terrorism.

Did the Ministry of Foreign Affairs then have it in for Suzuki because of his opposition to this policy change? He didn't say.

In mentioning this situation, and on nearly all issues, Suzuki was like a boxer, circling and waiting to land a blow, but refraining each time. He wanted to criticize Prime Minister Koizumi, whose cuts in public works projects have hurt the economy of Suzuki's Hokkaido area greatly, but he said there wasn't time.

A stomach cancer operation prevented him from running in the Lower House elections late last year. But after a portion of his stomach was removed, he completed a 10K marathon in Tokyo in March of this year.

Will he be able to show similar guts with his candidacy for the Upper House elections this summer?

"I am receiving a lot of warm messages from around the country, telling me not to give up and that I should announce my candidacy for the election. I appreciate these words and when the time is right I will make a decision."

Note: Eric Prideaux contributed to this report from the Tokyo Bureau.
Å@