After Bankruptcy: The Faces of Sogo
One in an Occasional Look at Japan's Economy
It was sizing up to be one of those typical Tokyo summer nights; the salarymen stumble off for skewers of yakitori and beer, the taxis zip past, the trains rumble on the tracks, the women walk and gab on their mobile phones.
The heat was about the only constant. Well, that and my hand shaking another cigarette from the pack.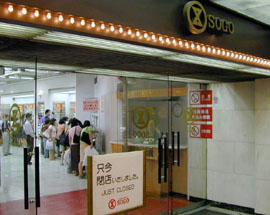 I was waiting for junior reporter Junko on a recent Friday in front of Yurakucho Station, one of Tokyo's business districts. Last night wasn't making the wait any easier. A whiskey here and a whiskey there and today it's a handkerchief sopping my face and the back of my neck in between smokes.
Sogo department store was next to me. Twenty minutes before we had spoken with a few employees about the current 15-day going-out-of-business sale at the flagship store of the Osaka-based retailer. The store will officially close its doors one week after the sale ends. Junko was now taking advantage of the sale herself.
I stubbed out another smoke and tossed it into the storm drain grating.
In early July, Sogo requested that 73 banks write off bad debts totaling $6.32 billion. The government agreed and planned to inject taxpayer money into the banks in return. But the public became so enraged at the possibility of its taxes going to aid irresponsible lending that Sogo, fearing a soured reputation, declined the offer and later that month filed for bankruptcy protection in a Tokyo district court.
The backlash after the initial bailout announcement, however, was harsh and swift. Kiyoshi Ueda, a congressman of the Liberal Party of Japan, went so far as to claim that any assistance would be a 'moral hazard.' Newspapers wondered why Sogo was being singled out for the shot in the arm while other many other companies were falling face first in financial gutters as well. These companies include a literal buffet of construction companies, most notably Hazama Construction Co. and Kummagai-gumi Construction Co.
But in the end, the future evaluations and the subsequent twists and turns of the nation will be left to government bean counters. More important though than the taxes and bad loans are the lives of the people that will be changed. While company president Hiroo Mizushima will be able to relax after the store's closing with his fortune and $4 million yearly income, what fate will befall the folks selling the goods, stocking the shelves, and greeting customers? In other words, what about the faces of Sogo?
Sogo's Yurakucho outlet opened 43 years ago and its ten floors of shoes, jewelry, food, men's and women's clothes, and countless other accessories and knick-knacks has become a Tokyo landmark.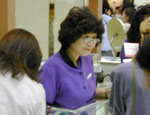 The majority of the employees were working part-time specifically for the sale. Many seemed rather irritated as they folded clothes and rung up sales. Certainly, it is understandable for trying times to bring about sour dispositions. Or maybe rather than trying times it was the throngs of shoppers, roped off aisles, bins of random clothing at every turn, and general chaotic flea market atmosphere. In any case, some full-time employees seemed to be the taking the closing in stride and in fact could remember some happy times. Some even did have plans for the future.
In the jewelry section, pearl necklaces to be specific, is Kiyomiya-san. She very much enjoys her job and it is the people that she has interacted with daily that has made her happiest during her 20 years at the store. But even with this natsukashii (nostalgia), she must face an uncertain future. She explained, "It is a very difficult time. I will try to find another job at another department store, but I don't know if I will be able to."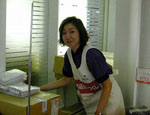 It seems though that determination on Kiyomiya-san's part will not help. Her senior status will be a big reason for her not being hired at another store, at least it is the reason for her not being hired at another Sogo outlet. Or so says Saito-san, a 7-year employee in lingerie and women's coats, who will move to another Sogo store. "The older people are not going to be moved because of their high salaries," she said. "When I was hired, I was in the last group of young hires at Sogo. But now that I see what is happening at the top, I know that it (firing) will eventually reach me too."
But amongst the impending doom, bras, bathing suits, and lingerie, Saito-san does have fond memories. She recalled, "One time I saw a 60-year old woman leave one of the changing rooms wearing a new coat. When I went into the room, I saw her old coat on the floor. I immediately ran outside the store after her. I finally caught her as she was going to hand the new coat off to her accomplice. I took it back but didn't call the police. I figured that her going home in the cold was punishment enough."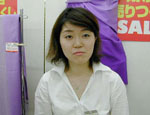 Not to be left in the cold when Sogo's doors close though will be Miyamoto-san in the women's scarves section. She makes her own stoles and mufflers and sells them independently. Though she too speaks nostalgically of her 3 years behind her counter, she seems pleased with her future plans of moving down to Yokohama and opening her own store with her Malaysian husband.
When asked if she was shocked at the news of the closing, she said, "We were not surprised. There were so many rumors beforehand." She added though that she was shocked to hear that rival Mitsukoshi will now be holding the bargain sales, a standard Sogo promotion, the day after a win by baseball's Yomiuri Giants.
When it goes bad then I suppose there is no limit to the depths.
Junko finally appeared outside. She joined me near the grating.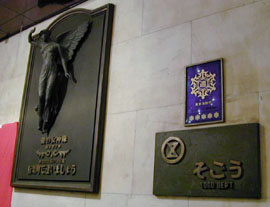 "So what's that over there?" I pointed at a statue mounted above the entrance. I grabbed another cigarette.
"That is Venus. She's the store's symbol." Junko had two bags of goods in her arms.
"Venus, my dear," I called, "Like lady liberty greeted those in search of sovereignty, please guide these as they leave Sogo in bankruptcy..."
Junko grabbed my arm and pulled me towards the station. I had already lit my cigarette.
Note: Junko Nakazawa contributed to this report.