Bobby Valentine's Baseball World
The Baseball Series > Matsuzaka > Trey Hillman > Gyroball > Kazuhiro Yamauchi > Bobby V. > Rakuten
Even though baseball is rolling into its winter break, the Captain is still applying plenty of pine tar and shooting for that hole on the right side of the infield.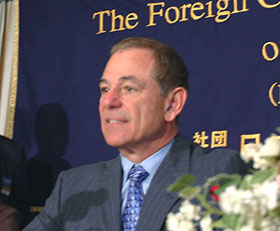 This week he chats with Bobby Valentine about his plans for next year and a potential "world" series composed of teams from both sides of the Pacific.
An extension from the Chiba Lotte Marines? Filling the managerial vacancy with the Dodgers? The Devil Rays?
None of the above so far for Bobby Valentine, who has one year remaining on a three-year 495 million yen deal he signed with the Marines.
"I haven't been offered a contract to manage anywhere for next year," said Valentine at a luncheon at the Foreign Correspondents' Club of Japan on Tuesday. "So any talk of where I might manage would be premature."
But for the skipper who brought the Lotte franchise its first Japan Series championship in 31 years wherever he goes his demands are simple.
"I want to be challenged," he said. "I want to be appreciated, and I want to be comfortable in my surroundings."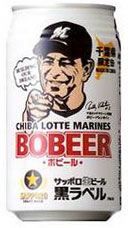 During this second tour of Japan with the Marines, Valentine has been a huge hit with the fans. But whether or not his attachment to the Los Angeles Dodgers, the organization that drafted him in 1968, will be a big enough draw is still up in the air.
It's been a good year for the former manager of the Texas Rangers and New York Mets. His Marines soundly swept the Hanshin Tigers in the Japan Series in 4 games making him the first foreign manager to take the title. He also received the Matsutaro Shoriki Award, given by the Yomiuri Group for contributions to the development of Japanese baseaball. This week he will captain the Marines in the Konami Cup, a tournament of champions from Taiwan, China, Korea, and Japan.
So where does he go from here?
The 55-year-old Valentine, who in 1995 managed Chiba to a second-place finish only to be fired, denied that he has been offered a three-year extension by the Marines. "It has been falsely reported by these guys over here," he said, waving his hand and laughing at a table of Japanese reporters, "who don't believe me and happen to believe someone else who tells them something.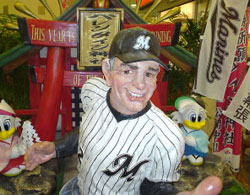 "I was in a room," he added, "with my general manager and afterwards they reported not what I said - and I was in the room - but what somebody who wasn't in the room said."
The Dodgers are an option. After completing their second worst season since moving to Los Angeles from Brooklyn and firing skipper Jim Tracy, the Dodgers are in the market for someone who can make a positive impact. Valentine's ties to the team where he played both infield and outfield from 1969 to 1972 are very strong.
"Tommy Lasorda and I have a very wonderful 37-year-old relationship," said Valentine.
The Tampa Bay Devil Rays could be in the mix as well. Reports have indicated that the Rays and Valentine are set to talk at baseball's annual winter meetings in Palm Springs next week.
It might be tough to pull Valentine from the land of yakyu; he has carved out quite a niche for himself. From "Valentine" boxes of chocolate to beer cans to shirtless profile photos on magazine covers, Bobby's image has been embraced by marketers and fans alike. He said that he finds Japan "comfortable," citing the language barrier as his main problem.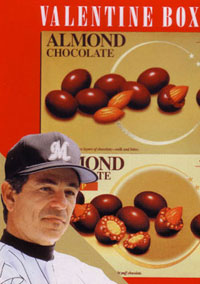 One of the keys to Valentine's success and popularity is the confidence he has in his players. He recalled not hesitating in handing the ball to his closer Masahide Kobayashi in a tight game soon after the same pitcher had blown a four-run ninth inning lead in a second-stage Pacific League playoff game against the Softbank Hawks.
"Failure is an integral part of the game," he said. "Displaying the fact that I understand that they (the players) are not perfect, that I believe in their abilities to succeed, allows that healing process after failure to speed up, to accelarate."
No matter which side of the Pacific he lands, Valentine would like to develop a true "world" series, pitting the champs of the Japan Series and the World Series against one another in Hawaii.
The goal would be charity, with the money raised being given to assist children of disaster-stricken areas around the world. Valentine said he is in the process of recruiting resources and assistance, which might include former Dodgers owner Peter O' Malley.
"For baseball to truly reach out to the world and to the world's communities," Valentine said, "I think there is no better way than to do it with a helping hand. Rather than one that always reaches out and receives, I think it should be a hand that reaches out and gives."
The Baseball Series > Matsuzaka > Trey Hillman > Gyroball > Kazuhiro Yamauchi > Bobby V. > Rakuten