Tokyo Hostess Interview Series (Part V)
The Hostess Series > I > II > III > IV > V > VI > VII
The holiday season is a busy time for hostesses. With the numerous bonenkai (end of the year parties) given by offices and the inevitable migration for the nijikai (second party) being to a hostess club, the workload might just force the average hostess to swap her lipstick and lighter for an office lady's smock.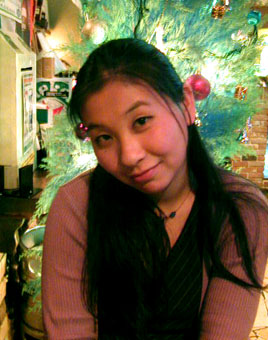 Ryoko Suzuki recently returned to Japan after a 4-month home-stay visit in Bakersfield, CA. After realizing that her part-time day job at a patent company wouldn't be enough for her to live on, she decided to take advantage of her prime commodity that Japanese men find irresistible - her youth, and became a hostess in the evenings near her home in Tokyo's outer Nerima Ward. Since those beginnings 6 months ago, the 22-year old has moved to a snack (the lowest rung on the hostess club ladder) in the heart of the city operated by a mama-san who has been in the business for two decades. Though she is frequently the object of drunken advances by married men twice her age, Ryoko finds the work - even at this hectic time of year - to be quite enjoyable.
Join the Captain this week as he once again delves into the hostess world and finds out from Ryoko such things as the charge to a customer for ripping a hostess's stockings, the location in Tokyo where karaoke patrons strip naked, and, of course, much more.
Profile
Name: Ryoko Suzuki
Age: 22
Club location: Takadanobaba, Tokyo
Wage: 1,600 yen per hour
Hobbies: Studying English, aromatherapy, movies, and music
Favorite vices: Ebisu beer and cigarettes
Interview
Captain Japan: Why did you leave your last club?
Ryoko Suzuki: You see, it was a standing bar. And I had to stand, drink, and eat the entire time. The mama-san was very pushy; she kept encouraging me to drink - because of course the customers pay - and it became too much. I was gaining weight and drinking way too much.
CJ: Is it hard being a hostess in general?
RS: Yes, in the sense that many customers are trying to touch me. And...I cannot hit them because they are customers. After all, they are paying my salary.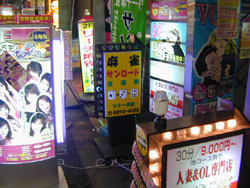 CJ: But you are being paid to pour drinks, not let them touch you, right?
RS: Yes...but one day, an old guy tore my stockings. I kept saying, 'Stop it! Stop it!'
So he gave me 1,000 yen bill...He put it here. (She reaches down the front of her dress - Captain.)
CJ: Your stockings must have cost more than 1,000 yen, right?
RS: Yeah, so I asked him to pay more. So he then tore a different section of my stockings and put another 1,000 yen here (Again, she reaches down the front of her dress - Captain). After that, he wrote his phone number on another 1,000 yen bill and gave that to me. But I really hate him
CJ: Did the mama-san help?
RS: She just laughed. (Ryoko explained in an earlier conversation that the mama-san believes that there are some undesirable aspects of the trade that hostesses have to live with - Captain.)
CJ: Any other problems?
RS: Well, one customer bit my shoulder. (She touches the back of her left shoulder - Captain.)
CJ: Did he pay money to keep biting?
RS: No...The mama gave me some ice and a towel, though.
CJ: What is your appearance like during the holidays?
RS: These days, I am wearing a red Chinese dress (She quickly runs both hands down her torso - Captain.) and Santa hat. One customer might think it is crazy; another might think it is nice.
CJ: Do you change your hostessing style depending on the customer?
RS: Of course...If older guys come in, I pretend that I am a pure girl. If guys aged in their 20s come in, I talk like we are friends.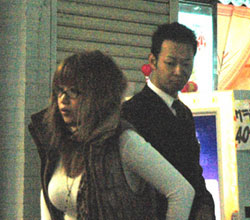 But, you know, recently, we had a bonenkai at my day job and after one drink I changed into a hostess. Everybody was laughing at me. Then we decided to go to a nijikai for singing. So I took them to a snack. They [my day job colleagues] were so surprised.
CJ: Do the customers want to meet you after, maybe at a different place?
RS: Yes, but I don't go. Sometimes the customers want to go for another drink or to a hotel, maybe. So I say 'No, I have to work tomorrow.'
But if he is very handsome, I really like him, or if he is rich, I might go. But so far that hasn't happened.
This is mainly with the older men. One guy asked me, 'Will you marry me?' I had to say yes in that case because it is business, you know. He was drunk so I asked, 'When is our wedding?' Then he said something like, 'I am already married but it is okay to have two wives.'
CJ: Do you ever develop strong feelings for a customer?
RS: I have never fallen in love with a customer, but sometimes I might want to meet one whom I like the next night. Sometimes he comes; sometimes not.
CJ: Do your parents know that you are a hostess?
RS: No...My parents live in the countryside. They think that hostessing is a bad job. So I told them I am working at an English pub at night to practice my English. They believe it. (laughs)
But, you know, one of my brothers (She has two brothers - Captain.) goes to school in Takadanobaba. I saw him by accident one night and I was wearing nice makeup and a dress...He was surprised when I told him, but it is a secret.
CJ: Do you have regular customers that want to meet just you?
RS: I have about 10 regulars...One day I went to karaoke in Ikebukuro with my friends. One older guy came into our room and...he started to take off his clothes. I thought he was crazy. He said, 'This is a penalty [on a dare]. I have to come into a karaoke box full of girls and take off all my clothes.'
Now he is a regular customer. You see, before I didn't know him at all. But I talked to him a little [after he took off his clothes] and invited him to my snack.
CJ: It was 100% of his clothes?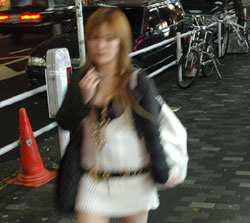 RS: Yeah, everything.
CJ: Any other interesting stories?
RS: Hmm. Well, in our snack we often get a lot of people from the post office. [At the club] this one guy asked, 'Where do you work during the day?' So I said, 'Around here in Takadanobaba.' At that time, I didn't know he was a postman, but he found out where I am working!
So now he comes and delivers mail to our office. [Before] he sends me an email [to me] to come downstairs to meet him. Sometimes work is boring so I will go down to see him. (laughs)
CJ: Do you think you will be a hostess for a long time?
RS: Right now I enjoy myself...Also, mama told me I am the best worker of the three girls [at the club] so I am so happy. (smiles)
CJ: In the future what do you want to do?
RS: I want to study about patents because I am working at a patent company now. Or I want to do sports journalism. But right now, I want to get money. I also need to study English more so that I can speak fluently.
You know, if I can, I want to have my own snack one day. But before I can become a mama-san, I need more experience.