Japan's Beef Wars
Part One of a Two-Part Series Focusing on Japan's Recession
Lunchtime around the newsroom is typically a low-key affair. For example, junior reporter Junko can always be seen working away at her desk while she nibbles at seasoned meat sandwiches on herb bread from the fancy coffee shop down the street. For myself though, the extended nature of my assignments from the evening before oftentimes require that an emphasis be placed on rest and the gathering of the necessary faculties to tackle the remainder of the day ahead. Hence, given this and these trying economic times, a quick and cheap meal is all that is possible. Today was just one of those days.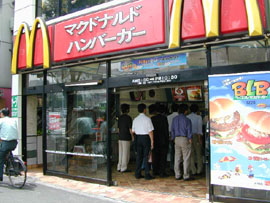 My lunch sat untouched in its bag to my left. With my forehead pressed onto my desk, I sensed a sudden chill coming from my doorway, sort of like a cold shower on a cold day. I slowly turned upward.
"I see you've given in to the attractive price to be had these days for a hamburger and fries." Junko pointed at the golden arches on my bag. "You know, they just had their IPO last week. It was quite popular."
I blinked and rubbed the left side of my face with my left palm and said, "Investing, my dear, is something not to be taken lightly. I know because I do my share." I put my feet up on my desk.
She put her hands on her hips to show her disdain and lectured, "Capping your whiskey bottle to preserve the remaining contents and giving it to the mama-san for your next visit to the hostess club is not investing."
I coughed twice recalling the few times of heresy when there have been "remaining contents" and grabbed my smokes from my shirt pocket.
"I've compiled a little report detailing the ongoing beef wars taking place in Japan," she said. "The common salaryman, such as yourself, is pinching his yen at lunchtime. Given this and their extensive expansion plans, McDonald's is attempting to drive out its competitors, big and small. At the same time, some small businesses have found success by offering better service and catering to an entirely different crowd." She tossed a file onto my desk and headed back to the newsroom.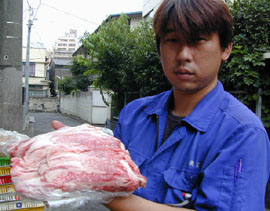 I settled back in my chair, retrieved a smoke, and started on the first page.
Last week, investors choked down shares of the McDonald's Japan IPO, boosting its share price to 4,700 yen from its offering price of 4,300 yen on the JASDAQ over-the-counter market and giving the company, which first started grilling burgers in Japan in Tokyo's Ginza 30 years ago, a market capitalization of 624.9 billion yen. Seeing though that Japan's Nikkei index reached 17-year lows a few days later, wouldn't investors be better off reaching for stocks of antacid companies rather than one whose recent product introduction was a crispy gratin croquette burger?
Not so, given the dire state of these economic times and the fat expansion plans envisioned by the big cheese himself, Den Fujita. With profits down nearly seven percent over the past year, the first in seven years, Den plans to use this newly stocked war chest to increase his number of stores from 3,600 to 10,000 and as a result boost revenue from 357.9 billion yen to one trillion by 2006. Of course in order to do this, competitors will have to be defeated. That is where the dire state of the Japanese economy comes in.
McDonald's fired the opening salvo across the bow of its competitors early last year, long before the IPO, by cutting prices on its basic hamburgers and cheeseburgers to 65 yen and 80 yen, respectively, Monday through Friday, with the standard prices returning on the weekends. "The new price strategy," public relations manager Kenji Kaniya tells the Japan Times, "has created a new breed of customer, most conspicuously, middle-aged office workers have begun coming for lunch." And come they have. Initially, McDonald's sold eight times as many hamburgers and cheeseburgers to price conscious customers. Things have now stabilized to 5 times.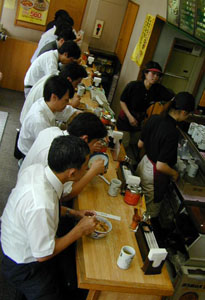 But what did the competition do? Simply put, McDonald's ate their lunch. Last year, Mos Burger, operator of 1,500 outlets in Japan, saw a 65% drop in profit last year. Late last year, Japan Tobacco sold all 25 of their Burger King stores to competitor Lotteria, resulting in a liquidation loss of 2 billion yen.
This year, though, the competition is putting a little gunpowder in their canons. Starting August 21st, Lotteria will offer a 65-yen hamburger and in July Mos cut the prices of its burgers by 10 yen.
Even though McDonald's created the "new breed" customer, he is a fickle sort. So much so that as long as the price is right, other food items tickle his fancy as well. Sensing this, Yoshinoya cut the price of its gyudon (beef bowls) to 280 yen from 400 yen, making its lunch fare more attractive to the office worker at its 800 outlets. This was immediately followed by price cuts from competitors Nakau, Kobe Lamp Tei, and Matsuya on similar gyudon dishes. Six days later Yoshinoya reported a 1.75 times increase in sales for its western stores.
While these large chains continue to battle, the small independent restaurants wonder if they are properly armed to take up a fight.
Masa Nagumo, owner of a Chinese restaurant in Ningyocho, Tokyo indicates that his loyal customers still come for his ramen and gyoza (steamed or grilled dumplings). But he is in a "wait and see" mode in determining if the gyudon price cuts will affect his business. He is worried though because nearby his restaurant, he says, many other shops have closed over the past 10 years due to the poor economy and doesn't like the prospect of this making things worse. "Once the big offices close, it is like the domino effect for all the small stores and restaurants surrounding them."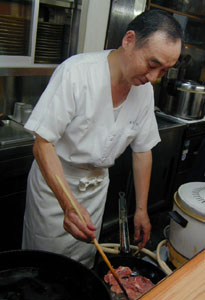 At his restaurant Tonkatsu Yutaka, Sugita Yasuo has been preparing the pork for his tonkatsu (pork with rice) with a fry pan and wood skewer for 30 years. His restaurant relies on the business of the salaryman and is located near Tokyo's Waseda University, just down the street from a Yoshinoya. "We have had large damage [to our business] from Yoshinoya," he says. "Even before the price cuts, things were already getting bad. Before Yoshinoya moved into the area, we used to have customers come 5 times a month. Today, they still come but maybe 2 or 3 times a month. The recent price cuts have just made things worse." Sugita hopes in the future he can expand his menu and give customers more choices. He also is trying to compensate for his lunch business losses by adding a delivery service.
Some restaurant-related businesses though are prospering by offering the customer what he wants and not relying on the salaryman.
Perry Chan is the owner of Yonechiku Co., a meat distribution company employing 40 workers in Ichigaya, Tokyo. Chan explains his philosophy simply: "In the future, no business can get 100% of the market share. The small guy can still run their businesses. They just have to be the right businesses. In the states, even with McDonald's, they still have homemade hotdog and hamburger shops, right? The right businesses are my customers."
Perry's customers number 500 and are scattered all around Tokyo. Even in Japan's declining economy, Chan has expanded his business over the last 3 years. The reason, he says, is because he offers better service. "For the first 30 years, we ran just pork, beef, and chicken. But when I took over this company 8 years ago, we added more products as a means of convenience. So most stores can order everything - from sugar to Malaysian curry powder - from us. The big meat companies, like Nippon Ham, cannot offer this kind of service. That is our advantage."
In combating the declining economy, Chan notes that he has been forced, in the McDonald's spirit, to cut his prices and at the same time boost his volume. "Before we had 4 trucks," he remembers. "Now we have 12. We've increased our volume so that we can bargain with our wholesaler. We deal with Nippon Ham and Eto Ham and domestic farm brokers. We just seek the best price."
One of Perry's customers too has had a recent increase in his business. Yasumasa Katagiri has been manager of Gurumeo, a yakiniku (grilled meat) restaurant in Shinjuku, Tokyo, for two years. "This restaurant is not a low-price restaurant," he says, noting his 980-yen all-you-can-eat lunchtime price. "Now that Yoshinoya has decreased their price, there are many rivalries with regard to price in the Shinjuku area. But this does not include us because we offer a totally different menu, targeting a different customer."
Yasumasa says that mostly single women and couples fill his 420 seats in enjoying Japanese, Chinese, and Thai styled grilled meat. "Tonight we are full. No reservations available and 450 people are coming, all young kids. This business is very interesting because there is no influence from the economy."
The war rages on.
I tossed my hamburger wrapper into the bag and walked into the newsroom, cigarette alight.
"So this last part here about young people helping the yakiniku business, how is that possible?" I asked Junko while she worked at her desk, my smoke in need of an ashtray.
"Well, take me for example. I am a single, young woman living with my parents and in possession of a large disposable income and no expenses. Therefore, I have money. But it's not just restaurants. People like me are also fuelling most of the other selected sectors - gourmet food, brand name clothing, and overseas travel, for example - that are booming in this recession as well."
"So let me get this straight," I said. "While you prissy missies dine on lean roast beef sandwiches, buy Prada handbags, and take trips to Singapore, we captains of industry, in the process of determining the future course of this nation, are forced to scrape together enough wages for a 60-yen hamburger at lunchtime?"
"Exactly! That's Japan's recession and in one sentence!"
I walked back to my office for my ashtray and promised to myself that evenings will never again end with "remaining contents."
Coming next week: a further investigation into the impacts of the selective nature of Japan's recession.