Tokyo Hostess Interview Series (Part I)
The Hostess Series > I > II > III > IV > V > VI > VII
The hostess club is one of Japan's most important business tools. With the clubs as a place of relaxation, business relations between clients are lubed as karaoke wafts through the air and ice cubes clink into glasses.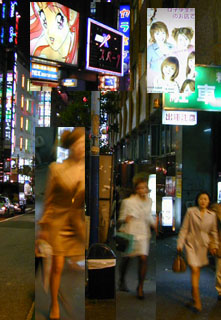 The clubs spring to life at night. Outside nearly every major train station in Japan, brightly lit signs run up and down the sides of buildings advertising the names of the clubs inside: Pussy Cat, Kleopatra, Knights of Night, and Touch Pub. Taxis drop off the girls outside the clubs. Small groups of men scurry along the sidewalks to their favorite amongst the many choices available.
At a typical hostess club, the mama-san (female proprietor of the club) greets all guests at the door. Couches are set against the walls. Tables are in the middle. The girls greet each guest and offer him a seat. From there, the flattery flows along as smoothly as the cigarette smoke and whiskey over ice.
Today's hostess might be seen as a modern day geisha: she entertains men and is paid for it. The patron doesn't care about definitions. He is sold on the illusion that he can convince her that his charms are that which she has never seen before. Her short skirt and skimpy top further fuels his motivation.
Shin Watanabe, owner of the Flamingo, a favorite hostess club in Tokyo's Roppongi, says in the New York Times of the clubs' tradition in Japan: "Every Japanese man would go if he had the money. You get to sit next to a beautiful woman and get entertained."
The conversation is as light as her makeup is heavy. To her, it is a game that is a necessary part of her job. To him, it is a world free of rejection and filled only with possibilities.
Thus, in his never-ending search for truth, justice, and the fastest way to the heart of a bar hostess, Captain Japan this week begins his Tokyo hostess interview series...
Profile
Name: Yumi
Age: 26
Working hours: 7PM-1AM, 4 or 5 times a week
Job duration: 5 months
Wage: 2,000 yen per hour
Home: Setagaya, Tokyo
Hobbies: Singing in an acoustic band that plays around Tokyo twice per month
Captain Japan had the great fortune to share a few words with Yumi over tea in Shinjuku's Time Square one recent Saturday afternoon. Yumi works for a "snack" club near Kyodo Station in Setagaya Ward, outside of central Tokyo. Snack clubs are commonly in the residential areas of Japan's big cities and are considered to be a notch down in status from the full-fledged hostess clubs that exist in the ritzier, more centrally located areas. This has to do with the prices for the services and the dedication to the profession the girls have for their work. A snack hostess might be working at the bar temporarily in between office jobs or while going to school. A regular hostess, though, might see the profession as her career.
Interview
Captain Japan: Why did you decide to become a hostess?
Hostess Yumi: I can't work during the daytime because of my music practice. Also, compared to office work, the pay is very high.
CJ: Can you briefly describe what you do at work?
HY: My job is drinking and talking. Actually, it is mostly just lying. We tell the customers how wonderful they are and it makes them feel good. I light their cigarettes and laugh. I am generally their companion. I don't have a quota on the tabs of the customers but the mama-san does encourage the girls to keep drinking.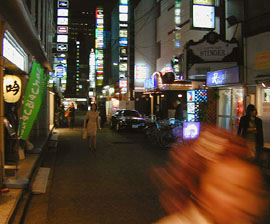 Usually the customers are drunk already when they come inside. Then they start talking about very creepy things. [She refused to elaborate - Captain.]
There is not one regular customer I find interesting. I really hate all the customers. Sometimes they touch me. The conversations are such that I feel like I have become a kindergarten teacher.
CJ: Is this your first hostess job? How did you find this job?
HY: Yes, this is my first. These jobs are really easy to get. There are flyers on billboards all over. That is how I got mine.
CJ: Considering Japan's economy has been so terrible recently, how is business at the club?
HY: Business has been very good. We have had many customers every night. On a busy day, we'll have 8 girls working. That will mean a capacity of 20 customers. We have 10 girls total working the various shifts over the course of the week.
CJ: What kind of customers do you have? Mostly salarymen?
HY: Most of the customers are in their 30s or so. Some are Buddhist priests and doctors. Others are people from the nearby television station.
The typical Japanese salaryman is not one of our common customers because they tend to go to the hostess clubs in Ginza or Roppongi to entertain their big clients. Most of the customers at my club are from the local neighborhood. Actually, because of this, I sometimes wear a hat low over my eyes when I walk around the area of the train station during the daytime so as to not be recognized.
CJ: Are there any customers that stand out for one reason or another?
HY: There is one guy that comes everyday. He has no money. But he runs a tab. He pays precisely on his payday each month.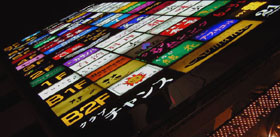 CJ: Is there a membership policy at the club?
HY: There is no membership. The mama-san looks at potential customers to decide whether she will let them enter. If she doesn't like their looks, then "we are full" and they are turned away.
CJ: Is the mama-san friendly?
HY: If I am popular with the customers, then she is.
CJ: What are the prices like?
HY: Well, for example, a bottle of whiskey is 10,000 yen, a bottle of Dom Perignon champagne is 20,000 yen, and karaoke costs 200 yen per song. Of course, customers can keep unfinished bottles of liquor at the club for their next visit.
We are encouraged to drink with the customers because they must pay for our drinks. If there is one customer and 8 girls, then we all still will order a drink. The customer never refuses to pay for everyone's drinks.
There is a table charge. But the price changes are based on the whim of the mama-san on that particular day.
CJ: Do the customers ever want to meet you after work?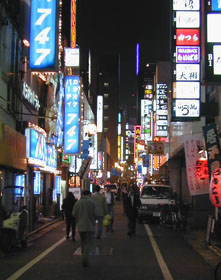 HY: Most customers ask to meet later. But I always decline. I choose to go out by myself.
CJ: Do you have any interesting colleagues?
HY: I have decided not to make friends with the other hostesses. They stay after work and drink and complain about the mama-san together.
There is one girl who always asks the customers for presents, like Louis Vuitton handbags. Once she asked a customer to take her to Hawaii for a vacation. During the trip, he wanted to have sex with her but she said she had a disease. To convince him, she kept pretending to be taking medicines.
CJ: Do you think you will continue to be a hostess much longer?
HY: I am thinking of quitting because I have started to wonder what I am doing. I want to spend my time with people I actually like.
CJ: What would you do instead?
HY: I am thinking of working at a daycare center. But I wonder if the mama-san will make it difficult for me to quit.
Note: Fumiko Kojima and Ed Gelband contributed to this report from the Tokyo Bureau.