Read Filthy's Review of The Beach

Live from Casa Bonita in Denver, Colorado- where the Stars Come Out to Shit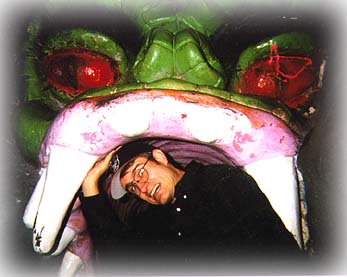 Here I am about to be consumed by one of the monsters in Black Bart's Cave.

Yes, ladies and gentlemen, it's time once again for the Filthies, my little awards ceremony to give trophies to celebrities for what they do best: sucking hairy ass or making me happy. Many of you remember that last year's ceremony was at the Ralston Amoco. Well, seeing how the Amoco is still closed, I had to move the ceremony to Casa Bonita, the World's largest restaurant.

Casa Bonita is famous for its Acapulcan cliff divers, Black Bart's Caves, the bad Broadway songs sung by teenagers, The Treasure Cove, Bananas the Dancing Monkey and some of the most god-awful Mexican food you'll ever eat. As I write this, I will assume that many of the stars I invited will not be able to make it. I never heard back from their agents, but I sort of assumed maybe that was a Hollywood thing: just showing up. But, only one star has arrived, Barbra Streisand, and she wasn't even invited. She even brought her own trophy and asked me to give it to her as a lifetime achievement award. Right now she's stuffing her face with sopapillas.

So, sure I'm disappointed that Ben Affleck didn't come. I even told his fucking agent we named an award after him. And I don't know who is going to eat these 40 chicken combo platters I ordered. But, the disappointment at the Hollywood assholes today is no different than the kick in the balls those fuckers give us every week. And, just like every week, it ain't going to rain on my Goddamned parade.

On with the show.

It was a crowded and tight contest this year. What's a Filthy malcontent to do when he has so many qualified choices for worst on-screen performance of the year. I would love to give it to that pasty fuck Freddie Prinze, Jr., but his horseshit flick "Down to You" didn't come out until 2000. In the meantime, so many assholes inflicted their indifferent and incompetent performances on us that is was hard just to narrow it down to five fellows. Regardless, I tried and the Nominees are:
Ben Affleck for his smarmy performance in "Forces of Nature"
Ben Stiller for multiple miscalculations such as "Mystery Men"
Rob Schneider for the tragically bad "Deuce Bigalow"
Cuba Gooding, Jr. for the laughable "Instinct"
Jake Lloyd for making us hate Darth Vader before his time

And the winner is...

There weren't as many shitty performances by women in 1999, and many of the worst were temperd by the fact that the actress then took her top off. But, let's not kid ourselves, the ladies deserve just as much credit as the men for ripping us off week after week. Following are the nominees for the shittiest portrayals of women by women during 1999:
Heather Graham for sucking twice in "Bowfinger" and "Austin Powers"
Patricia Arquette for thrice shitting in "Stigmata," "Goodbye Lover" and "Hi-Lo Country"
Courtney Love for forcing her way into "Man on the Moon"
Elizabeth Hurley for doing nothing in "Permanent Midnight"
Molly Shannon for playing "Superstar" for about 80 minutes too long

And the winner is...

Let's not forget all that fine acting we saw. Hell, as much as I bitch and gripe about the movies, I'd probably slit my throat if those fuckers in Hollywood stopped making them. And, every now and then, someone does such a good job that it makes it all worthwhile. To me, good acting is more than Tom Cruise's over-the-top crying bullshit in "Magnolia." It's when an actor understands the character, plays him with respect and really tries to entertain the audience, not win a fucking award. The best five actors were:
Philip Seymour Hoffman for saving the "Talented Mr. Ripley"
Kevin Spacey for being the dad in "American Beauty"
Bill Murray for having no ego in "Rushmore"
Richard Farnsworth for being a stubborn old fart in "Straight Story"
John Malkovich for being himself

And the winner is...

I could give this award to the actress who had the best looking tits, in which case Heather Graham would walk away with it. But I don't think that's fair. I think that pornos are for rewarding big boobs, and the Filthies are for rewarding talent. It doesn't hurt if the lady is good-looking, but I would prefer to give those ladies my big trophy in private. The best actresses in 1999 were:
Thora Birch for behaving exactly like a teen in "American Beauty"
Reese Witherspoon for letting herself look bad in "Election"
Olivia Williams for being tolerable and English -bred in "Rushmore"
Sarah Polley for giving life to a stoner in "Go"
Franka Potemke For running her ass off in "Run, Lola, Run"

And the winner is...

Oh, Christ, there were many, many really shitty movies in 1999. Limiting myself to just five is a sort of cruel punishment. Not as miserable as pretending to be nice to Barbra, who is currently harassing Bananas the Dancing Monkey, but certainly up there. "Fight Club" propbably would have been the worst movie I saw in 1999, but I didn't sit through the whole thing. As soon as my damn popcorn was gone, I was out of there. The five worst movies I sat through were:

There were some damn good movies in 1999. Hell, there were enough to keep us coming back, even knowing the odds were against being entertained. I am thankful to the people who actually tried, the people who might have even liked what they did. And the movies that resulted were:

And now, the big moment of the evening: The Fuck You, Ben Affleck award for Lack of Lifetime Achievement. This award is giving to the fucker who raped the public hardest and most eagerly. It goes to the assholes who always put money before art and don't give a flying fuck what they make, so long as the check clears. It never occurs to these assholes that if their movie makes $150,000,000, then they happily stole the money from 20,000,000 hark-working folks and they didn't even try to do their best. Some people are incapable of quality, but others are and still refuse to deliver it. To them, I say Fuck You. In 1999, the Fuck You Ben Affleck Award is deserved by all of the following, but sadly only one will go home with the trophy:
That's the end of the ceremony folks, but here's a celebrity picture of the night's festivities for those who couldn't make it. Right now I need to go settle the bill with the waiter. Good night.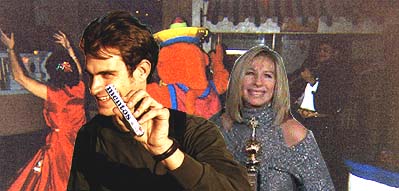 Here's me with my favorite candy and Babs with the trophy she wanted me to give her. At least her dopey husband didn't come. He probably would have drank all the "Chocolate Banditos" that Casa Bonita could make. In the background is Bananas, the Dancing Monkey, who I think stole my wallet.
Read The Beach Review.
Tell Filthy something.
©2000 Big Empire Industries. All Fucking Rights Reserved.