Continued...
1:00 pm
The Mirage!! you've seen the ads, you've read the articles, it's permeated your subconscious. But you really haven't been there until now. Is it impressive?The Mirage is impressive with two i's (see spelling of impressive in this sentence)! Our first stop is the cage of the fabled white tigers. But when we get there, we fear that they have been replaced by two men in green jumpsuits with garden hoses that squirt water around. Interesting, but not exactly white tigers. A man next to you explains that the men are only cleaning the area out for the tigers and that the giant felines will be back momentarily.
In its entrance, the Mirage has bronze statues of naked mermaids (our favorite kind). Only Phil has the chutzpah to actually walk up to the statue and fondled its cool, metallic breasts. Everyone is jealous. On the way out, Dan tosses a penny into one of their many fountains and makes a wish. He wishes that he will win. Everyone thinks about doing likewise but figures that it's too expensive.
2:00 pm
Right next to the disappointing Mirage is the not too disappointing Caesar's Palace. At the entrance, Matt asks Julius Caesar (probably not the real guy) if he is going to win big. Caesar doesn't answer the question and angers Matt. He inquires again and Caesar excuses himself to be photographed with some people. Las Vegas is not a friendly city.
Caesar's Palace is interesting in that it has motorized walkways into the casino from the street but none in the opposite direction. Phil points out that you can take these walkways back out to the street but you'd have to walk backwards. Huh?
Our personal valet Darin says he has had a dream about the Kentucky Derby, and that number fourteen is going to win. We decide to pool our money together and, based on Darin's vision, put it on number eleven. We don't win as our horse's jockey receives a disturbing telegram in the home stretch. Phil retaliates by stealing three pens from their sportsbook and urinating in a corner while the security guards aren't looking. Caesar's pens aren't as nice as Bally's.
For whatever reason, Caesar's has the best tasting Cokes in the world at the snack bar in their sportsbook. They're not cheap, but well worth the investment.
To this point, not counting our losses, we're ahead.
3:00 pm
Because Mike demands to see the tigers we go back to the Mirage. Luckily, this time they are out in their little environment and it is spiritually uplifting to see them laying there, depressed and trapped in an artificial hell. Matt makes contact with the tigers by speaking to them. He says, "Hello, Tigers."
4:30 pm
At one corner on Las Vegas Boulevard, three of the city's most exciting offerings meet: Caesar's Palace, The Flamingo Hilton, and Bally's. Just beyond Bally's is a dingy, run down strip mall that houses the legendary Little Caesar's (now out of business)!! From the outside, Little Caesar's looks like a chintzy little storefront casino. Once we walk inside, however, we discover that it is much, much less.
The first thing we notice when walking into Little Caesar's besides the signs on the doors that say "please close behind you" is that it smells distinctly like Las Vegas. They have four blackjack tables, about 30 slot machines, three of which are penny slots, and a craps table. More often than not, there are more people working the craps table than playing it. In the shadows of the corner, a sophisticated young cocktail waitress nibbles on her fingernails and spits out tobacco juice before bringing another round of drinks to the customers in Dixie cups featuring illustrated riddles ("Why did the Silly Billy tiptoe past the medicine cabinet? He didn't want to wake up the" - the waitress takes the cup away and gives it to another customer before Dan can finish reading the riddle to everyone at the table.).
5:47 pm
Far from the hustle and bustle and the lusty action of the heart of the strip, is the Hacienda (also now out of business), a small time gambler's hell hole. We talk about staying here on our next trip. Mike notices that their casino has the same carpet as our motel room, but in worse condition. In some areas it is solid duct tape.
Redd Foxx is performing in the showroom, and for a moment we entertain the idea of seeing him. Really, though, we have our hearts set on another show...a special show. Luckily, there is a ticket booth here for all the big shows in town, even the one we've been dreaming about. We ask the kind, motherly type behind the counter for five tickets to "Nudes on Ice!" (valets are free) and she tells us: "I want to warn you, this is not a nude show."
"That's okay," Matt says gently patting her hand, "We just want to see the skating."
6:30 pm
Starting to feel the effects of the long day, we truck our ill-gotten collection of pens, change cups, cards and refrigerator magnets back to the El Morocco. We clean up, rest a few minutes, and then head out for the most delicious, exotic meal this town has to offer...provided it doesn't cost more than five dollars. You, Mike, Matt and Mike #2 relax with an ice cold glass of Pepsi. Matt puts himself in charge of the pouring and accidentally spills a considerable amount. At first he puts his foot under the stream as it runs off the table, letting it absorb into his sock. Then, like he is hit by a bolt of lightning, recalls "Hey, this isn't my carpet! Screw it!" and pours the cola straight from the bottle into the carpet. This scares the cockroaches and Phil gathers them up and consoles them.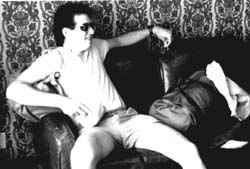 Dan "kickin' it" at the luxurious El Morocco Motel on the Fabulous
Las Vegas Strip.
After this, each of us changes into his, "Hey, I'm having a buffet dinner and going to see some nubile young ladies expose their breasts while ice skating" clothes. For Dan, that is a tie and nice pants. For Phil, this is a T-shirt that says "Show 'Em To Me, Baby!" and black pants with orange flames racing up the legs.
Let's go paint this town!!
7:30 pm
We walk to dinner and stop first at the Stardust Hotel and Casino. The Stardust is neat because it has these "watersnakes" (alas, they're gone) that shoot out of fountains at the entrance. They are these perfect tubes of water that shoot from one fountain to another, unless some schmuck like Dan steps in the way and gets all wet.
The buffet is very expensive, $5.95. We pass.
8:04 pm
Down the strip from the Stardust is the Frontier Hotel. Phil notices that they don't have a casino. Instead, they have a gambling hall. When we get inside, we find that the differences between a gambling hall and a casino must be very subtle and certainly beyond our limited scope of understanding. They also don't have a buffet. Let's get the hell out of this place.
8:30 pm
The next casino is Circus Circus. Their billboard advertises the "World's Largest Buffet" with over 650,000 items. Unfortunately, 649,980 of them are little containers of non-dairy creamer. Although we already ate breakfast here and got deathly ill, the asking price is only $3.99, not too much for all of that "creme."
We get into the fairly short line and enter the dining area only a few minutes later. Winding lines of polyester clad midwesterners stretch around hot plates used to keep the lunch items warm enough for dinner. We all patiently wait our turn except for you as you cut in front of a group of nuns from the greater Detroit area.
9:18 pm
Upon sitting down at our table we all agree that the food on our plates is exotic! Well, it might as well be exotic since none of us know what the hell it is. A few things can be distinguished, like the lima bean flavored cheesecake and the corn flake casserole. Mike #2 describes this unique dining experience best by saying "It is a blend of the familiar and the unfamiliar. The familiar: chairs, tables, utensils. The unfamiliar: the food."
Matt enjoys the egg rolls until Dan suggests a game of "Name That Smell." With his eyes closed, Matt sniffs the contents of Dan's hands and says it smells like he just rubbed it under the armpit of an overweight woman with a sweat gland problem. Surprisingly, the odor actually belongs to the egg rolls. Matt wisely opts not to eat the rest of them.
The meal comes with free beverages, but Dan asks our waitress to bring him a cocktail from the bar, and then another, and then another.
10:05 pm
Downtown Las Vegas. The final frontier. The Union Plaza sits at the end of Fremont Street like a ripe cantaloupe begging to be peeled. It has streams of lights that shoot up and down its facade. On either side and all the way down Fremont Street stand casinos and hotels piled one atop the next. Each is competing with the next in a garish neon light display and, if one closed his eyes, he wouldn't be able to tell day from night. Phil says we should come back during daylight so we can see what it looks like when the sun shines on it all. Mike tells him to please be quiet. Mike doesn't seem to be in a very good mood.
The Union Plaza is home to the "Show of Shows," Las Vegas's only "Sexsational Revue!" That's right, we're talking about "Nudes on Ice!" (since closed) The show doesn't start until 11:30 and we just goof around in their casino until then. A security guard walks up to Mike and says, "Please stop goofing around." We continue to goof around until the man approaches us a second time and says, "If you continue to goof around, someone is going to lose a leg." This dampens everyone's spirits.
Dan decides to play blackjack because then a waitress will bring him free drinks. He attempts to drink a cocktail for each letter of the alphabet, but gets stuck on "K."
11:30 pm
It's Showtime!!!!! The orchestra thrummed to life, the curtain parted, and there we sat with our hearts in our throats. From both sides of the nearly 200 square feet of ice the Union Plaza's own "Sexsational Dancers" skated in . There must have been at least six skaters skating in between each other, around each other, next to each other. And then, just when we imagined it could no better, out slid FOUR women revealing their collective eight breasts (two apiece). Were they exciting? Were they beautiful? Could they skate? Well, no, no, and no.
But these girls have spunk. They have pizzazz and class. Probably most importantly, they have class. The topless glamour gals smile the whole time because they are so happy. They seem to be saying, "Only in America could a woman get paid for cryogenic pornography. God bless us, everyone." And each of us felt our stone hard hearts melt into indiscernible puddles of love. Dan turned to me, pointed to the one that had put the torch to his core and said, "What a lovely, lovely, lovely, lovely, lovely smile!"
And, oh, how he was right. These are special women. Women that have overcome the tragedy of bad orthodontal work, triumphed over horribly disfigured, discolored teeth. But, that is only half of the story, because these girls have achieved success despite the fact that they have no special skills (except, of course, their willingness to display their mammeries).
The dancers with all of their clothes on do the real skating, the nudes just skate out onto the ice and then hobble over to the special "topless girl daises." There they put their breasts on display so that the midwestern husbands in the audience can say to their wives, "These are the great white breasts of America!" This is as exciting as Disneyland, but with tits.
The show opens with a few simple numbers just to get the audience in the mood. Then, before your very eyes, on the cramped stage, the cast recreates an important scene from "Dr, Zhivago", and you are left saying, "So, this is what 'Dr. Zhivago' wouyld have been like had they had four girls on platforms exposing themselves. "
Then, a love story. Not just any love story, but "Love Story" featuring a handsome male skater and the star of the show, whose name I forget but who could both skate and show her hooters. You can tell that the skaters are in love by the way they look at each other. It's a gaze that says, "World be damned! Ours is a special love and it will last!" The lyrics to the theme from "Love Story" made us ponder...indeed "where does one begin to tell the story of how great a love can be?" And is there a better way to express this emotion than topless on a stage? Rhetorical questions, both of them.
"Nudes on Ice" isn't just about skating, it's about comedy too, as the "Union Plaza's Own" Robert Allen showed us. The important thing about the show was "that we have a good time," he told us frequently. He rapped with the audience, zinging us with his witty, crowd pleasing style. One of his jokes ends with him decking a lady he'd never even met and leaving her to die in a pool of blood. Oh, my sides! Another knee-slapper had him puking after eating a cheap buffet. Wheeeee!! Before his set was over, he had attacked Mexicans, women, and homosexuals; three targets very deserving of his wrath, no doubt! He chose our own Dan to be gay. As if this wasn't enough to make us split a collective gut, he then proceeded to conjure up every offensive gay epithet he could think of. It's sheer comedy magic!
When you think of Rio de Jainero, what do you think of? Ice skating, of course. And so did the producers of "Nudes On Ice!" The scantily clad skaters with baskets of bananas on their heads took me with them as they went down south. I could think of nothing but the white beaches and the warm tropical sun as they slid on the subfreezing water. "Carnival in Rio" was more like "Carnival en Rio" once these skaters put their South American finger in the punch bowl.
The "Lady in Red" is a classy number, but its finale is what stuns. The Lady in Red is actually a topless skater, and the fellas that are crazy for her are actually other skaters. At the end of the number, she turns her back to the audience and the two fellas bring her a red bra. She turns her back to the crowd, puts on the bra and skates off the ice. You realize just how modest these girls are. They don't want you to see them only in their undies, because that's indecent.
Every good thing must come to an end, and this is true even for "Nudes on Ice." But don't let anyone tell you they don't go out with a big bang. The show closes with a medley version of "Razzle Dazzle" and "Let Me Entertain You". They do both as the skaters come out for a final bow, Robert Allen waves goodbye, and A massive sign comes down from the ceiling. The sign is the perfect ending to a perfect evening. It is a three foot by eight foot piece of plywood with twinkling Christmas lights strapped to it that spell "Nudes On Ice '90". In a genuine response, the crowd rose as if one to its feet...and left.
SUNDAY
1:40 am
It seems like our arrival in the "city o' sin" was ages ago. But, no, it was only a brief 17 hours ago. We all seem revived by sitting so close to the cool expanse of ice in the showroom and are ready to tour Fremont Street, although Dan is wobbly from the pair of cocktails he imbibed during the show and all the alphabet booze during blackjack.
The lure of the lights at the Glitter Gulch (now a strip club) casino first attract us. We are also enticed by their offer of a "free watch" with "no obligations". Once we get inside the casino, however, we find a catch as big as the hole in the ozone. They say that, in order to receive the free watch, we must fill out a piece of paper with our name and address and then wait twenty minutes before we can have the watch. We also must offer up our jewelry and money to the Egyptian sun god Ra. The, so-called change girl in this well disguised annex of hell is actually a professional huckster trying to con us into buying change from her. We don't even ask the price. We get our validation and leave with plans to return after hiding some of our money and jewelry so they can't take it when we pick up our free gifts.
Sassy Sally's has a similarly enticing offer for a free hat. But, of course, they too demand excruciating extents from us. Matt argues with the change lady:
"Look, we just want the hats."
"No, trust me. Buy some change from me. This machine is hot."
"That's a dollar machine."
"That's right. And it's been paying out real good all day."
"Look at us and tell me you really think any of us is a big enough spender to even play your nickel machines."
"Come back in twenty minutes for your hats."
Meanwhile, Dan steals two Vodka Collins from a passing cocktail waitress and downs them before she notices they're missing. Afterwards, he stands atop an unused video poker machice and announces his desire to "take off all my clothes and sing to my people."
Picketers have camped out in front of the Fitzgerald's Casino entrance. Matt and Mike have no problem crossing the picket line, but Dan and Phil won't enter until they know what the picket is about. Dan speaks with the picketers:
"Hey, hey. What are you guys all picketing about?"
"Fitzgerald's wants our first born in return for employment."
"Oh, no. This is terrible. You know why? Huh? Do you know why? Because I love you very much. Each and every one of you. And that lamp post. I love that lamp post. Look at it. It's the perfect lamp post!"
Mike speaks up: "Dan. They have free drinks in there."
"Well, good luck. I'll see you on my way out. I love you guys!"
Inside, we spend no money, but Dan manages to wrestle a tray of cocktails away from a waitress and drink them all. "Now, I'm feeling really good!" he says, "I've never felt this good. Hey, Matt. Guess what? Chicken butt!! I feel really good." Mike steals a change cup.
2:20 am
Just off of Fremont Street is a small casino and motel called the Gold Spike. We almost stayed here because of an attractive offer of 20 dollar a night rooms on the weekend and "Relatively Clean Accommodations!!" They have a revolving door at the entrance and it stands as their only pretense of glamour or luxury. Their marquee declares that they have penny slots and dollar blackjack. When we walk in, Matt says it smells like an ashtray. Mike says, "No, it smells like an ashtray filled with spoiled sausage." Phil disagrees, claiming it smells like a dirty ashtray filled with spoiling sausage in a biker's armpit. This is accurate.
Surprisingly, the casino is empty and we are able to commandeer an entire blackjack table. As soon as we sit down, Dan calls out to the waitress to bring him "something to cool this old cowboy's parched buds." After a few hands, he begins to slump in his seat and turn pale. "Dan, are you okay?" Mike asks. "Urp. Yeah, I'm just a little dizzy."
A few more hands pass unexceptionally and Dan's goes from pale to green. He is dealt an ace and a nine and asks for a hit. "Sir, you have twenty. Are you sure you want a hit?" the dealer asks. Dan looks at his cards, looks at the ceiling, and then answers the dealer unequivocally by puking all over the table, the dealer, and everyone's cards.
"I don't feel so good, guys."
Mike wipes off the hand he has on the table and says, "Hey, guys, let's play somewhere else."
"No, don't leave," the dealer begs, "this happens all the time."
2:40 am
We return to Fremont Street to claim our free watches and hats. Glitter Gulch proves to be a respectable establishment by giving us our watches. They say they are water resistant up to 200 meters, a claim we haven't been able to substantiate because every time we put one in the bathtub it stops running. Maybe they mean that they are water resistant up to 200 meters from the casino. Sassy Sally's, on the other hand, will not give us our free hats, and the cashier Matt argued with is not there. The cocktail waitress asks if Dan would like something to drink. He answers the question unequivocally all over her dress.
3:00 am
Miles away from Fremont Street and the bustle of the downtown night, we prepare ourselves for a restful night. We stagger to our respective rooms in the El Morocco sky tower. Dan kept his head out the car window the entire trip back to the motel and says he has left a trail on the road that should be easy to follow. The blue decor of Matt's, Darin's, and Mike #2's room reminds them of nightfall on an expensive ocean voyage, and they fall into dreamland quickly. Meanwhile, the room of Dan and Mike glares and pokes and peeks a hellish red that won't let them sleep without closing in on their subconscious. For the next six and a half hours they are tormented and spied on by the living, bleeding wallpaper.
9:30 am
As the hot desert sun bursts through the cracks in the velvet curtains we wake from our slumbers. Mike is tired and angry, but awake. A shower might improve his disposition, but he'll never know because there's no hot water. Matt, Mike #2, and Darin meet down at the blood red room and the new day's festivities begin. By the time everyone douses himself with water and splashes his face with an ample portion of Herve Villachez's "Pirate's Plunder" Brand Cologne it is 10:30. Matt says to Phil, "I slept like a luxurious log in my accommodations at the fabulous El Morocco." Phil nods his head and says, "Really? Well, I slept like a loxurious lug." Matt checks to see if Phil's head can fit in the toilet. Dan is wearing sunglasses and keeps asking everybody to "Please, keep it down."
While waiting to check out we discuss where to eat breakfast. The Holiday Casino's (now Harrah's) buffet looks good. It is $3.95 which is mighty steep but within the iron confines of our budgets. And, since it is our last day, why not spend three and a half dollars more than we planned. Dan is awfully quiet during the conversation except when he says, "No eggs, no eggs, no, no eggs...please."
12:04 pm
Luckily, we didn't have to wait too long to be seated for breakfast and the food is good. The Holiday Casino has a special delicacy in its buffet, a sugar glazed block of sugar in the shape of a donut. It's hard to eat, but if you can finish one, you'll feel like running a marathon and then staying awake for about 60 hours. All the other food is pretty good and this qualifies as the best meal yet. Dan does not partake much of the buffet and just sits with his head in his hands, moaning. Phil entertains the youngster at the next table by juggling his corned beef hash.
Outside the restaurant, they have electronic roulette wheels. We can play a quarter and choose black or red or any number. The game itself is not that fun, but putting a coin on red or black and then screaming "wooo-doggiiieee!!" every time a number comes up is. At first, people around us want to see how much money we were winning to be hooting and hollering so much. But, when they realize we are going to scream every time we win (or lose), they become very annoyed. This causes us to scream louder.
2:00 pm
One of the most exciting looking casinos on the strip is Bob Stupak's Vegas World (now the Stratosphere and exciting no longer). On the front is a 100 foot tall mural of a spaceman. The connection between space exploration and casino gaming is obvious to us all, I'm sure. Bob used to have a five foot by five foot picture of himself in the entrance proclaiming that he was the "Polish Maverick." This however, created too much jealousy in his clientele.
His hotel has about 1000 rooms and his casino has a solar system theme with a thirty foot diameter "Wheel of Fortune" shaped like the skylab on one wall. Vegas World ranks behind only Little Caesar's and the Gold Spike in odor. It smells distinctly like someone has died while smoking several thousand cartons of cigarettes. Stup (pronounced "stoop"), as we affectionately call him, has recently come out with a board game called, can you believe this, "Stupak," and has challenged Donald Trump to a round for one million dollars. Bob also won a wager of one million semolians on last year's Super Bowl.
The catch phrase for people spending their time at Bob Stupak's gambling wonderama is: "Let's go Stup'it!!" or "I Stup'it!"
2:50 pm
The trip is winding down. We have only one more casino to check out and then it's over. The Ellis Island casino is behind Bally's and entices us with its unique motif. We wonder how they could incorporate the hub of American immigration into a gaming room. The answer is a pleasantly surprising one. The actual gambling is unspectacular, but on the walls are large murals of poor Jewish farmers immigrating into New York City. The cocktail waitresses are peasant workers from Poland that speak very little English.
3:15 pm
The desert heat rustles up our inner desires for a cool beverage to drink on the trip home. A nearby 7-11 is the place to satisfy these cravings. Matt opts for the "Double Gulp" which is 64 ounces of soda. Phil takes a step down in the manhood game by only getting a "Super Big Gulp" which is 44 ounces. Mike does likewise. Dan can't seem to decide and lets Matt talk him into getting the "Double." Matt points out that the sixty four ounces of Pepsi is just like taking a half gallon milk carton and shoving it in your bladder. "If this doesn't quench your thirst," he reasons, "then I'm the pope of England."
4:08 pm
Dan announces over the C.B. that he has drunk his entire soda.
4:14 pm
Dan: "How much longer to Barstow?"
Matt: "Another hour or so...why?"
Dan: "I don't know if I can make it."
4:23 pm
Dan: "Why did you make me drink that whole thing?"
4:34 pm
Dan: "Oh, man. I know I'm not gonna make it. I'm getting off at the next exit."
4:40 pm
Dan gets off the freeway in the small desert town of Afton. He gets the bathroom key from the attendant at the gas station and runs hurriedly around the building. Two minutes later, he returns the key to the man and gives him a 50 cent tip. "Oh, thanks, man. You saved my life," Dan tells him.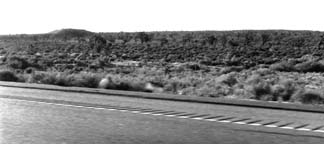 The view returning from Las Vegas to California is similar
to the view on the way out.
6:03 pm
The Burger King in Barstow looks like the place to eat and it is, for us. And, since it is the King of Burgers' restaurant, we decide to go with what he knows best, hamburgers. After this meal and the sharing of our compiled "Old Lady Playing Keno" jokes we are ready to make the last, and saddest, part of our journey.
8:18 pm
Home is where you hang your hat. It's also where we are now. The trip is over, but we all have a headful of memories and a heartful of love for what has been one of the most fun weekends of our lives. After dropping you off, the rest of us talk and secretly decide not to invite you the next time.
THE END