Part 1 - Thursday
Mark arrived while Matt's plane still wobbled and circled in the high winds. Mark (hereafter referred to as "Stinky") greeted his friend with the traditional slug in the stomach and a surly attitude. While waiting, Stinky had picked up and gone through all of the free Las Vegas magazines. He marked all the pages with a potentially valuable coupon. He also slobbered on most of the pages featuring showgirls' pictures.
Matt and Stinky caught the CAT 109 from the Ground Zero level at the airport. It costs $1.00, runs every 12 minutes, and drops its passengers at the Downtown Transit Center, which is two blocks north of the Fremont Street Experience. After 35-40 minutes on the bus, the boys hopped off just short of the DTC and walked to Jackie Gaughan's Western, slightly east of the rest of the casinos on Fremont Street. They had made reservations at $16 for Thursday night, but they probably didn't need them. They quickly figured out that you can just walk up and the joint won't be crowded. There's a reason (or many) for that.
The Western is a short step up from the many rent-by-the-hour operations in town, but an excellent option for the down-and-out gambler or low-roller. They walked in the casino's back door and were greeted by a dusty gray Christmas Tree with a string of sad, blinking lights, and a few people just barely still standing. The Western's casino is generally dirty and a bit scary in that the gamblers here do not fit well into polite society, and have a lot of animosity because of it. Especially toward a couple of college looking guys that just may be goofing at their expense. The desk clerk sifted through the reservations file to find which of the two in there was Matt's and Stinky's. They had to leave a $1 deposit for each key, and were told they'd lose the money if they didn't check out by noon the next day.
| | |
| --- | --- |
| A Deee-luxe room at the Western. Cinder block walls mean extra value. | The spacious bathroom made washing fun! |
The room was small, dank, and dirty. Not so bad that the boys thought they'd have their throats slit during the night; more like someone would come in and give them really bad charlie horses. The room contained a dresser, two narrow, soft beds, and a very small bathroom with a shower head that came to just above the navel. The walls were whitewashed cinderblock and the carpet was threadbare and gray. They expected a lot of hookers and drug addicts to be hanging around, but there were only a few, and those few were very considerate. Like when this hooker was screaming at a john at full volume, her pimp grabbed her by the hair and said "Shut up, Bitch!" because he knew Matt and Stinky were trying to sleep on the other side of the window. Even some of the dumb-looking black-hatted cowboys in town for the NFR were staying there. (The reason the cowboys looked dumb is because they ALL had black hats, as though they all went to Wal-Mart at once and demanded some sort of bulk discount, or they were hoping to be mistaken for Garth Brooks and get laid.)
After they dropped their backpacks in the room, Matt and Stinky joined the Christmas celebration happening under the Fremont canopy. Rudolph and other nondenominational icons pranced overhead while a huge metal tree blocked the street. A big stage with fancified hillbillies singing country clichés on it was parked between the Golden Nugget and the Pioneer.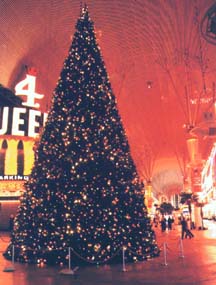 Las Vegas welcomes Matt and Stinky with a sparkly, metal tree.
They walked out form under the Fremont Street Experience to the Lady Luck and signed up for their slot club. In exchange the boys received free metal keychains (nowhere near as nice as the old Manny Bucks keychains) and a funbook with a bunch of crappy coupons, except for the ones for a free two minute phone call to anywhere in the United States and the free photograph. Matt and Stinky got the phone call and the free photograph. Matt called his wife to tell her he wasn't dead yet. Just to feel the sting of loneliness, Stinky called some girl that he still loves but who forgot about him after high school. When she answered, Stinky froze for a moment, then hung up without saying a word. He held the side of his head all night saying "I'll never wash my ear again."
Right next to the free phone call booth is a small counter for Santo Tours. From a previous experience Matt remembered that tour funbooks are better than those they hand out to any bum. He also remembered that the Santo people don't lock up when they leave for the night. The Santo cupboard was open and a stack of funbooks sat inside. Matt and Stinky borrowed one each and were greatly disappointed by what it offered. There were no free offers for food, a few decent cocktail and souvenir coupons and a bunch of garbage aimed at schmucks.
After that they cashed in their Lady Luck free photo coupons. Joe is the photographer and he snaps pictures of tourists standing next to a slot machine. Joe was pretty cool and joked around. For Matt's picture, he had Matt try to lift the slot machine. So he did try, and threw his back out. Not much more can be said about this at present under the counsel of a lawyer, but justice will be served. Stinky got his hand stuck trying to reach up the payout slot in his photo. Joe and the boys were fast friends by this time and he wanted to take a picture of them to put on his mantel at home, so they posed like Matt was punching Stinky. Joe said, "Now, that's really not cool." He didn't like that maybe they weren't getting along.
Next our intrepid heroes headed over to the Golden Gate for a 99 cent shrimp cocktail. This was to tide them over until they reached the witching hour of 11 p.m. when all the diseased cows come back from the grave as cheap late night steaks. The Golden Gate's is the only shrimp cocktail Matt ever had in his life, and he thought if it is the best shrimp cocktail in town, he doesn't like them very much. The Gate is pretty generous with the shrimp and all that, but the sauce just tastes like spicy ketchup. Stinky must have liked his, though, because he ended up with sauce in his hair, his nose and running down his chin. Plus, he sprained his tongue trying to lick the last morsels out of the goblet. Security politely asked Matt and Stinky to move on after the fifth time Matt asked the piano player in the deli if he would like to play "Chopsticks" with him. Really, Matt is pretty good at it.
If you buy ten dollars in coins at the Golden Gate change booth they give you a free deck of used casino cards. If you are not a sucker, you can cash the coins back in without spending even one of them.
Across Main Street from the Golden Gate is the Plaza, where Stinky and Matt stopped for free photo keychains. The woman behind the counter must have been sucking lemons all night because her face was all puckered and sour. She did, however, let the boys pretend they were fighting. In fact, she encouraged it. Right before Stinky knocked Matt to the ground, she yelled "Nail the bastard!". The Plaza also "comped" them attractive wall calendars.
While at the Plaza Stinky and Matt picked up a free publication called the "Las Vegan." As they were admiring it, a few players at a local poker game stared at them. When Matt said, "this is great" the people at the table asked if they liked it. Matt told them it was the best damn publication he had ever laid his freakin' eyes on. They said the publisher was sitting right there, and that's how Matt and Stinky met Boots Van Horn. He said he used to be a columnist in the Review Journal or Sun and he was just starting up the Las Vegas again. He is in his late 70's, full of piss, and very likely a lunatic. But, he seemed really cool and it is neat that he's got his own magazine. He said Matt could contribute any time he wanted. If you're in the Plaza, go back to the poker area and pick up a copy of the "Las Vegan" from the racks. The current issue's cover has a cartoon of a chef pouring salt onto the Plaza's "Pound of Pig" dinner while a chicken looks on in horror, and some eggs are smiling up at them. (Nobody is sure what that means.)
On to Sassy Sally's to wrestle with change ladies for free "professional slot players gloves." These are free to anyone, but the ladies are very hesitant to part with them, probably because of their high cost. The boys got into several arguments before emerging victorious. And, ladies, the gloves are very fashionable. Matt and Stinky wore them for the rest of the night and they helped casino personnel recognize that they were "professional" slot players and should be treated accordingly. In fact, several people commented, "nice gloves."
The fine folks at Santo Tours provided Matt and Stinky with free cocktail and souvenir coupons for the Las Vegas Club. The souvenirs turned out to be cheap pens, but the cocktails were any "well" drink or domestic beer. Matt's not much of a drinker but he wanted to sound sophisticated and asked for a "peppermint schnapps and cranberry juice." And to really make it look like he was a regular he said, "And salt the rim this time." Stinky had a scotch and soda, and to make sure he got lots he said, "I'm not the designated driver, so don't be stingy." They left a buck tip for the two drinks even though Matt's really didn't taste that great. Afterward, the boys went and got a free photo with $1 million at Binion's Horseshoe.
Matt and Stinky moseyed on down to the Fremont to sign up for the slot club. They figured when they signed up for slot clubs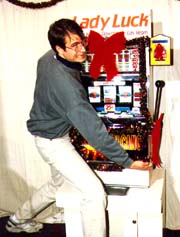 Matt suffers a grievous injury while
trying to lift a Lady Luck slot machine.

would be the best time to ask where all the free crap was. So, they put on their most charming hang dog looks and filled out applications at the slot club booth. Peggy, a very friendly hostess, processed them as Matt asked "What's the best free thing in this casino?" She said "Food." Stinky said, "Oh really, that's good, because I plan on losing about three thousand bucks in here tonight, but I'm also hungry." Against her co-worker's strong protests, Peggy proceeded to write our fine young men a complete food and beverage comp at the Lanai Cafe. It was damn near midnight and they were both famished, so they got in line and got seated. Maybe it was a bad idea for Matt to have the onion rings and the fried chicken, because that grease sat in his stomach for about two days. He tried eating the succotash to counteract the fat, but to no avail. Stinky fared no better with onion rings and Philly cheese steak. And by the time it came to the comped dessert, they were sick to their stomachs and had to decline. They tipped $3.00 on the $20 tab.

Holding their stomachs in agony, Matt and Stinky waddled back to the Western to try to sleep on tilted beds that kept trying to pitch them off, and to listen an argument between the couple next door. The argument was the man saying, "We'll get out of here." The woman replied "That's what you said in Kansas, that's what you said in Utah. I'm sick of it." The boys felt kind of bad for them.
Thursday's Expenses

Matt

Stinky

Transit

$1.00

$1.00

Shrimp Cocktails

$1.06

$1.06

Phone calls

$0.35

$0.00

Tipping for cocktails

$0.50

$0.50

Tipping for free dinner

$1.50

$1.50

Room at Western

$8.72

$8.72

Thursday Total

$13.13

$12.78
Free crap they got: Lady Luck keychains, phone call and photos; Sassy Sally Professional Slot Player Gloves; Plaza Photo keychains and calendars; Binion's Photos; Las Vegas Club cocktails and pens, Dinner at the Fremont.