Tokyo Construction Craze: Boom or Bust?
When we left our hero last week, he was in a typically indisposed state and sprawled at the bottom of the stairwell leading up to the newsroom. Junior reporter Junko stood at the top reminding him once again that he is an alcoholic with a grease stain on his shirt collar.

We now continue with this week's episode...

With small beads of drool forming on the Captain's lower lip, Junko announces that she has finished her latest report on Tokyo housing and shakes it three times with the gusto of an orchestra conductor. To this, he barks a robust "Your what?"

As is too often the case, frustration takes over and she gives up; the report is hurled off the top step and she disappears inside the newsroom. It flutters to the bottom like a spring sakura petal might from its branch to rest a mere 6 inches from his face. Sweating, he rotates his head down a few degrees, squints with his left eye, and begins reading.
As realtor Tetsuji Kusaka shows each of the four different floor plans on offer at his company's Clare City housing complex in Eastern Tokyo, light classical music wafts through the room. It is a model room for an eight-floor complex in eastern Tokyo's Ryogoku district.
He highlights the carefully landscaped entryway and the large bicycle parking area. Additionally, he makes sure that each customer knows that this complex offers every modern convenience available on the market today; from the large cupboard space to the details of the "dimple key" for the front door, Tetsuji doesn't miss a thing. His approach is friendly, like that of an older brother.
Clare City is just one of the hundreds of small apartment complexes being constructed in and around Tokyo. At the same time, an unprecedented number of skyscrapers - offering offices, apartments, hotels, shopping and restaurants - are rising through the city's downtown skies.
This construction boom is primarily courtesy of deflation. This economic detriment to the economy as a whole is allowing for Japanese folks' savings to stretch further than ever before, and building companies to snap up land at - what they hope to be - rock-bottom prices. While this might sound rosy initially, the future glut of all this new real estate space amid a weakening economy might just be too much for the market to swallow.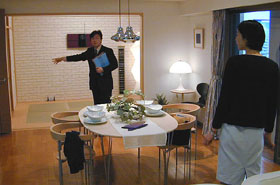 Since the crash of the asset-inflated bubble economy just over ten years ago, many real estate properties in central Tokyo have been sold off to boost company finances. This has caused, as a government report released last year said, land prices to decline for 11 consecutive years and land values to drop overall by 75%.
Though government bean counters and stock market analysts rue deflation as the scourge of corporate profits, the general populace is embracing it like a long lost relative. Generally not stockholders themselves, average Japanese folks are reaching out with their accumulated 1.4 quadrillion in personal savings in tow and giving the falling prices a firm hug.
But when it comes to homes, Japanese shoppers are a finicky bunch, at least these days. With data from the Ministry of Land, Infrastructure and Transport showing that annual housing starts have generally fallen year to year in Japan since 1989, builders are listening more closely to what buyers are demanding. And what they are hearing is that today's consumer wants a new and modern apartment in a convenient location that provides a balance between city living and the natural environment.
Such selectivity hasn't always been the norm. In the years following WWII, workers within Japan's economic machine routinely sacrificed family and leisure time for the good of the company. Working hours were excruciatingly long, housing quarters were in bland and cramped structures, and commutes to and from the office were often in excess of three hours. It was personal sacrifice in the name of economic recovery, and it worked. But today, things are changing.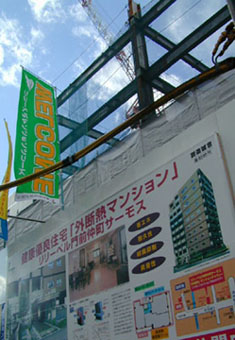 The children of these corporate warriors have no interest in such hardship. As evidenced by the contents of the flashy advertising spreads from home builders that fill mailboxes and line the insides of subway cars, the Japanese of today don't want to live in apartments in rural areas that resemble hospitals and detention centers. They want Western-style housing, and they want it near their place of work. They want large beds and firm mattresses, not futons. They want plush carpet, not tatami. They want hardwood-flooring in their hallways. They want spacious, well-lit kitchens. They want electric stoves. They want wood napkin holders. To put it simply, they want, as Clare City's philosophy reads, "Tokyo Fusion Life."
To meet this demand, home builders are delivering, and they are making the purchasing process easy; in many cases, as simple as ordering a tailored suit or a pizza for take-out.
Pock-marked throughout the city, residential Tokyo neighborhoods are filled with this recurring scene: girders and beams for a yet-to-be-finished complex rise up beyond construction barricades with a nearby billboard giving directions to a gallery where potential buyers can tour model rooms of the finished product.
At the galleries, diversification and flexibility of the units are often used as key selling points to entice buyers. "We can't move the kitchen or the bathroom, but we can change the orientation of any room as you like," Tetsuji says of the options available to the customer at Clare City. He then points to the wall where all of the samples of the various floor tile alternatives available for the bathroom are mounted. "We will make it however you want," he emphasizes.
After placing their order, buyers can then watch from the street over the next few months as the steel frame slowly changes into their future apartment building.
The variety is seemingly endless, and the locations encompass not just shitamachi (old town) areas like Ryogoku, but also extend to include the glitz of Ginza and Shibuya. With such soothing names as "Relaxville" and "Garden Flats," Tokyo residents can pick and choose which apartment option offers them the special features they value most. Examples typically include: walking distance to the nearest train or subway station not exceeding 10 minutes; travel time to the city center less than 30 minutes; a day care center; or easy access to parks and shopping centers.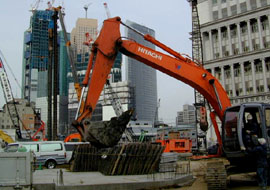 And it all seems to be working. With prices beginning at around 30 million yen for a sixty-square meter apartment, twenty-four of the thirty-two units in the Clare City complex have already been sold since selling began in January. Most were snapped up by young couples and single women. In the neighborhood around Clare City, other complexes have billboards thanking customers for buying up all their units in advance.
On a larger scale - quite literally, the more visible symptom of this surge in construction is the slow emergence of mammoth cranes and steel beams in the sky, portending the eventual arrival of monstrous skyscrapers to Tokyo's cityscape.
The Real Estate Economic Institute reports that in the next few years 50,000 new office units will be added to the market. Statistics provided by Mori Building indicate that just over 2 million square meters of new office space is expected to be added in 2003. This will roughly be equivalent to that of 2002 and 2001 combined.
Much of this space is being supplied by the projects going up along Tokyo Bay. The land between the Shimbashi and Hamamastsucho areas, simply referred to as "Shiodome," might as well be termed "construction alley" as it has the highest concentration of large-scale construction projects in the city. Two rows of three hulking skyscrapers stand like sentinels above their diminutive neighbors; one will be completed this year, two are to be finished next year, and three are due in 2004 or later. With their average height exceeding 200 meters, Tokyo will have a true skyline for the first time.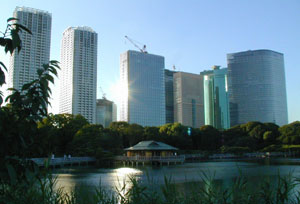 Private tenants, including such heavyweights as Dentsu, Kyodo News, and Nippon Television, will be vacating their current digs in other outer lying areas of the city and moving to Shiodome's glistening glass and elevated walkways on the waterfront. Together, these buildings are expected to house 6,000 people and employ over 200,000. In anticipation of great economic gains from the projects, the government will spend 146 billion yen on infrastructure improvements in the area.
Like their smaller residential apartment sisters, these buildings are being constructed on old properties to take advantage of the fall in land prices. But there is one additional factor at work as well.
Historically, most buildings in Japan have generally been limited to less than 10 stories. Given its history of earthquake activity, it was necessary for building codes to provide such a height limitation. But advanced building techniques that allow for buildings to dissipate seismic energy through swaying have allowed for easing in building standards over the years, and, as a result, have given rise to these high-rises.
Experts believe that revitalization of the downtown Tokyo area into an attractive location for living, working, and recreation will be essential for the future stabilization of land prices.
The Marunouchi Building, which will open in September across from Tokyo Station, is probably the ultimate example of this philosophy at work. Operated by Mitsubishi Estate, the 37-story building will be a relatively new concept for Tokyo; it will house high-end retail spaces, modern offices, and posh restaurants in one building. But that is not all.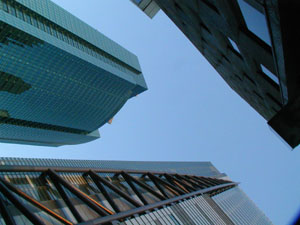 April 2003 will see the opening of Roppongi Hills, an entertainment and office complex that will attempt to polish the mainly seedy image of Tokyo's number one entertainment district. This will be Mori Building's signature piece, a true Tokyo landmark of size (55 floor) and cost (270 billion yen) that will match the Marunouchi Building in shopping, restaurant, and office options office, and up the ante by including a 390-room luxury hotel.
Like the bars and restaurants within the Roppongi area itself, Roppongi Hills will court a foreign corporate clientele to fill its space. This will all be fresh on the heels of the completion of Mori Building's nearby 42-story two-tower Atago Green Hills office and residential complex in 2001.
Thus, for some Tokyoites - at least those with the wherewithal to pay 700,000 yen a month for a serviced apartment in Atago's residential tower, Mori Building is living up to its advertising slogan of "turning dreams into reality."
If this were a fairy tale, it might end here, and happily ever after. But, perhaps sadly, it's not.
While a gleaming skyline and fancy housing for its upper crust might on the surface seem like a bright light for the capital city of a nation in economic stagnation, from a financial perspective it could mean a ticking time bomb.
The problem is as simple as oversupply and lack of demand.
Many of these projects were set in motion with the assumption that Japan would not today still be mired in an economic malaise. Unfortunately, it is; banks are riddled with unrecoverable loans, deflation is killing corporate profits, stock indexes are at lows last reached two decades ago, and unemployment is rising to levels matched only during the days immediately following WWII. And none of these ills are showing signs of improving any time soon.
Given this dire situation, one has to ponder just where the demand will be for all the office space that will be on the market next year. This saturation is a situation that analysts are terming the "2003 problem."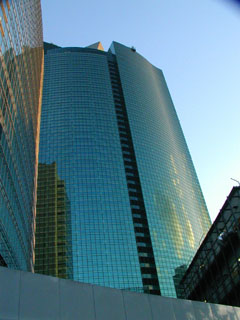 Experts are predicting that the modern amenities and prime locations of the new office buildings will likely be sufficient to lure tenants, but that older buildings in unattractive areas will lose them. Either way, the massive supply will make it inevitable that landlords - of both old and new buildings - lower their rents.
With citywide office rents already plumbing 15-year lows and vacancy rates hovering just below 5% (over 5% is considered to be unstable), it is feared that before next year ends, real estate companies will be susceptible to a rash of bankruptcies.
Small residential apartment complexes could be susceptible to trouble, too. While stories of modern and fashionable new complexes - like Clare City - selling all their units during their grand openings are not uncommon, a report by the Real Estate Economic Institute shows that overall sales of apartments in the Tokyo metropolitan area in 2001 fell by 6.7% from the year before.
This might just be the start. With Japan's population set to top out in 2005 and more buildings set to open throughout the decade, many analysts are already talking about the "2010 problem," whereby the very same lack of demand and oversupply situation would rear its ugly head yet again.
Given this real danger, while Japan enjoys its new Western-style abodes and gawks at Tokyo's evolving skyline in all of its shimmering splendor, this "dream" might very well be short-lived, and could soon evolve into a very real nightmare.
Note: Ed Gelband contributed to this report from the Tokyo Bureau. Photos 5, 6, and 7 provided by Eric Prideaux.