Underground Art: Tokyo's Oedo Subway Line
Tokyo Transportation Up Close
A bowl of ramen is always a good pick-me-up the morning after being out all night on-assignment. But while in the middle of enjoying such on one recent AM, I got a little added boost - a hand gripping my scalp from behind - to give the new day its proper start.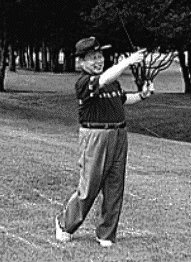 Being awoken, while facedown in a bowl of misou, noodles, onions, and pork, is not out of the ordinary. Typically though it's the chef reaching across the counter, tapping my noggin 'til I come to, and giving me the ol' either-eat-it-now-or-pay-up look, not someone coming from behind and pulling on what remains of my hair.
"Junko from your office said she wasn't sure what drunk tank was your usual one," he began. I turned my head, still in his grasp, and a few drops of broth rolled off my eyelids and chin.
"But," he continued, "since Tokyo now only has one left here in Azabu-Juban, I knew if I just poked around the area after discharge time, I'd have a decent chance of finding you." He turned and pointed outside past the ramen shop's lanterns with the umbrella he was carrying.
He took a stool next to me and released his grip. I reached for a towel. Last night's sake wasn't giving me perfect 20/20, but after a quick wipe I could then see that my morning messenger was Prime Minister Mori himself.
"I'll have to thank Junko later," I assured. I grabbed my pack on the counter and inserted a smoke in the left corner of my mouth. "What do you mean you only have one tank left?"
"Got it right here in the paper," he said, pulling a folded copy of the Yomiuri Shimbun from his pocket and tapping a Kyodo story.
Tokyo police close 1 of 2 drunk tanks
The Metropolitan Police Department said Monday it closed earlier this month one of its two facilities where drunk people can sober up overnight due to a decline in the number of those who cause trouble when inebriated...
"Well this is indeed sobering news," I calmly responded, though inside me the prospect of one less overnight police-sponsored cockroach dance party was playing out like a summer band concert in the park.
"But," I continued, lighting my smoke, "I imagine your visit here today is for another reason entirely."
"Indeed. Lately, I've been having some PR trouble."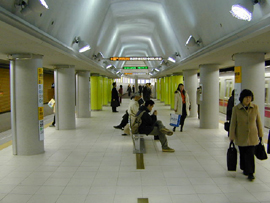 I nodded. "So I've heard. The political backlash from the KSD scandal and that secret fund misappropriation has been almost as bad as that golf swing of yours." I putted a few ashes into the tray.
He momentarily applied his interlocking grip to the umbrella and said, "Well, I've decided to show the media our new subway line. You'll quickly see, however, that it is more than just transit, it is an art project as well."
I flipped a bill onto the counter and followed him out the door.
In a stunning move, Tokyo is now increasing the demands on its already heavily burdened daily public transportation commuters. Surprisingly though, it is not in the form of higher fares, longer travel times, or less tolerant molestation laws. Instead, the right to sleep is being eliminated from the commuter's commute.
At least you'd have to be awake to appreciate Tokyo's latest subway line - the $14 billion Oedo. If slumped forward into the folds of a newspaper while passing through Iidabashi Station, how would one properly view the silver steel girder benches lying beneath a smoothed concrete arch surrounded by neon columns and yellow and gray corrugated metal walls? Further, shaking off last night's whiskey while propped against the wall of a subway car would hardly be the best way to see the phases of the moon painted into the walls of Tsukishima Station. Equally difficult would be gazing at a rendering of a giant fish composed of painted and strategically arranged clay tiles if in enveloped in a zombie-like sleepwalk on the way to the ticket gate of Ushigome-Yanagicho Station.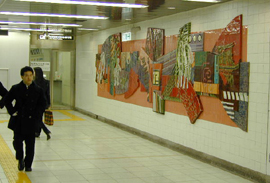 But passenger appreciation aside, what has happened to the once predictable and dull daily trudge to and from the city? Through the use of themes applied in the design of 26 of the 38 stations that compose the 41 km Oedo Line, commuting in Tokyo can be much more interesting and sometimes even educational. It is up to the passenger though to take his nose out of his comic book.

From a series of large circular windows cascading down the handrail of a staircase to a green jungle like space truss, the ornamentation of the standard interior features of the stations is intended to create a theme that reflects the environment immediately above. Added to this are separately commissioned design pieces by unknown artists, in the form of sculpture and murals (like the aforementioned clay fish), located near the ticket gates.
Fifteen different teams were given the task of creating a representative design for the stations. So aside from the heavy use of tile (dozens of shades and textures of gray, black, brown, and blue) and the emphasis on gaudy purple and pink colors, the many chefs have not allowed the trains to exactly follow a common thread from station to station. But this is not to insinuate that they spoiled the stew because a brand new experience can be had at each station.

The representation of education in the 48 lines of poetry of the "Crossing Hearts" exhibit on display below Tokyo University in Hongo Sanchome is an easy call. So is Tokyo's industrial past as related by the metal collage mural of smashed and silver-painted ladders, buckets, plating, re-bar and wire, running the length of Kiyosumi Shirakawa Station.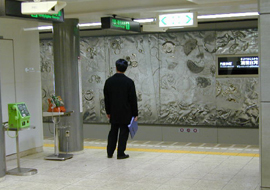 For others, deciphering the designer's intention takes some imagination. Subway cars seemingly launch from within the silver-paneled walls and glass-covered columns of a space station in Aoyama-Ichome. At Akabanebashi Station, the reflection of the oncoming lights off the small glass block modules running the length of the walls, call the evening arrival of a ship to port rather than a subway train. Then there are the carefully laid yellow tiles in Azabu-Juban calling nobody else but Dorothy and the Wizard.
If taken as a whole, the complete and unmanageable chaos of Tokyo is achieved beautifully by the completely random motifs and pieces. But even individually, the chance to ponder the meaning of the glass sculptures encased in glass cabinets in Kuramae or the four large protruding blue bubbles in Ueno-Okachimachi is certain to bring a grin to even the most jaded of commuter. All that is required is a little attention. But fashion aside, how about function? Are people riding it?
We stood on the platform at Roppongi Station gazing at the large gold-trimmed black tiles on the columns, its pattern and colors extending across the ceiling and down the walls.
"We believe this line will be in the red until 2015, but just look at how great these stations look!" Mori exclaimed, pointing at what is no doubt a likeness to a woman's evening dress.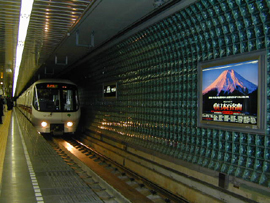 "It's nice, but an entertainment area is above. Are people going to be sober enough to correlate the idea to what happens above?" I asked.
While taking a few practice swings with his umbrella he asked, "What do you usually think about when you come down here sober or otherwise?"
He had me there. But supplying the sobriety option wasn't necessary.
A train pulled into the station. Just before boarding he said, "Right now our passenger numbers are running at about one-third of what we anticipated. But we figure it will take time for people to change their rail passes over. We'll see what happens later."
I stood on the platform and Mori waved as the doors closed. I turned like a hooked five iron and started back to the newsroom. I had a junior reporter that owed me breakfast.