Kappabashi: Everything But Food
When Junko entered my office I was in the middle of my pre-work pick-me-up, though only my pack of cigarettes was on my desk. I didn't have my bottle out of the drawer yet.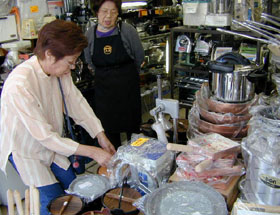 As is often the case, she stood just in front of me and spoke before I could object. "I take it by your clothes that you are switching professions: From professional alcoholic to professional alcoholic in restaurant garb."
I was wearing a chef suit. White pants and top. The hat was somewhere else. Maybe the restaurant. Maybe the bar. Actually, probably the bar.
Answering quickly might get her on her way, I thought. So I did. "An owner of a restaurant said he was short a few hands a couple nights a week and asked if I'd help out. Me being a giving sort, I agreed."
I had failed. She didn't leave.
First she grinned. Then she said, "So to put that in English: You haven't paid your tab in over a month and the owner is forcing you to work it off. Otherwise he'd send a few of his boys after you."
"Okay Marlowe. Are you finished?" I tapped one cigarette on my desk and turned to my Eisenhower wall portrait for guidance.
"Where did you get that getup anyway?"
I propped my feet on my trashcan.
One of the more unique aspects of dining in Japan can be the ordering procedure; sometimes as simple as pointing at the wax model in the display case outside the restaurant. In Kappabashi, that option is available as well, the exception being that instead of a plate of spaghetti you will get literally a wax model of a plate of spaghetti. And a bill for around 5,000 yen.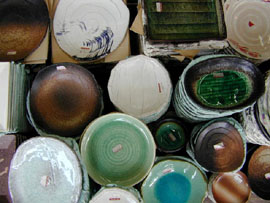 Welcome to "kitchen town," a collection of shops selling nearly everything needed to start a restaurant. Wax models of steaks, curry rice, and ice cream are just the beginning. Staff uniforms, pots, dishes, interior furnishings, signs, cash registers, scouring pads, blenders, and even giant plastic ice cream cones are on offer at the collection of over 150 shops on Kappabashi Dogugai street near Tokyo's Ueno district. The only ingredient missing is the food, the real food.
Pondering a trip to Shanghai for those authentic golden dragon wall decorations for your Chinese restaurant? Cut that trip short with a stop at Chukaya where all is glittering gold. Be sure to rub the belly of the laughing Buddha statue for good luck.
Worried about where to get those faux leopard skin stools for that hostess club you are opening? Relax, Sankawa has them, plus matching foot rests and full couches. Upstairs are wood chairs and stools.
Think another noodle restaurant is what Tokyo needs? Then hurry over to Ishikura to get your lanterns. Each, of corrugated orange paper and with your noodle of choice ("ramen," for example) printed on the side in Japanese, dangle from the ceiling like fruit from a tree. And speaking of trees, more than one shop offers bundles of chopsticks in bunches big enough to be confused for firewood kindling.
Kappabashi is a community held together under an umbrella organization that promotes the shopping street. Each store is marked by a small wood angel-like figurine out front. Music of many varieties is piped from speakers mounted underneath the canopy that runs the length of both sides of the street. This helps in bringing continuity to the shopper as he goes from shop to shop ticking off his shopping list. But unlike, say, Wal-Mart, no one store has everything. Taken together though Kappabashi is essentially one giant restaurant supply dream.
Why come to Kappabashi?
"Two reasons. For one, they have everything; for another, it's cheap," says Masa Nagumo, proprietor of the Taiyoken Chinese restaurant in Tokyo's Ningyocho district. "We do a lot of delivery business and are always breaking the small ceramic dishes."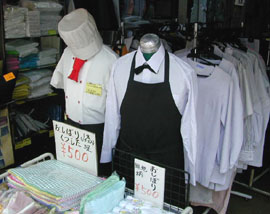 Typically the stores have specialties.
Mitsuya's is documentation, documentation of every kind. Stacks of order note pads in pink, yellow, and blue sit out front. Cash registers of three kinds wait patiently nearby for their first sales. Hand calculators are neatly racked beside for impulse buys of 2,180 yen each.
Canon Kitchen Center has white dishes. They have pizza dishes, cake dishes, deep dishes, shallow dishes, round dishes, and oblong dishes. But only white dishes. Do you want swirl-color patterns on your dishes? Then go to Komatsuya. It is next door.
At Fukuokaya the shop owner stands patiently behind his display of chef pants and shirts. This is all he sells. He beams with pride. And he has reason to. All of his wares are of top quality and certified for safety. Collar or not? Short sleeve or long? These are important questions one must consider when outfitting a staff of sushi shop workers. But hasty decisions need not be made. Catalogs are available for the placing of orders by phone.
The area's past as a mercantile area goes back over two hundred years and has survived earthquakes and fires. But it wasn't until just after World War II that Kappabashi became the locale of choice for stainless steel kitchen tables and seafood display cases.
Kappabashi's most active time is on weekday mornings as this is the ideal time for the hardened restaurant proprietor - the average customer - to take care of any necessary shopping. But a lot of chefs-in-the-making and even tourists can be found rubbing elbows with the pros while picking through the noodle strainers and stainless steel pots. Some even bring cameras.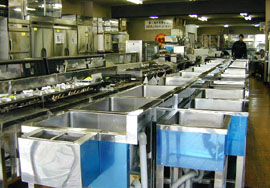 It is all here. Even the intangibles, like American nostalgia. A number of stores feature framed copies of old magazine ads, replicas of vintage ashtrays and lamps, neon signs, and soda vending machines. Tokyo bars and cafes can add that pop culture ambience with the help of Phillip Morris, Kellogg's, Coca Cola, and Flash Gordon.
In a lot of ways Kappabashi has a captive set of customers because many of the products cannot be had anyplace else. But in a sign of the times, some stores, selling goods that are today available at 100-yen shops, like small dishes, entice visitors with signs (ones that are not for sale) announcing that their products are "cheap" or "half off."
For the majority, though, Kappabashi is, and will be for the foreseeable future, the only game in town. Where else can you find burlap and canvas restaurant entrance curtains in red, blue and brown? For now, not even at Wal-Mart.