Unwinding the Mystery of the Gyroball (Part IV)
The Gyroball > Part I > Part II > Part III > Part IV
To this point in the saga, a Matsuzaka link to the gyroball is a tough one to make: neither Tezuka nor Himeno had met Matsuzaka; as well, the pitch had only existed on Himeno's hard drive and in Tezuka's teachings.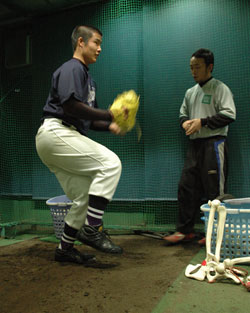 Perhaps the closest Matsuzaka came to confirming he had thrown a gyroball was during an interview with Jeff Passan of Yahoo! Sports. Matsuzaka mentioned that he had experimented with it, but as more details were requested it was obvious Matsuzaka was in the dark about the pitch. Passan wrote, "With each question, Matsuzaka's eyebrows arch higher."
Tezuka claims that the Matsuzaka-gyroball connection is rooted in a program that ran on public broadcaster NHK on August 27, 1999.
The year before Matsuzaka had reached legendary status. In leading Yokohama High School to victory in the Koshien Summer High School Baseball Tournament, he tossed a no-hitter in the final and gutted out a 17-inning, 250-pitch performance just days before.
Titled "18-Year-Old Daisuke Matsuzaka: The Super Rookie's Spirit and Technique," the 50-minute show attempted to explain the reasons for his success. Tezuka and Himeno were asked to participate. The rotation of Matsuzaka's pitches was a key topic.
"All throughout the making of the show," Tezuka says, "I told the NHK staff that Matsuzaka's throwing a sinking slider whose rotation might look like a gyroball. But they wanted me to say it was a gyroball."
Matsuzaka's slider, whose sidespin rotation is different from a gyroball's spiral, is tight, with the pitch dropping straight down. Tezuka, who spoke only of Matsuzaka's arm motion and release of the ball during the program, refers to it as a "vertically dropping slider."
"But no matter what I said," Tezuka continues, "NHK just went ahead with it. The show's narrator said the pitch had a gyro spin. That's how the news of Matsuzaka throwing the gyroball first spread."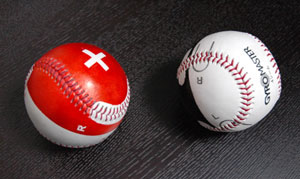 One segment featured a fuzzy frame-by-frame sequence of a Matsuzaka pitch that purportedly displayed a jairokaiten, or gyro rotation.
Himeno, who provided his research to NHK but did not appear on the program due to time constraints, explains, "When I found out that the spin of the ball pitched by Matsuzaka was just like the spin of a rifle bullet, I told the NHK staff that it was a gyroball."
Matsuzaka's sudden association with the pitch was the rectification of a mistaken identity, Himeno claims. In The Making of the Supernatural Pitch, which was published the year following the program's airing, he wrote: "Matsuzaka's throwing of the gyroball was the most talked about incident last year. In general, nobody knew the name 'gyroball' so it was just called a 'sinking slider.'"
Still, is it possible for a young pitcher to be throwing a new pitch that a team of researchers just happen to be developing with neither of the parties having spoken to the other?
Reading through The Truth about the Supernatural Pitch reveals that there is very little content that represents Himeno's concepts on how to throw the gyroball. Chapter 3, which provides a background in physics and Himeno's graphics, is the only portion credited to him. It is very much Tezuka's book: from his thoughts on the deceptive speed of the pitch to the underhand delivery. Likewise, Himeno's The Making of the Supernatural Pitch presents his side of the gyroball coin.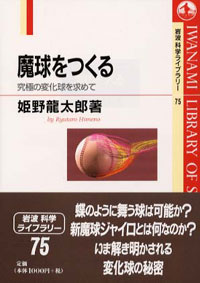 Tezuka is very happy with his schools. The gyroball is his baby. At a minimum, pitching sidearm fastballs is certainly not unprecedented. Kent Tekulve and Dan Quisenberry did very well in the big leagues dropping down submarine style.
By 2012, Himeno expects to have constructed the world's fastest supercomputer at Riken. In speaking engagements and interviews (like the one for this article), he still maintains that Matsuzaka's slider is in fact a two-seam gyroball.
Two weeks ago Matsuzaka signed a 6-year, 6.1 billion-yen deal with the Red Sox. He will make his debut next spring.
Matsuzaka's first start at Fenway Park will be on a crisp afternoon or evening. He will stand on the mound, probably kick at the rubber a few times before staring down at catcher Jason Varitek, wagging a few signals with his fingers. Matsuzaka will get his sign, go into his wind-up, and deliver a...
No doubt, Himeno and Tezuka will be watching right along with everyone else.
Note: Kazuko Maruyama and Yukiko Kuwamura contributed to this report from the Tokyo Bureau. All computer graphics courtesy of Ryutaro Himeno and Riken. Photo of Daisuke Matsuzaka used with permission.