Odaiba: Where Bubbles Don't Burst
Japan's bubble economy is known the world over. Economists have debated its cause for some years, having recently linked its source to be a direct result of the great soap shortage of the early '80s brought on by scheming Japanese soap hoards. These fiends wrested the vast majority of South-East Asia's soap stocks and sent its price soaring skyward. With this rich bounty in Japan's grasp, the bubble economy was born. Of course, this all collapsed a few years later when it was learned that "off-brand" soap had hit the market, sending the price of soap plunging on commodity markets and the Japanese economy right down with it. A recession ensued and Japanese people have not been able to wash their hands of it since.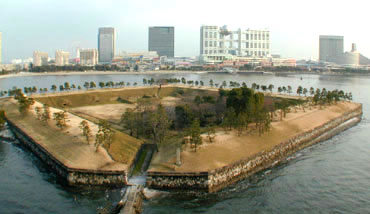 So it was last week that the Captain decided to check out the greatest product of this financial pain: Odaiba, Tokyo.
Build it and they will come.
Described by Forbes as "a sort of Canary-Wharf-on-hallucinogens," Odaiba is a man-made 1,100-acre peninsula of shopping and office building creations jutting into Tokyo Harbor that set back the local citizens some $31 billion.
Last year the area was in the news for the arrival of a small-scale version of the Statue of Liberty. France, as apart of the Year of France in Japan, donated the lady and placed her just off the island's main shopping district. When the year ended though, France shuttled the lady back to the land of frogs and creme brulee.
After this bit of reneging, Tokyo officials soon realized that an additional draw was needed to attract the tourist dollar, or rather, yen. So after months of deep thought, they came up with the answer: beach sand. Not just any ordinary sand - but Chinese sand. Yes, the government had boatloads of the stuff shipped to Tokyo and spread along Odaiba's shore near the Rainbow Bridge. A section of Japan's mainly dark volcanic landscape would now have a sparkling white beach, they hoped. But when planning this great opus, the planners failed to consider rainfall and tidal fluctuations. After a few months, the resulting beach more resembled oatmeal with extra brown sugar than the desired appearance of a Hawaiian coast. The best laid plans of...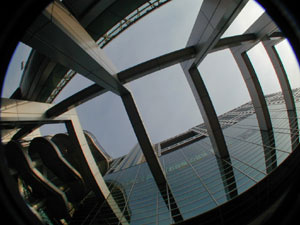 But people don't come to Odaiba for the beach; they come to buy jeans, dine on the delights offered at Sizzler, experience virtual reality, and wait in a long line for the Ferris wheel. Such a mish-mash of modern entertainment never sounded so good; and junior reporter Junko and I set out one recent Sunday to see it all.
Tokyo Teleport is the central train station for access. Of course, one wonders, why are they bothering with trains when, as implied by the name, there is a perfectly good teleport available?
After many minutes of searching and asking, we concluded that there is no technology available to break down matter into small transportable particles and reassemble them in another location. Nope. It's just a catchy name. Ditto for the Teleport Bridge.
With our heads down in disappointment, we trudged up the stairs and Palette Town (as the entire entertainment area is referred) revealed itself.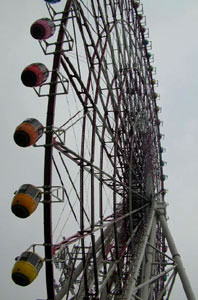 Neogeo World starts with an attack to the senses with its huge warehouse of video games and virtual reality rides. The attraction "No Fate" gives women the chance to simulate being stalked. Mechanical horses act like bumper cars in "It's a Cool Jockey?" Whipping your mechanical horse is encouraged, though the determination of "cool" is not immediately clear. "Peep Gem!" is a 3-D shark movie where the sharks circle above the viewing audience. No mauling of the audience is included as a part of this feature.
With the line for the 115-meter-tall Ferris wheel looking to be a few hours' wait, a magnetic force pulled us over to the Toyota City Showcase. Ok, it was really Vincent Gallo that did the pulling.
Vincent Gallo is extremely popular in Japan and the current spokesman for Toyota. He and his mane were at the Showcase just one day prior to our visit - leaving Junko terribly distressed - pitching the new Celica model under the slogan "One Man, One Woman, One Car. and, Life Is so Beautiful." In his latest Celica television commercial "Live, Love, Drive.," he is forced to share a smooch with a woman while she chomps on a hamburger - with onions. Beautiful, indeed.
The multi-storied Showcase showroom is a marvel. The fact that the room is open and the cars and people are moving both laterally and vertically (on ramps and escalators) gives it a real space-age feel, sort of like if George Orwell went into the car business. And if you can believe it, the over 100 cars that are out for viewing are not patrolled by even a single car salesman.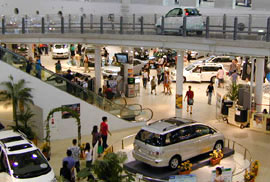 The cars available for a test drive are stored in a vertical rotating chamber in the building's center. But the traditionally simple test drive is enhanced by the use of topiary sculptures in place of mundane orange traffic cones on the test track outside.
For those not wanting to drive the real thing, the Virtual Real Drive attraction may be just the ticket. After entering a giant white pod, which resembles a natural gas tank, and settling in behind a car's wheel, the viewer is then subjected to the twists and turns of a real, or perhaps virtual, driving experience as the pod is violently shaken by the up and down motions of hydraulic pistons. Nobody was seen to lose their lunch upon exiting.
Getting a little itchy to do some shopping, Junko asked that we go over to Venus Fort - a full fort being necessary to keep out that pesky Zeus, it would seem. It is a shopping mall that is a direct knockoff of the Forum Shops at Caesar's Palace in Las Vegas. The ad campaign for the center features three bearded-men (who must be Romans) donning white towels around their waists; one holds a white megaphone to his lips, another is wearing a white sandwich board, and the third wields a blank protest sign. Shoppers seemed confused, yet still going about their business.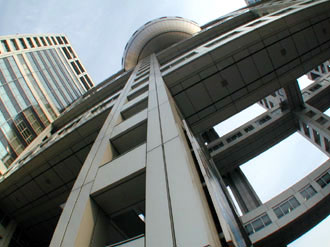 Though this dash of history amid modernity is obviously to add a bit of intrigue, Odaiba does indeed have a past that goes beyond that first shovel full of sand tossed into Tokyo Harbor over a decade ago. Just at the edge of the Rainbow Bridge is Daisan Daiba, a small diamond-shaped island that during the Edo Period (1603-1867) was used to house troops needed to protect the shogunate. During the uncertainties of World War II, it was equipped for anti-aircraft equipment.
After enjoying a cardboard bagel (likely carefully preserved from the latter-half of the Edo Period) and a bitter coffee at the Bagel Bar, I tried to get Junko to try on a leopard print bikini at the Soul Train store. But she wouldn't. I pleaded and begged - even asking that she pretend Don Cornelius - his signed photo positioned behind the register - were there in person. But, alas, once again she said no. Then I mentioned the potential journalistic value, and, though pausing to think this time, she yet again declined.
Growing weary of shopping - and rejection - I suggested we venture to the new Fuji Television building. Designed by architect Kenzo Tange, this is one of Tokyo's newest landmarks - a silver erector set-like creation with a giant tomato in the center. The red vegetable is actually a viewing room.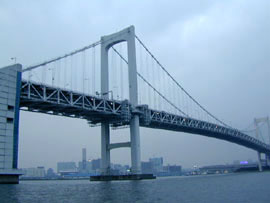 We rode the crowded elevator up to the top and soaked in the view. Props from television programs and news anchor desks add to the excitement of being many meters in the air.
As it was getting dark, most of the smog, crud, and other features of industrial blight were obscured. Ditto for the beach sand scattered below. But the lights from central Tokyo cut the darkening sky.
Junko noted that the scene of the yakatabune (small traditional touring boats) adjacent to the Rainbow Bridge made the scene seem like something from a New York postcard. I remarked that we'd have to start seeing weighted concrete corpses being dumped before it resembled any of the waters around Manhattan.
From our perch, we stared out. With the lights of the Ferris wheel flickering behind, my thoughts drifted to a certain bikini while Junko's eyes no doubt filled with images of Vincent. Then we both smiled. The charm of Odaiba? Maybe. Or perhaps it was the hallucinogens. Who knows?