Hentai Manga Gears Up for World Exposure
The Manga Series > Hentai > Toshio Maeda > Takeshi Oshima > Rui Hashimoto
As the Captain gets on in years, he is discovering that life for the hard working newsman offers increasingly less reward. The emergence of the Internet is shaking up the business; slick puff pieces done off-the-cuff are replacing articles based on true legwork and old-fashioned journalistic ethics - the two pillars from which he has forged his renowned international reputation.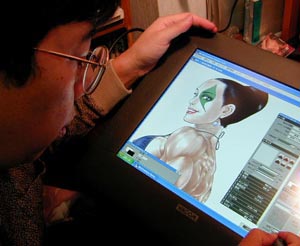 But it doesn't stop there. In his social pursuits, too, the Captain has seen subtle changes in his place in society. Take this recent exchange outside a Kabukicho strip club:
Doorman: Neeeeeeext! That'll be 5,000 yen, please.
Captain: Say, the guy before me only got charged 4,000. What gives?
Doorman: Pops, that's the student rate.
Unbowed by this shift in priorities, the Captain marches on to bring his readers the latest news - after all, it is his duty. This week he immerses himself in the complicated world of manga, a world that - unlike him - has in recent years been gaining respect and popularity, particularly outside of Japan. Join him as he traces this development through the works of the grandfather of the genre of manga that is characterized by its extremely erotic and grotesque images.
Toshio Maeda is doing a little touch-up work on a drawing. His subject is a female athlete in profile; muscled back and arms, perky breasts, and a tight-fitting blue bikini. He begins on her face and scrolls down his 2-in-1 computer screen and digital drawing tablet, making small additions to her already highly detailed form.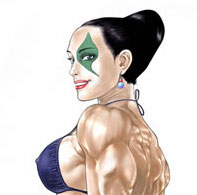 Just before he advances the drawing stylus down to work on her lower half, the bespectacled 49-year old explains that most of his fans don't like looking at simply a muscled woman. He then grins and taps the stylus once more. The screen regenerates with a large phallic bulge protruding from the woman's crotch area. "So I like doing something different," he says.
These days the overall anime and manga business is at a crossroads. Time was, manga was simply a means for the average salaryman to while away his commute to the adventures of his favorite detective serial, or for a school boy to nervously read along as his baseball hero bats in the bottom of the ninth with the game on the line.
But today the twists and turns that take place in the surreal worlds of both manga and anime are now being enjoyed by fans outside Japan, a trend that seems to be in its infancy. And for Toshio Maeda, a trend that he couldn't be happier with.
Maeda's work, whether it be a 20-page manga or an anime video, is classified in the genre known as hentai, or perverted. Though there is a certain level of perversion in many forms of manga, whether the genre be sports, history, literature, or romance, in hentai, perversion is the point. Storylines are at best secondary, or, perhaps more realistically, tertiary.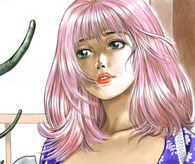 To be blunt, hentai content concerns sexual situations in nearly any grotesque or violent possibility imaginable. The average hentai piece begins with the action being akin to standard porn movie fare and then slowly morphs into a smoky sea of mayhem featuring busty young girls being sucked, fondled, bound, and penetrated by any of a dozen various appendages emanating from an alien, samurai, schoolmate, or any other living creature that might happen into the scene.
Nearly two decades ago, Maeda's landmark comic book series Urotsuki Doji, featuring the first modern use of the tentacle as a tool for female molestation - a point of great pride for Maeda - cemented his place in history as the contemporary pioneer of the craft. Sales for the series totaled over 2 million volumes.
The tentacle master's opus was subsequently made into the anime feature Urotsuki Doji: Legend of the Overfiend. With this release in English, Maeda's legend grew around the world. The Erotic Anime Movie Guide claims, "No other title apart from Akira has been so influential in the English-language market."
This month Shonen Jump launched an English version of its best-selling weekly Japanese manga in the U.S. Publisher Shueisha has joined Viz Communications, Inc. to deliver such popular ongoing series as Yu-Gi-Oh!, Slam Dunk, and Dragon Ball Z in a monthly volume for American readers. The target is teenage boys. Initial runs will number 250,000 copies - an unprecedented circulation for such a publication.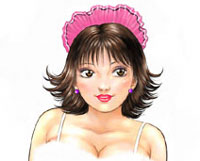 This comes fresh on the heels of such recently successful Japanese anime features as Pokemon (and its seemingly endless marketing in trading cards and action figures) and Hayao Miyazaki's Princess Mononoke. The latter gained accolades from Hollywood with its unique animation being seen as a true innovation in filmmaking. This year Miyazawa's Spirited Away took the coveted Golden Bear at the 52nd Berlin International Film Festival Award.
Maeda has been a part of this overseas movement as well - albeit to a much more select audience. His latest anime home video series La Blue Girl, where young female superheroes band together to fend off the continual advances of man and beast, appears in a half-dozen languages overseas.
Even though some manga has been available in the U.S. for over 10 years, Maeda sees Shonen Jump's arrival as a potential introduction of his work to a wider audience.
"I think it's great," he says of the move overseas by the mainstream publisher. "After the audience in the U.S. reads Shonen Jump-type of manga, when they grow up, they can read our style of manga, x-rated manga, or manga stories for adults."
Should Shonen Jump be a success, the potential market could be huge. Roughly 3,000 manga artists in Japan put ink to paper to crank out nearly 50 weeklies, bi-weeklies, and monthlies. Of these, about 10 can claim a circulation of over one million for each issue. The total annual sales of 600 billion yen amount to one quarter of Japan's entire book market.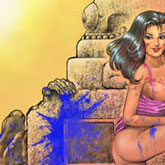 But in order to ensure that it doesn't go the way of the Betamax, manga will have to jump a few hurdles in moving to the U.S. market.
For one, the storylines are different. Standard American comics, like Batman, Spiderman, and Mighty Mouse, have a hero - it is good versus evil. Manga stories are more complex, and, aside from exaggerated scenes of fantasy, violence, and sex, tend to not be too dissimilar from everyday life. Many of the most popular comics are made into evening television dramas.
Capturing the imaginations of American readers will be a challenge as well for Shonen Jump, which generates a readership of 3.4 million each week in Japan. The cultural mindset in the U.S. dictates that comic books are for children. In Japan, there is a manga title for nearly every age group.
"It is letting off steam," Maeda says of why adults can be found in nearly every public setting in Japan leafing through page after page of their favorite manga. "We read it as a regular book."
The reason for this goes back to the work of Tezuka Osamu, and the environment in Japan immediately following the Occupation in the 1950s. At that time, there were no very few televisions. Adults, as well as children, demanded to be entertained at a reasonable level of sophistication and Osamu delivered with the adventures of the tremendously popular Mighty Atom.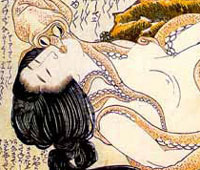 Hentai's roots go back much further. "The Dream of the Fisherman's Wife," an Edo Period (1603-1867) ukiyo-e woodcut by Hokusai, shows a reclining and unclothed woman being wrapped and violated by octopus tentacles.
Though a motorbike accident a year and a half ago left him with a limited ability in his drawing hand to apply the proper pressure needed to draw with ink, Maeda can use his computer to create various characters and the script for his next anime feature, likely to be completed next year.
No matter what happens with Shonen Jump the content of Maeda's work will not be compromised. The cutting edge will always be his drawing board. Like most artists, he believes his best work is ahead of him, and scoffs at any suggestion that Urotsuki Doji is his masterpiece.
In spite of requests from fans for samurai or ninja warriors to be included in his stories, Maeda's work always focuses on his concept of art. "Over the hill" is how he describes any artist who changes his style to meet the trends of the day.
"I have a priority to my taste," Maeda explains. "I just want to do what I want to do. You must understand that Shonen Jump is only a seed. It is up to us [manga artists] to cultivate it in our own way."
Should he have his way, that will mean a world that will one day find itself at the mercy of a tentacle embrace.
Note: With the exception of the Hokusai piece, all drawing images are courtesy of Toshio Maeda. A special thanks goes to Freedom Lohr at TokyoDV for assisting in this article.
The Manga Series > Hentai > Toshio Maeda > Takeshi Oshima > Rui Hashimoto