Kabukicho Comes Clean (Part II)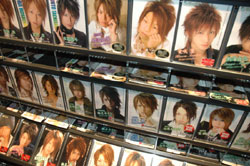 ...back to Part I...In 2006, a revision to the 1948 law made aggressive "catching" by hosts of women in the street illegal. It also required sex establishments to disclose detailed information on their lease agreements. The National Police Agency reported that these measures dropped the number of sex shops nationwide from over 40,000 in 2005 to fewer than 20,000 last year.
A bartender serving at a watering hole in the basement of a building fronting Hanamichi-dori explains that the times when Kabukicho was a place to get drunk in the early evening and then visit a sex establishment after midnight are fading. He describes the plight of one of his regulars, the manager of a fuzoku (sex service) shop:
"He tells me that since his customers are coming in during the daytime they are all sober and therefore unwilling to pay high prices," the bartender explains. "Further, they are fanatics who will complain if the girl's face is not exactly what they want. They will also have done extensive research beforehand, often arriving with discount coupons. So now he doesn't even open before 3 p.m."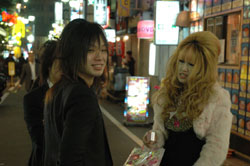 Last year's crackdowns on dozens of host clubs sent shock waves through the industry. Just prior to the busts, the Metropolitan Police Agency reported the number of Kabukicho host clubs to be 200. Now, Aida estimates, there are approximately 80.
At around the time of the host club raids, Aida founded the Shinjuku Kabukicho Host Club Anti-Organized Crime Gang Association. The organization aims to improve the trade's image by separating itself from gangsters, aggressive street solicitations and bottakuri (literally meaning "rip-off"), the practice whereby ladies are strongly encouraged to purchase expensive liquor, such as Dom Perignon Rose, which costs ¥130,000 a bottle at Aida's main host club. In furthering this new public face, it is not uncommon to see hosts, broom in hand, literally sweeping Kabukicho's streets clean.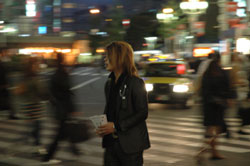 In spite of these anecdotes, there is little fear that Kabukicho is set to become as sterile as, say, straight-laced Otemachi any time soon. More signs that the area still rocks to its familiar beat are the numerous Japanese touts thrusting laminated cards of near-naked ladies in front of male passersby, the Chinese girls peddling massage services on many corners, and strip club Kabukicho DX offering "sexy panty" souvenirs to customers on select weekends.
Even much of the crackdown's impact could in part be an exaggeration.
During a recent festival at Hanazono Jinja, a shrine at the edge of Kabukicho where those engaged in commerce come to pray for profitable business ventures, dozens of characters sporting slick black suits, shortly cropped hair, and colorful tattoos visible beneath the edges of their shirt collars and sleeves could be seen gathered in groups smoking cigarettes and downing cans of beer.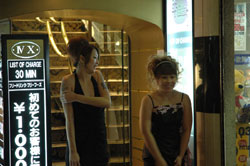 Jo believes that the yakuza, in spite of what Lee and Aida are observing, have not fled Kabukicho entirely. He notes that stricter enforcement is in fact creating a business opportunity. "If a shop wants to breach the law and stay open after 1 a.m.," the director says, "management cannot call the police if there is a problem, right? So, the yakuza go to those shops and demand money in exchange for the 'protection' that the police might have otherwise provided."
Further, a quick stroll through Kabukicho's sticky back streets in the wee hours will reveal that there is indeed still plenty of action. Touts working the intersections appear as sanguine as ever, but optimism of course is the fuel of their trade. "It doesn't stop traffic," says one foreigner, wearing a Philadelphia Phillies baseball cap, of the increased scrutiny.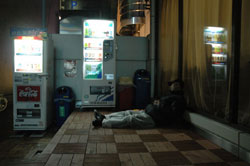 A four-year veteran of the Kabukicho hostess biz notes that in April the police presence increased substantially. Her kabakura started killing its exterior lights at 1 a.m. while still maintaining usual business operations inside. "We'll have one of our staff standing just to the side of the sign, waiting," she says. "With a microphone near his collar and an earpiece, he communicates with our staff inside about any potential customers wandering past and any suspected cops in plain clothes."
Theories as to why the clampdown began have included the need to prepare for Tokyo's bid for the 2016 Olympics. Yet certainly a massive void will result should there eventually be a substantial shutdown of Kabukicho, whose beginnings as the entertainment area it is today go back to just after the end of World War II, a time when the area was scheduled to accommodate a kabuki theater — hence the area's name — that was never built.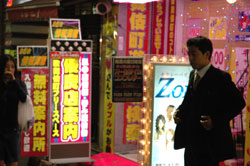 Whispers in some circles suggest that the government is contemplating the establishment of "vice" quarter on Odaiba, a peninsula that extends into Tokyo Bay, with one target being the foreign tourist.
In an article appearing earlier this year in the Japanese version of Newsweek, Lee suggested that Tokyo adopt a one-city, two-systems policy similar to China's relationship with Hong Kong.
"Odaiba is surrounded by water," Lee says of the idea for the area, which today accommodates shopping centers, bay-side hotels, office towers, and apartment buildings. "Kabukicho is accessible by multiple streets which make it difficult for the police to patrol. On Odaiba, setting up an entry gate would be possible."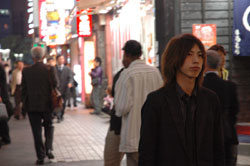 Gov. Ishihara has made no secret of his wishes to establish a casino on the man-made strip, and the concept of assembling a special district for vice services is not without precedent — Yoshiwara, an area of sex parlors near present-day Minowa Station in Taito Ward, was created in the 17th century following a directive by Tokugawa Hidetada, second shogun of the Tokugawa Shogunate, as a means of concentrating the rampant prostitution of the time in one location.
But Shinjuku and Odaiba are completely different entities, says Takashi Aida, the son of Takeshi and the proprietor of Casanova. He emphasizes that the waterfront area might be fine for sight-seeing but Kabukicho is far too convenient to be bypassed. Furthering his arguments are a new underground expressway, which will run past Kabukicho to the west, and a Tokyo Metro subway line extending between Ikebukuro and Shibuya that will open next year and include a station to the east.
Aida junior believes that the only certainty about the future is that things will never be the same. "All the shop owners want the usual 24-hour Kabukicho," he says. "But that will only happen now if the town is cleaned up. It is a true paradox."
Note: This story originally appeared in the November 22nd issue of The Japan Times.