Kabukicho Comes Clean (Part I)
T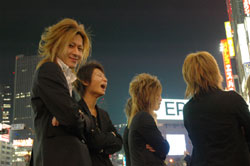 OKYO - It is a recent weekday evening and the activity beneath Kabukicho's flashy Ichiban-gai gate is its typically bustling self. Outside the entry of the kabakura (cabaret club) Sky Heart, where ladies dress as flight attendants and provide services in a mock aircraft cabin, a young gentleman tout enthuses that cover charges are as low as ¥7,000 and "breast-licking and touching" are fair game.
Elsewhere, dozens of rail-thin hosts, sporting shiny suits and flowing manes of dyed-brown hair, are hustling any young lady happening past for, at a minimum, a drink at a nearby club, while in the direction of the centrally located Koma Theater, more touts, each sharply dressed and occupying both sides of the street, stand calmly under flickering lights as they solicit potential customers for their parlors. So far, and Kabukicho's so predictable.
Outward appearances, however, can be deceiving in Japan's center of debauchery and gangster activity, which is situated adjacent to Shinjuku Station, wedged between the tracks of Japan Rail's Yamanote train line to the west and Meiji-dori to the east.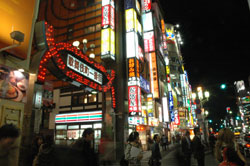 Beyond the theater and across the east-west running Hanamichi-dori, which splits the red-light district in half, finds Takeshi Aida casually greeting familiar faces in front of Casanova, a host club within his long-running Ai chain.
Recent police raids on host establishments for everything from maintaining hours past 1 a.m. to ladies being gouged with extraordinarily high bills, often in the hundreds of thousands of yen, have made the industry downright jumpy, says the always jovial Aida. Though he repeatedly insists that his establishments are clean, times are tough. "This is attacking my business," says the bespectacled Aida, wearing an impeccable blue-striped suit and multiple rings studded with shimmering gems. "As a shop owner, I find the enforcement of the 1 a.m. law hard to believe."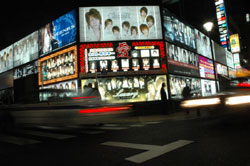 Has recent police pressure, then, reduced Japan's most successful host baron to trolling the streets for customers? That much is not clear. But what is obvious is that Kabukicho's unique blend of sly characters will not yield its turf easily amid the ongoing shakedown, which is focusing on all sections of vice and resulting in a slow reshaping of the business environment.
Nonsleaze ventures are already taking hold. A franchise within the Best Western hotel brand will open in Kabukicho near the Shinjuku Ward office next March; the following month will see talent agency Yoshimoto Kogyo move its main Tokyo branch to Kabukicho's eastern edge; a small but eclectic film festival is in its second year; and fashion and talent shows have graced the plaza outside the Koma Theater over the last few years.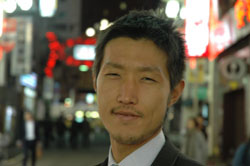 More subtle changes have put the squeeze on foreign and Japanese streetwalkers, who used to notoriously huddle in packs in a darkened strip between the base of the Tokyo Metropolitan Health Plaza and a row of grungy love hotels. The area is now fenced off and lined with yellow "Do Not Cross" tape.
For aesthetics, a section of Hanamichi-dori has this year had a construction project add new asphalt, brick sidewalks, street lamps and seating areas.
The renovated area starts outside the Furin Kaikan building, whose first-floor coffee shop has been the scene of mob shootouts. The most notorious in recent memory was in 2002, when Chinese gangsters and Japanese yakuza shot up the joint, leaving one dead and three arrested.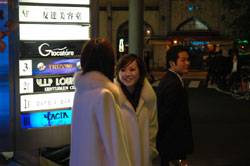 These violent criminal gangs, or boryokudan (an official term used to refer to yakuza) have historically extorted money throughout Kabukicho by forcing "security" services upon shop owners in exchange for ridiculously over-priced rudimentary items like towels, plants or calendars.
Though the hammer has fallen on criminal activity on and off for years, Xiaomu Lee, a Kabukicho guide from China, restaurateur and author of "The Chinese Girls of Kabukicho," believes that the installation of 50 security cameras following a fire at a mahjongg parlor that killed 44 people in 2001 was the beginning of a recent decrease in gangster activity.
"It is rare to see yakuza wandering around Kabukicho now," says Lee as his lithe frame, clad entirely in black, reclines in a chair inside his fourth-floor Chinese eatery Konansaikin.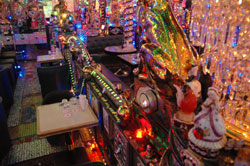 Inside the main branch of Ai, whose shiny decor of female nude statuettes is complemented by numerous photos of celebrities, such as shapely media personalities the Kano sisters, Aida agrees: "The boryokudan have escaped from Kabukicho."
Late last year Aida participated in promotional events in support of the Shinjuku Business District Criminal Organization Removal Convention, whose members are restaurant, bar and shop owners. In a show of solidarity, the group has plastered posters on the outsides of establishments throughout Kabukicho.
Bizarrely, the text encourages shopkeepers not to succumb to the boryokudan, who are often involved in prostitution and pornography, yet the central image is an up-close photo of an attractive "campaign girl" with the top button of her shirt undone.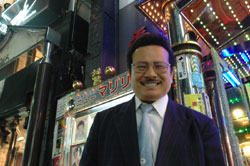 Many feel such moves are a good start. "I think it is important that we are clarifying the good elements from the bad elements," says Masaru Jo, director of the Kabukicho Shopping Center Promotion Association, of the recent activities. "It is unfair that those connected to the boryokudan are able to make money while others lose out."
The association reports that, as of 2006, 250,000 people were passing through Kabukicho daily, with the number of illicit operations totaling 3,500 outlets, including sex clubs, gambling dens, video stores, and numerous others. Because of the mercurial and underground nature of the business, estimates for the worth of the adult industry in Japan vary widely. But those who doubt its impact need simply behold the amazing detail and length of the Law Regulating Adult Entertainment Businesses, enacted in 1948 but since revised. The Japan-wide law extends as far as to provide different regulations for sex services administered in a shop and on an on-call basis. (Prostitution is technically illegal in Japan, but noncoital services are permissible.)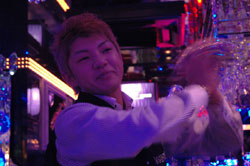 As Aida has indicated, the law dictates that adult operations shut their doors by 1 a.m. The wording, however, is not exactly cut and dry. Drinking establishments are allowed to stay open after this time, but they must ensure that the customer "is being entertained" on his own.
Common interpretation of the latter, it seems, does not deem women serving women to be entertaining. Still open after 1 a.m. is Marilyn 2, one of two bars owned by Aida that is staffed by onabe (women dressed as men). Inside, barmaids in black vests and snappy white shirts — and some even with facial hair — serve a predominantly female clientele from behind a gently curving white counter in the center of a dark room covered with gaudy mirrors, blue LED lights, and sparkling wall decorations.
Major busts began taking place in April 2004, a year after Tokyo Gov. Shintaro Ishihara appointed Yutaka Takehana as vice governor. That year Takehana ordered the shutting of adult-goods stores, underground casinos and massage parlors...on to Part II...