Pop Goes the Dream: A J-Pop Diary
The J-pop Series > BoA at Avex Showcase > Pop Goes the Dream
A career in pop music can be tenuous; it goes with the territory. The Captain knows this first hand. As a solo opener for the Stones during their "Steel Wheels" tour in 1989, whispers abounded that his encore performance of "Celebration" was seen as too strong a departure from his metal roots. As a result, his career faded. Still, tapes of his eight-minute guitar solo from the second LA Coliseum show are still actively traded within certain bootleg circles to this day.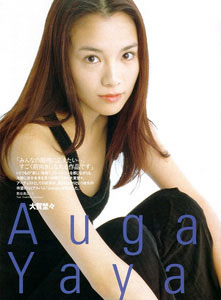 This week he checks into Japan's pop scene - a continual mix of fashion, trends, and maybe even a little music. Through the eyes of one former pop hopeful, he navigates the sea that is the world of J-pop.
It was an experience like no other.
Fully naked early one morning, she swam freely - and unseen - in the pool of her Los Angeles apartment complex. This young woman from Sapporo had never felt such freedom in her life, let alone in her new career as a Japanese pop singer.
Auga Yaya, the nomme de voix of Mikako Motoyama, was a star on the rise. One year earlier she had her debut single "Close to the Night" hit the 12th spot on Japan's Oricon singles chart. This temporay stay overseas was for further studio recording for her record label.
Even though her subsequent two singles hadn't matched the roughly 150,000 copies shipped of "Close to the Night," she still sensed she was moving up Japan's pop ladder under the guidance of her record label, the entertainment giant, Avex, Inc.
At that moment in the water, Japan, and all its inherent rigors and rules, was slowly fading into the background. After all, this was a big foreign city, the City of Angels no less - home to the shining Hollywood and Beverly Hills. A small-town girl of 21 was on her way, she thought.
"Good ideas came flooding to my mind," Mikako remembers of that revealing day of harmony in the pool.

Those ideas would later culminate into her fourth single, "Virgin?" - a poppy ode to self-discovery and her second song-writing credit.
Though this emergence as a writer seemed to be the last piece in the pop music puzzle, it just wasn't to be. The reality is that the Japanese music industry machine is as fickle a beast as advertised - endorsing trends more readily than talent and sculpting images for their rapid ease of promotion.
"I didn't have a high-pitched voice," she says of the priorities within the business during those days in the spring of 1998, a time when the chipmunk-like pipes possessed by Japan's pop princess of the day, Namie Amuro, ruled the airwaves. "So I wasn't the chosen one."
The J-pop business today is at a crossroads. Faced with declining sales, the industry is in need of a boost. Avex, the industry leader, is relying on its massively popular current queen, Ayumi Hamazaki, the "chosen" successor to Amuro, to captain their ship during these tough times - a big gamble considering she generates nearly half of the label's revenue during a period when a viable replacement with helium-aided vocal chords isn't in the waiting. And as Mikako came to know well, the job of manufacturing the next pop sensation is hardly an exact science. It is a molding process on the part of a team working towards putting the pieces together for the next big thing.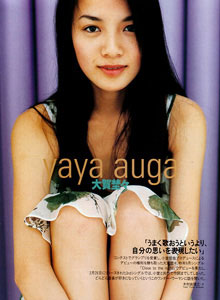 It started for Mikako with a dream: she wanted to perform a concert as the headline act. That was her motivation for entering the Tokyo Beauty Center "Superlady" singing contest in 1996. She nabbed first place out of 5,000 contestants, setting up her contract with contest sponsor Avex. Even though her only vocal training had come through karaoke sessions beginning at the age of 15, "Close to the Night" soon followed.
Under the guidance of Avex's management team, she moved into a company-sponsored apartment, as nearly all up-and-coming artists do, and received a basic salary.
As with the greater part of Japanese society, her performance was not judged on her individual sales, at least not exactly; instead, it hinged on the overall performance of her group of artists, agents, and managers in which she had been inserted under Avex. (Tokyo Pudding, a duo who wore large inverted custard molds atop their heads during performances, was one of the acts within her group.)
"I think in Japan, basically, it doesn't necessarily have anything to do with singing skills," she says. "Whoever receives the best promotion within the particular group has the greatest chance of being famous. You have to be attractive in some way to the people around you. That way they can find a way to promote you."

Her producer was the legendary Tetsuya Komuro, or simply TK, the master of mass music manipulation. His ability to tap into the latest fad, say the demand for a high-pitched voice, and shape his artists into a form acceptable to both fans of dance and karaoke is responsible for paving such careers as those of Amuro and '80s chanteuse Seiko Matsuda.
For the cover of her debut, there is a photograph of Mikako in a lake, visible from the shoulders up. Her wet brown hair drapes around her very attractive face. Subsequent singles under TK showcased her slender frame in a variety of sensual poses. For Mikako, TK wanted her image to be youthful, innocent and a bit sexy. He crafted the look entirely himself.
Attending singing lessons, writing lyrics, and sitting through meetings, at all times of the day and night were her daily activities. She thought this was the best way to increase her ability - and her popularity. Control over her personal life from Avex did not exist; her life was her own.

The release of the single "Orange" and the singles compilation of the same name came in early '98 - a time when her inability to match the success of "Close to the Night" first started getting her thinking about the way the music business works.
"I was nervous," she remembers. "I knew then that I was lucky in the beginning. My success wasn't normal. I started to realize that other members of my group were putting together so much time and effort to make me popular. And now with that fading, I knew I had to work for my co-workers so everyone could be happy."
Success in the music world is based on three things, she surmised: luck, talent, and effort. "And I entered this world with only luck," she says.
But this isn't quite true. While indeed the backing music to her songs is generic keyboard-laden pop filler, her singing ability in Japanese and English - a J-pop staple in vogue over the past few years - is indeed worthy of note. This girl can sing.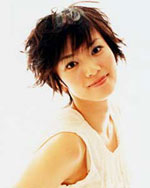 As mentioned, talent isn't necessarily needed on the average J-pop resume. The formula for success is often very simple: a fresh face is splashed across as many magazines and countdown shows as possible with any hint of public acceptance being followed by mad promotion - a method akin to chumming the waters while waiting for a big strike.
The factory that is Johnny's and Associates is one of the best at feeding off this process. They specialize in young male idols, cranking out cartoon-like star after cartoon-like star, with each possessing musical talent that makes McDonald's resemble gourmet dining by comparison.
There is a lot at stake. Japan is the world's second largest music market. Though the emergence of CD copying and an increase in other entertainment alternatives are cited as reasons for the fall in music sales in recent years, the industry is still worth 320 billion yen a year.
Mikako's fall was likely due to the top-down approach to promotion. "Someone at the top picks one guy or girl [to push], but people at the lower levels don't know the methodology," she explains. Even though it was never clear, she feels that for her it came down to the pitch of her voice.

Of course, she wasn't the only girl or act striving to be best. The industry is filled with dozens of hopefuls at any given time. During 1998 both Mikako and Hamazaki were relatively unknown artists within Avex's stable. But one year later, Hamazaki's number one smash "Love Destiny" was the spark that made her career, and today her tanned and trim form can be seen in every possible advertising medium hocking televisions and lip gloss ad infinitum.
In a last ditch effort that same year, Mikako made a change in her image; she tried to develop a more positive, forward-moving look. To reflect this, her long brown locks were trimmed into a pixie-cut similar to that often sported by Winona Ryder.
This change, though, wasn't enough to make a difference. Instead, a sense of loneliness began to set in. With her family far away in Sapporo, she started smoking and drinking heavily. At night, she couldn't sleep. "When I came home at night, I was dead-tired. I didn't want to believe I was losing it. Because I knew if I did, that would be it - it would be over."
But, unfortunately, it was. Her final single, the appropriately titled "Goodbye Girl," was released in April.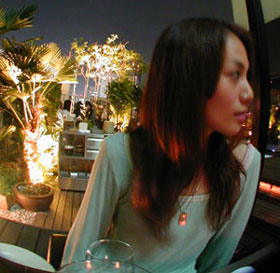 In the end, the stress was just too much.
"I was putting in so much time and effort to be the best, but I could see I wasn't going anywhere. I originally came to Tokyo because I wanted to be a singer - and I did it. But I had lost myself. I couldn't sing at all and my confidence was gone."
Mikako has no regrets. She was able to fulfill her dream, at least somewhat, by performing on shared bills at such venues as Velfarre and Budokan in Tokyo.
"I was happy to be on stage," she remembers. "It's not like karaoke at all. I was singing with real music made by real musicians. The sound was better and the rhythm went with me."
After a two-year hiatus from singing - anything, including karaoke - she's back at it, even penning a song just for her own benefit.
"I started to remember how much I love singing," she says, today happily married and working various part-time jobs as an actress and radio personality. "The pressure is off, and the feeling is back."
Note: A special thanks goes to Mark Hancock for arranging the interview with Mikako.
The J-pop Series > BoA at Avex Showcase > Pop Goes the Dream