Horie Is Heading to Hiroshima
His coverage of the '72 Nixon campaign for the Post aside, the Captain's journalistic bread-and-butter has been hard-nosed features nobody else dared touch.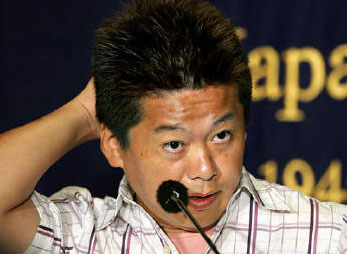 This week though he is taking a peek at the upcoming general election by listening to another fish out of water - Internet entrepeneur Takafumi Horie - as he makes his campaign pitch in Hiroshima.
Known more for his fondness for t-shirts and shaking up Japan's business world than his politics, Takafumi Horie has added his name to the ticket for the upcoming general election.
At the Foreign Correspondents' Club of Japan this week, the president of the decade-old Livedoor Co. said that he is frustrated by the public perception of Japanese politics as being filled with corruption and dishonesty.
"I want to change the status quo of the image that politicians have," the brash 32-year old said. "I want young people to think that politicians can be cool and brilliant."
Up until now the 32-year-old Horie has primarily been involved in running his Internet portal Livedoor. But he signed on for the Hiroshima District No. 6 election as an independent to challenge renegade Shizuka Kamei, formerly of Koizumi's ruling Liberal Democratic Party, amid the ongoing clash over postal privatization. In doing so, he aims to offer a fresh alternative to what is often seen as a hopelessly rigid political system.
Horie, who rattled Japan's corporate world earlier this year with his bid to take over Nippon Broadcasting System Inc., has been labeled one of prime minister Junichiro Koizumi's "assassins" - a tag to describe celebrity candidates running against opponents of Koizumi's vital postal privatization plans.
Japanese politics has rarely been charged with this much drama.
Kamei, who has captured nine straight Diet terms in Hiroshima, quit the LDP to set up the Kokumin Shinto (People's Party) after he led the defeat of postal privatization, Koizumi's main project to reform Japan since his first term began in 2001, in an Upper House vote in August.
Postal privatization passed the Lower House in July. The primary goal of calling a general election by Koizumi is his attempt to vote out the "rebels" that were against his postal reform plans.
In addition to delivering mail, the Japanese postal sytem offers a place for savers to park yen in what is seen as a secure environment. Koizumi hopes that splitting up the post office into private entities will crack this piggy bank that is freely used by politicians for public works projects often criticized for their lack of necessity. Historically, this spending has been in rural areas that are often crucial at election time.
This clash has split the LDP.
"Kamei is the symbol of old-style politics," said Horie, who has no ties to Hiroshima and hails from Fukuoka to the south. "If he can be defeated, there is hope for a lot of people not only in Japan but around the world that Japan can change and discard its old ways."
The Ministry of Finance expects that next year Japan's public debt to reach more than one-and-a-half times the gross domestic product, a multiple among the highest in the world.
"We don't have much strength left," Horie said of Japan. "We are nearing bankrupcy. If Japan were a company it would have declared insolvency some time ago."
A multi-millionaire whose lack of a necktie and forwardness is seen as abrasive to the rigid Japanese business world, Horie's recent moves have made him one of Japan's most talked about people. Last year, he went up against another conservative foe - Japanese professional baseball - to obtain a franchise. Though he lost, he charged ahead earlier this year and grabbed a controlling share in Nippon Broadcasting, an nearly unheard of move that was viewed in the media as the upstart against the has-beens.
Horie likens running a country to running a business. He said that when considering how to manage a country it is wise to rethink whether the current system is the most appropriate one - and not continuing with something because it has always been in place. In Japan's case, that would mean contemplating the elimination of its "symbolic emperor."
"It does bother me a little bit when I read the constitution," he said, "and see that the first article discusses the emperor and tells us that he is the symbol of our country."
Horie says that he is determined to inspire people in their 30s and 40s, for it is up to the younger generation of Japan to bring upon change. "These are the kinds of leaders that Japan is going to have to have if Japan is going to become a shining country," he said.
Horie feels that Japan will be a much greater nation than today if politicians are courageous and refuse to fear failure in their leadership, something that the political system of today lacks.
"If Japanese politics changes," he said, "I think Japan will change."
The election is set for September 11th.