Iceland Awaits Bobby Fischer
No challenge is too risky for the Captain. Even after nine Kirins he usually finds himself confident enough to perform his Spider-man imitation up the side of Tokyo Tower.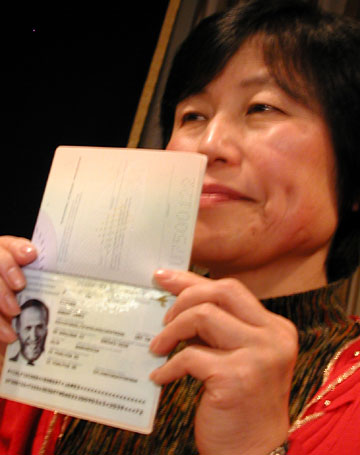 This week he is squaring off with Bobby Fischer, the chess Grandmaster presently entwined in the match of his life in Japanese detention. If his stay in Japan doesn't get Fischer, the Captain certainly will with his knight to rook four…
It is the most intriguing item to emerge from Iceland since Bjork's last album, and Bobby Fischer's got it, or it at least his legal team does.
It is his passport, and this time it is valid.
At the Foreign Correspondents' Club of Japan on Tuesday, his Japanese fiancée and president of the Japan Chess Association, proudly held the opened document next to her right cheek, the chess Grandmaster's smiling face up against hers.
John Bosnitch, head of the Committee to Free Bobby Fischer, described the passport, which was received by Fischer's legal team on Monday from the Icelandic Embassy in Tokyo, as the defeat of "a major stumbling block."
After stating that the 62-year-old Fischer, who was detained in Japan last year for traveling on an invalid U.S. passport, should now be free to legally leave Japan, Bosnitch announced that the next move is up to the Japanese Government.
"If this man is not freed this week," Bosnitch said, "we will seek eminent persons around the world, other political prisoners around the world, to come out in favor of Bobby Fischer and to send letters to the United Nations and discuss whether Japan is fit to be a member of the Security Council."
The passport is the latest chapter in Fischer's ongoing battle against being deported to the United States, where he is sought for violating economic sanctions by accepting payment for a chess match in Yugoslavia in 1992. Iceland, the location of Fischer's 1972 world championship chess victory over the Soviet Union's Boris Spasky, now hopes to soon be welcoming Fischer as one of its own very soon. Fighting through Japan's bureaucracy, however, is proving to be Fischer's toughest match yet.
The eager and brash showman, Bosnitch gave this Friday as the deadline for Fischer's release. If that is not granted, Fischer's legal team will sue the Japanese Government.
"We will seek international condemnation by individuals, companies, chess clubs, human rights organizations, and just normal human beings, single individuals and families," Bosnitch insisted, "to condemn the government of this country - not the people of Japan - but the government that rules them, not governs them, but rules them."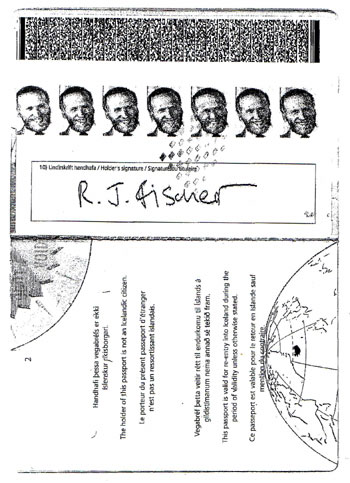 The Fischer legal team interprets Japanese law to say that a person who cannot be deported to his nation of citizenship, which the team said is the case since Fischer filed an appeal against his deportation to the U.S. in August of last year (a matter presently in limbo within the Japanese courts), that person is eligible for voluntary departure to a third country. In this case, that would be Iceland and its 300,000 people. An open airline ticket to Iceland has been purchased in Fischer's name.
Given this, the committee is baffled as to the Japanese Government's reason for holding Fischer. Masako Suzuki, Fischer's lawyer, said there is no legal ground for Fischer's continued detention. She could only say that the government has termed Iceland's willingness to accommodate Fischer as "irrelevant."
"I cannot understand their argument at all," Suzuki said. "But the attorney of the Ministry of Justice says only that (the irrelevance of Iceland) and then she looks down at the table. That's all…I am really ashamed of such illegal behavior of the Japanese government."
Though his passport photo features a beaming Bobby, his Japan tale has been far from pleasant. He was detained in July last year for violating immigration rules when he was found to be departing Japan for the Philippines with an invalid passport. In a letter in which he described the U.S. and Japanese governments as "filthy," Fischer renounced his U.S. citizenship in August. Soon after he was transferred from the Narita Airport detention center to a more permanent cell in a detention center in nearby Ibaraki Prefecture, his home when Watai announced their plans to marry last year.
A delegation from Iceland arrived in Japan last week to offer additional support. Iceland sees itself as "a great chess nation," said former Iceland Chess Federation president Einar Einarrson. He emphasized that Iceland, values its heroes - of which Fischer is one - as national treasures.
Saemundur Palsson, Fischer's bodyguard at the time of the 1972 match, said he observed that Fischer's health has been deteriorating. During a 30-minute visit with the chess genius in Ibaraki, Fischer told Palsson he had been losing weight since July.
"It is said to cheat in chess is bad, but to cheat on tourists like this is even worse," said Einarrson.
Palsson also relayed a story from last week that exemplified escalating frustration in Fischer. A dispute in his cell over the lack of an egg in his breakfast meal resulted in Fischer tearing the shirt of one guard. After Fischer was subsequently moved from his cell, another guard began berating him for his behavior, "somehow his arm (Bobby's) got loose and he smacked him (the guard) in the face," Palsson said. (The Mainichi Daily News later reported that the guard suffered a broken nose.) Fischer spent four days in solitary confinement following the incident.
Gardar Sverrisson, a human rights activist in Iceland, described Fischer's detention as a "brutal abuse of power." He added, "I promise you, as long as our hearts keep on beating, we will not stop this fight."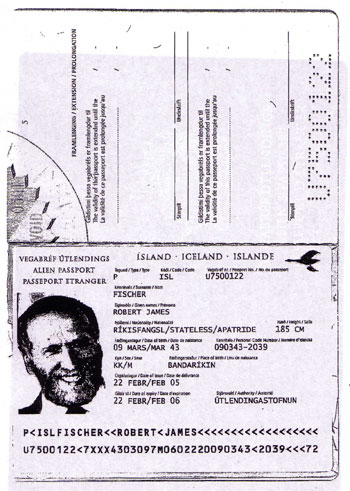 Fischer's passport is designated "alien" and allows him to travel within the 15 countries that make up the European Schengen Zone. Bosnitch ruled out the possibility of Fischer's lack of Icelandic citizenship as being a hurdle in freeing the chess whiz.
"This is irrelevant," Bosnitch explained. "It's explicit in the Japanese law. Citizenship has no relationship to your freedom of travel. We have an injunction (through the appeal). He can't go to the United States. We won't let him go there."
News reports from the Mainichi Daily News and The Associated Press have surfaced in recent days indicating that the U.S. Government will indict Fischer for money laundering and tax evasion. Bosnitch downplayed the issue and implied that the situation is part of a U.S. conspiracy against Fischer. "If it quacks like duck, and if it waddles like a duck, it's a duck," Bosnitch explained after raising the conspiracy issue himself.
In recent years, Fischer, a one-time poster boy for the U.S. in the its clash with the Soviet Union, has verbally attacked the U.S., lauding the terrorist attacks of 2001 and decrying the country for its lack of culture and large number of "lunatic" Jews.
His rematch with Spassky thirteen years ago, in which Fischer once again triumphed, violated economic sanctions in place in Yugoslavia. Imposed by the United Nations, the sanctions were intended to assist in the implementation of the Dayton Peace Accord and the removal of Slobodan Milosevic as president.
Iceland, though, is prepared to look beyond these recent spats.
"Those of us who live in democratic countries, even if we act foolishly, speak foolishly, and even invest foolishly, it is a part of life and basic human rights (to live) with no penalties," said Einarsson. "Therefore, it baffles our minds that any person is treated like Bobby Fischer has been treated."
The Nordic nation simply wants to recognize Fischer for his historic victory over Spassky.
"We concede to him today to be an important part of Iceland's modern saga," said Einarsson of Fischer's legacy, "and he will always live in the minds of our people and, hopefully, all chess lovers forever as the greatest chess player of the world."
Note: Ryann Connell of the Mainichi Daily News contributed to this report from the Tokyo Bureau.