Invest in Japan: The Annual Shareholders' Meeting
As is my custom, I awoke to my alarm - the ringing of which seemed especially loud on this morning. Either that or I had tempered my alcohol intake a bit the night before, rendering my senses to be much sharper than what I've come to see as average. In the end, it didn't much matter - it was just a passing thought anyway.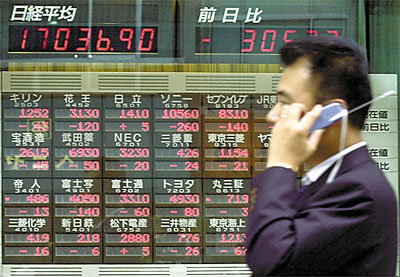 I reached over to turn it off and wound up nearly tumbling to the floor. I wiped my forehead with my right palm to begin the process of collecting myself in what I could now see was not my bedroom.
I then quickly eliminated the small-booze-intake theory.
I gingerly got up from my office chair and picked the fax off the machine. Junior reporter Junko then bounced in from the Newsroom.
"I heard the machine. What is it?" I handed her the page without reading it.
I was certain that I didn't look good.
"Do you know what day today is?" she asked. "And why do you always sleep in your clothes at the office after a night of boozing?"
That is what I was referring to in regards to my appearance.
"What makes you think I was boozing?" I massaged a bit of the stubble on my right cheek with my fingers. "And other than Thursday..."
"It's our parent company's annual shareholders' meeting."
"People invest in us?" I switched to the left cheek.
"Invest might not be the best word, but today, June 29th, is the day that most Japanese companies on the Tokyo Stock Exchange have their meetings for the fiscal year ending March 31st. It is arranged this way to avoid problems associated with sokaiya."
"What's sokaiya?"
"They are racketeers who raise sensitive issues at annual shareholders' meetings. Typically they buy the minimum amount of shares required to attend. Then, during the proceedings, they'll bring up unsavory gossip or scandals about the company or its personnel."
I pawed my lighter off my desk and popped my pack out of my shirt pocket. "Sounds like dinner with my ex-wife," I said.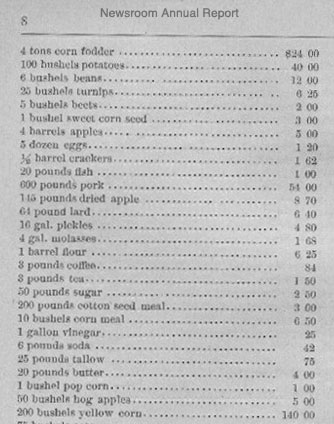 "Companies in desperate situations, like ours, usually will either pay off these extortionists beforehand or agree to hold the meeting on the same day as most other companies. Given that there are only about 400 sokaiya in Japan, the latter reduces the chances they can attend." I puffed once and then twice. "So are you going today?"
That afternoon the downtown meeting hall was packed with an eager and anxious-looking selection of investors.
The Boss stood at the front with his hands firmly around the edges of a podium. A microphone was in front of him. Flanking him on both sides were company executives.
The meeting then came to order.
"Valued shareholders," he began, "thank you for attending. As you know, we have been making every effort to improve our fiscal strength. In view of the persistently severe business environment, due to the very slow recovery of the Japanese economy, however, further improvement is judged to be imperative."
There was an uneasy grumbling in the audience.
"As a result, the current fiscal term has regrettably recorded a substantial loss. However, we seek your kind understanding that these measures have been necessary to recover our corporate health as quickly as possible."
The grumbling turned to lively discussion and a sense of impending disorder.
"While the Japanese economy during the term offered a glimpse of finally reaching bottom, supported by fiscal expenditure and tax reduction by the government to stimulate the economy, there were no clear signs of a full-scale, self-reliant recovery. Our company appears to have suffered gravely and has been hit particularly hard."
Shouts and roars of disapproval from the audience ensued. A public lynching seemed certain.
"We also seek your kind understanding of our decision not to pay any dividends for the term despite our business principle of providing steady dividends."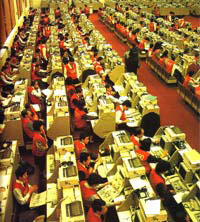 Many members of the crowd stood and voiced their displeasure. "We are an old economy company being swallowed by the new economy!" warned one angry shareholder, "What about technology! What about our future!"
Some then started to overturn their seats. A full riot seemed certain.
"Shareholders, please, please!" the Boss pleaded. "I have come today with a plan. Under these circumstances, we have made company-wide efforts to improve the performance of our core businesses. We are also moving in the direction of diversification. As an example of the latter, I will share with you just one of the new ventures that we are pursuing. The coordination for this project has been a long, drawn-out process."
The crowd settled a bit and the Boss lifted a fax page from the podium and began to read.
No doubt, I know that you will be surprised to receive this proposal, I got your esteem contact and address from a friend of mine who is in your country for a short visit. It is with trust and sincerity that I approach you for assistance.
The Boss's chest seemed to swell with pride. He continued.
First, I must introduce my humble self to you. I am Dr. Idowu Taylor, the son of Brigadier Anthony Taylor, Governor of Mbuji Region in my home country. We flee Zaire now the Democratic Republic of Congo with my father's accumulated wealth.
He stopped a moment and sighed with what appeared to be envy.
This money is fifteen million five hundred thousand United States dollars which he made when was Governor of the region and have a dream of investing it for our future. Now that my father is dead I have to fulfill his long time-dream of protecting our future.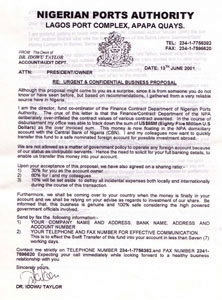 The Boss paused once again to wipe a tear from his eye.
But right now I am in South Africa and because of my refugee status as an asylum seeker, I am not allowed to open an account or operate any bank transaction. I now require from you is absolute assistance to move this money out of South Africa into any of your private or company bank account. In appreciation of your assistance 20% of total amount will be given to you immediately after this transaction and the remainder will be for our family investment in your country under your close supervision and direction.
A small buzz from the audience could be heard rumbling throughout the hall.
Please note that this transaction is 100% risk free, the only thing I want from you is trust to transfer this money. Contact me immediately because all the necessary arrangements for a hitch free transfer has been put in place. Thank you for your anticipated co-operation. While I wait for your response, may you remain blessed. Sincerely yours, Dr. Idowu Taylor
The Boss folded the fax page and placed it on the podium. At that moment, the entire hall roared like a tiger unleashed.
"Positive brilliance!" exclaimed one shareholder, rising from his seat and pumping his fist into the air. "Prosperity guaranteed!" screamed another.
Then, as one, every shareholder stood and applauded. With that, the Boss cracked a large smile.
Any sokaiya in attendance had to wait until next year to use any blackmail tricks; ours was now an unstoppable company on the move.