Slots of Fun in Vanuatu
The Vanuatu Series > FM 107 > Vanuatu Beef > Coconut Crabs > Ambrym > Casino
After a hard day of following up leads, cleaning up copy, and arguing with uncooperative editors, the Captain likes to relax. Sure, many times that includes a few packs of cigarettes and a nice cool alcoholic beverage of his choosing. But he also likes recreation. More so if the recreation has a little bit of action, or as he likes to say: "interest," attached to it.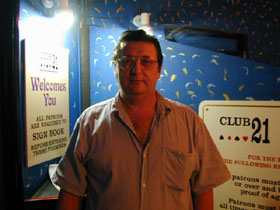 This week the Captain visits a slot club in Port Vila, Vanuatu, a small island nation in the South Pacific where gambling activities, in a number of different varieties, have been increasing in recent years. Why not try your luck and watch the spinning wheels with him? Just be careful not to play his favorite machine.
There is a knock at the door. Allan Palmer raises his head and greets a middle-aged housewife as she steps inside his office. He pauses from some work at his desk and they exchange a few pleasantries in French. She then exits and Allan resumes his office work. A few moments later Allan's secretary enters with a slip of paper. It is a marker.
"Her husband has asked me to stop her from playing," says Allan, the heavy-set 48-year old manager of Club 21, as he signs the marker. "But this is a free country and the customer is always right. She is one of my best customers. What can I do?"
Such is one of the daily decisions necessary for a manager of one of the four slot clubs in Port Vila, a place where the everyday pace is traditionally a relaxed blend of palm fronds twisting in the morning breeze and drinking straws twisting in evening fruit drinks.
However, online casinos and standard Las Vegas-style parlors from international entrepreneurs are slowly moving onto Vanuatu's shores, hoping to shake a few coconuts from its trees. For a slot club manager like Allan, the prospect of this added competition is just one of the many things in his business that keeps him on his toes.
Club 21 - a joint partnership between Australian and Japanese investors that is also responsible for a sister operation in Papua New Guinea - houses 66 standard Australian-imported slot and draw poker machines within its two dimly lit rooms. A large projection screen on the back wall of the main room pumps out the latest MTV hit videos to a mix of male and female patrons in shorts, sandals, and flower-patterned shirts. Some smoke and some drink as they play his machines, required by law to return 96% to the player. Some do all three.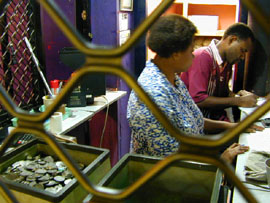 But the club is not just a simple slot club where the players come in hopes of a jackpot. Along with trying to add one hot new machine each month, Allan's promotions are one of the keys to his business.
The club opens at 10AM. Patrons purchasing 1,000 vatu (roughly $10) worth of coins get a numbered ticket. Starting at 11AM, and continuing for most of the day, there are drawings on the hour for prizes; tailored by Allan to target the wants of the type of clientele he expects to be in the club at any given time.
Housewives can be seen scooping up boxes of groceries and 25 kg bags of rice in the afternoon. Men get a chance to fill their stomachs with pizzas from the Italian restaurant next door for their lunch and dinner. Allan's goal is to give the player an incentive to stay in the club at all times.
Then, in a late evening twist, it is the men bringing home the bacon in the form of grocery and rice prizes. Allan says of this latter strategy, "When the men go home at night, maybe they have no money, but they have groceries. Their family is happy."
So far his plan seems to be working. Allan estimates that he has just over half of the slot market in Port Vila. This is a far cry from what the club was like before Allan took over as manager two years ago.
"Let's put it this way, it wasn't a place to bring your girlfriend," Allan chuckles of those days, a time when the club was rundown and frequented by mostly male thugs that were more concerned with swearing and drinking than playing slots. In short, it was more a bar than a club.
Allan changed that by upgrading the interior furnishings, outlawing swearing, throwing out the drunks, and throwing uniforms onto the security and floor staff. Since his start, he has improved business at the club by over 100%.
But Club 21 is not the only gambling operation that is making inroads in Vanuatu. Two years ago, the Government of Vanuatu passed an act that legalized online casinos from within Vanuatu. This has drawn interest from overseas.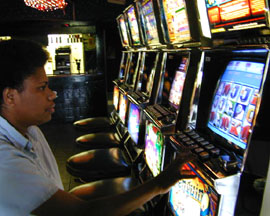 Kerry Packer, the Australian billionaire businessman and owner of the Crown Casino in Melbourne, began an online casino venture in Vanuatu earlier this year, ostensibly because the Australian government has banned this variation of gambling.
But legality is just one of the draws of Vanuatu in the online arena. Annual licensing fees ($50,000) are half of that offered by rival online nation Antigua. Taxes (2.5%) are a half a percent less.
Additional interest from big European players is signaling that more online parlors will be arriving on Vanuatu's virtual shores shortly.
Then there is the 7-floor Grand Hotel and Casino - to be the largest structure in Vanuatu - that is set to open on Port Vila's bay, just down the street from Club 21, in October of this year. Rumors are swirling that an American-Indian group from the United States is planning on buying up a majority of the operation's shares to secure controlling interest in the venture that will feature casino games, a VIP section, and standard slot action.
"I am not worried," Allan says of the encroaching competition. "The directors [of Club 21] were concerned. But my experience in the South Pacific, as marketing manager for Toyota for 23 years, I found that if you feel you have the right marketing as far as goals, amusements, and environment, you will be successful."
Allan has no doubt that many of his customers, mainly local folks in their 30s and 40s, will initially try the new casino a few times. But since it is marketed to high rollers from overseas, he thinks they won't feel comfortable. "They'll come back," he assures.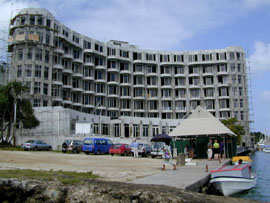 Rather than competition, theft from his machines by his employees is Allan's biggest worry. A computer program - created by his machine supplier Aristocrat - along with various daily and weekly data culled from each machine allows for him to spot machines that may be missing coins. With this information, he can back-check staff roster logs to see who was opening what machine at any given time. It allows him to see if any discrepancies repeatedly happen when a certain employee is on the job.
"The old saying goes 'If you let them steal an egg today, they'll steal the chicken tomorrow,'" Allan says. "We also have video cameras and the staff knows they are being monitored. It keeps them on their toes. But it doesn't stop them completely. There is always temptation."
The recent surge in gambling activity in Vanuatu is probably not what the legislators of Vanuatu's original gambling act foresaw a decade ago when an act was passed to facilitate gambling. Prior to the passage of this measure, gambling was limited to that which took place in the small lounges for ex-servicemen during Vanuatu's colonial period under the French and British. These were places where a husband and wife could come and have a snack, watch a film, shoot billiards, or play slots.
Even though the future seems bright for gambling in Vanuatu with all the recent international interest, the overall economy of this nation of few natural resources and limited tourism looks grim in the near-term.
Allan, not a player himself, concedes that the economy doesn't appear healthy. But he doesn't foresee a drop in his business. "This is seen in every struggling country in the world," he explains. "For people that are jobless or don't have money, placing a bet on a horse or trying their luck in someway is seen as their last chance."
The Vanuatu Series > FM 107 > Vanuatu Beef > Coconut Crabs > Ambrym > Casino