Daido Moriyama: Shinjuku Drifter
The Sleuth Series > Detective Bar > Daido Moriyama > Alberto Fujimori
Though behind a typewriter is where the Captain has made his name in the field of journalism, he isn't too shabby with the shutter button. His personal hostess "upskirt" photo album is a testimony to that.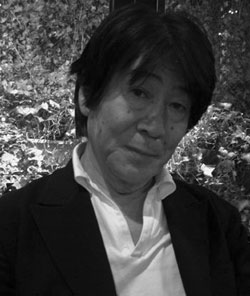 Daido Moriyama is another matter; he is a respected professional photographer. Join the Captain this week as he speaks with Moriyama about shooting the darker side of Tokyo's Shinjuku Ward.
A silver ashtray sits next to his pack of Ark Royal Sweets on the coffee shop table.
Photographer Daido Moriyama retrieves one of the thin brown cigars and grabs his lighter. After he takes a few puffs, the air in front of his well-worn face is soon filled with gray smoke.
He then pulls his trusty point-and-shoot Ricoh GR1s from his back pocket. The ease of his motion and its heavily nicked body implies that his camera is always at the ready.
Moriyama is in his element. The coffee shop is in Tokyo's Shinjuku Ward, the place where he has made his name as a photographer.
"I am very interested in its stripped-down form," he explains. "Shinjuku gives a very mixed feeling with all its various kinds of people. It is very realistic and intriguing."
The images he captures often show everyday people and everyday things in a manner not to be found in the average Tokyo tourist guidebook. Whether by using blur or cropping, Moriyama's bleak and lonely black-and-white pictures have garnered him the reputation as one of Japan's great modern photographers.
Moriyama's most recent exhibition "Moriyama-Shinjuku-Araki" at the Tokyo Opera City Gallery was a joint show with fellow photographer Nobuyoshi Araki. Featuring many shots taken during a walk through Tokyo's Shinjuku Ward during an August day, the shoot was a chance for the pair to recreate a prior trip to Okinawa.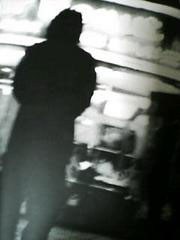 "We liked the time we spent together in Okinawa," Moriyama says. "So we decided to do it again in Shinjuku. We just hung around taking photos."
Tokyo is a city of contradictions in motion, and no place typifies that more than Shinjuku. The Tokyo Metropolitan Government building sits opposite the entertainment district Kabukicho - notorious for its prevalent gangster activity, brothels, and strip clubs. In between is Shinjuku Station, the city's busiest train hub.
Unlike Araki, who generally uses color photography to target women in various settings, Moriyama's focus is capturing Shinjuku's blend of old, new, and unpredictable in monochrome.
The people of Moriyama's work are often faceless, covered in shadow or obscured by blur. It is not unusual for a backside - a couple descending stairs, for example - to be the image's main element.
His lens, often slanted at random angles, doesn't shy away from typically unappealing bits of the urban cityscape. Building exteriors - of which maintenance is rarely a priority in Tokyo - are shot in all their drabness. Webs of utility lines and mesh fencing are often in view. A storm drain grating can be the focus of a shot.
Moriyama sees Shinjuku as a place on the edge. Ikebukuro to the north and Shibuya to the south lack realism, he says. It is Shinjuku's "depth" that he finds appealing. "When I walk through Shinjuku taking photos," Moriyama explains, "I have a feeling of excitement and fear."
One of his favorite haunts is Golden Gai, a throwback to how Tokyo looked decades ago. Wedged between Kabukicho and Tokyo's largest gay area, Golden Gai is a block of bars (some offering less than five seats) within decrepit wooden structures packed so close that a single stray match might one day send the entire complex up in smoke. "It is one of the places that gives that realistic look," he says.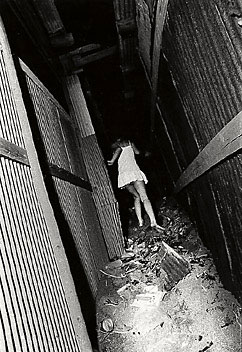 Many of Moriyama's images imply action of some kind has happened or is about to happen - even if that is truly not the case. The feeling is that of drifting in and out of a scene: a hostess draws a cigarette from her pack as two of her colleagues watch for customers near their club's brightly lit entryway; a woman moving through a crowded street scene casts a glance over her right shoulder, the upper half of her bare backside showing a few tattoos with the rest obscured by shadow.
"I have to be aggressive to take photos in Shinjuku," says Moriyama, who might shoot 20 rolls of 36-exposure film on an average day. "In Shinjuku, you take photos quickly. Judging the quality of a particular shot doesn't come first sometimes."
Such an approach has gotten him into trouble. During the shooting for his book Shinjuku three years ago, Moriyama found himself explaining his actions to police officers on more than one occasion. But that's Shinjuku, he says.
Born in Osaka, the 67-year-old Moriyama was influenced at an early age by the work of American photographer William Klein.
"I realized that pictures have the power to move people," he says. "I never thought that pictures could be so cool."
Klein's influential work, as typified in his 1956 book New York, is known for its blurry images and the variety of angles and perspective used.
"He takes pictures straight toward people, very naturally," Moriyama says of his protégé. "William's pictures are not intentionally blurry. He shoots the photo and then enlarges it as he develops the film. That is why it becomes blurry."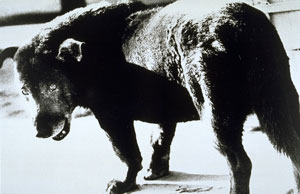 As most photographers know, the cropping of a raw image is a key to a successful photo. Moriyama is no different. As an example, he points at a slightly tilted photo in the Moriyama-Shinjuku-Araki exhibition book of the bottom half of a pair of female legs walking away from the camera. Moriyama explains that by just showing the area between her black skirt and high heels the image is more effective in that it forces the viewer to use his imagination.
In spite of Moriyama having produced dozens of photo books during his four-decade career, he is often associated with one picture in particular - that of a dog. Titled "Stray Dog," the mysterious half-tone street shot shows a large black canine, piercing eyes and dropped lower jaw, seemingly readying itself to defend its turf.
"I was staying in a Tohoku in a hotel," he remembers of the day over 30 years ago. "In the morning, as soon as I walked out of the hotel, I saw a dog, and I took the picture. I never thought that it would be famous."
This photo is from a period when grainy, or "rough," images were his focus. Moriyama admits that greater detail and less roughness can be found in his snapshots of recent years. A close-up shot of a store's headless mannequin in a skirt, shell necklace, and feathery fur jacket, for example, is clear and crisp.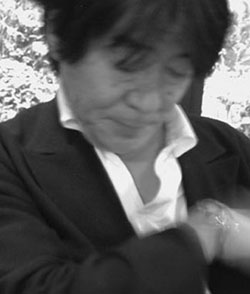 Occasional overseas exhibitions of Moriyama's work have resulted a moderate international presence. Six years ago the San Francisco Museum of Modern Art toured almost 200 photos, including "Stray Dog," through the U.S. and Europe.
Moriyama acknowledges that perhaps his photos of Japan are not what the typical outsider expects, but any previous perceptions a viewer might have are out of his hands.
"I don't think that I am taking photos that are not representative of Japan," he says. "I want to express the realness of Japan. I want to show what is really going on."
In the coming months, he plans on having an exhibition in Tokyo of photos he shot in Buenos Aires. Inertia will be in control thereafter.
"My work is endless," he says. "As long as the world exists, I want to take snapshots."
The ashtray is now filled with butts, ashes sprinkled about. Moriyama's shoulders are slumped as he sits in the chair. His straight dark hair, parted down the middle, hangs over his eyes. He is one of his own photographs just waiting to be snapped.
Note: Tomo Nakano and Yukiko Kuwamura contributed to this report from the Tokyo Bureau. Photos 2-4 courtesy of Daido Moriyama.
The Sleuth Series > Detective Bar > Daido Moriyama > Alberto Fujimori