Lost in Yokohama's Chinatown
Junior reporter Junko stepped back down the stairs and out from within the shrine's mid-morning shadow. Dragons sit perched atop the shrine's gold-layered roof. Lions stand guard, strong and firm. Incense sends a cloud of smoke to the sky.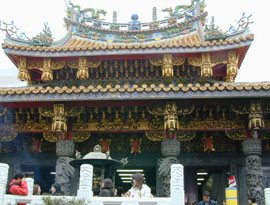 A steady stream of visitors flowed around us to the shrine's doors. From this vantage point, she began to read from the information placard:
The Chinese-Japanese people that lived in Yokohama originally built this shrine in 1873. In 1923, it was damaged in the Great Kanto Earthquake. Then in 1945, it was burned during the firebombing of World War II. Again, in 1984, it was burned by arson. Its present state is the result of restoration work completed in 1990.
The shrine is Kanteicho Shrine in Yokohama's chukagai, or Chinatown. It is the central point of the nearly 500 shops lining the district's streets.
Yokohama's Chinatown is Japan's largest and located about thirty minutes by train south of Tokyo. In the early part of the twentieth century, Yokohama was Japan's largest port. At that time, many Chinese opened trading companies specializing in marine products in this bustling Asian hub. Now however, handicrafts, dried goods, ethnic souvenirs, coffee, and tea are the main items for sale. But for most tourists, the reason to visit is for the food. Chinese food, that is. She continued:
This shrine is a symbol for business, safety, home, family, transportation, and education for Chinese people living in Japan.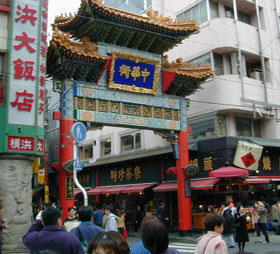 The six entrances are marked by four large red and gold gates. From JR Kannai Station, the easiest access is the north gate, just beyond the Yokohama Bay Stars baseball stadium. As we moved from the shrine and into the heavily crowded streets, Junko began her history lesson:
Chinese people lived here before the war. Afterwards, they felt that they needed some kind of protection. The yakuza (organized crime) provided that to them. I think this area's main boss is Murakami. He took over maybe 30 years ago.
We continued moving, trying to select a nice restaurant. Nikuman (pork filled buns) and kuri (roasted chestnuts) stalls filled the edges of the streets. Clowns on bikes frightened children with balloon animals.
Many restaurants had long lines of people anxiously awaiting plates of duck, pork, and whole grilled fish. Some restaurants coaxed visitors with enticing pictures or wax models of classic Chinese dishes. Others relied on large dragon figurines and fancy gold-fringed exteriors.
Murakami though is just part of the pyramid. There are a number of them across Japan and they are always changing. So I don't know in detail who is who or what is what.
Junko maintained that the restaurant with the longest line would be best because it obviously had the best reputation. Botanen was our choice.
The shop owners and restaurants pay for protection. The crime boss says it is a donation, union due, or contribution to a temple, sort of as a cover.
The walls on the first floor were covered with pictures and autographs of many luminaries that had eaten there previously, mainly players from the Bay Stars. Relief pitcher, Kazuhiro Sasaki, presently starring for the Seattle Mariners, seemed to have been a regular customer.
Of course the Yokohama police know what is going on, but there is some sort of unwritten agreement where everybody leaves each other alone.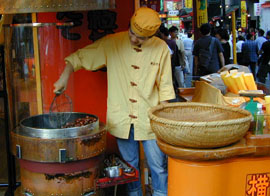 After being seated and drinking some light herb tea, we ordered gyu bara gohan (flavored beef on rice), pai ko han (beef ribs and spinach on rice), and ebi mushi gyoza (shrimp wrapped in a rice shell served steamed in a bamboo bowl).
Actually though, this sort of extortion is not the main income for the yakuza any more. There has been a shift lately to high interest loans. I am sure you heard that famous tape of the phone call where the loan collector advises a debtor to sell one of his kidneys to pay off his existing loan. 'You have two don't you!' are the words I believe the collector used.
We slopped our final pieces of gyoza in shoyu (soy sauce) and headed out the door to a cake shop on the corner.
They are able to go into this business because the average person's conception of the yakuza is changing. Before, they were stray sheep, but now it is ok to do business with them. Did you know that the car of choice for yakuza boss men has changed from the Lincoln Continental to the Mercedes?
Just like the street outside, the shop was flooded with people. Cakes in pyramid-shaped displays were being snatched up like war rations. With five cakes, we moved up the hill to the gaikokujin bochi (foreigner's cemetery) over looking Yokohama Harbor.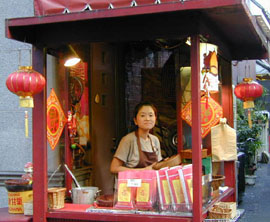 But speaking of boss men, did I tell you about my ex-boyfriend's new girlfriend?
When Commodore William Perry and fleet of four American "Black Ships" came to Japan in 1853 to demand that it open its doors to the outside world, one of the first things he did upon arrival was establish a cemetery.
She is half-Japanese and half-Korean. Recently her father was in jail. He had this special bank whereby he could shuttle money to Korea and not have to pay taxes.
Today the cemetery is the place of rest for some 4,200 people from 40 different countries. In Perry's day, the harbor was visible from the gravestones atop the hill. But now Yokohama's skyline blocks the view.
She was kidnapped a while ago. It was revenge by some of his employees. You know, he gave them the cold shoulder at some point and they wanted to get back at him.
We started eating our cakes. At the top of the hour, a chime began playing at the cemetery entrance. Junko recognized it to be "Akai Kutsu" (red shoes). It is a very famous old song written by a friend of the mother of a young girl named Kimi. But, for reasons not known, Kimi was adopted by an American missionary family and assumed by her mother to have moved to America with the family. However, Kimi couldn't go because she had developed tuberculosis. She was left in the orphanage's care and died at the age of nine.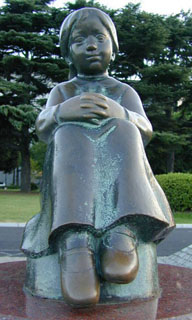 A girl who had red shoes on
A foreigner took her away and she's gone
By ship from the wharf in Yokohama
A foreigner took her away and she's gone
She'll be in the foreigner's country
And she has blue eyes by now
I think of her every time I see red shoes
I think of her every time I see foreigners
A statue of Kimi sits in Yamashita Park at the edge of the harbor.
Note: Fumiko Kojima and Sayaka Watanabe contributed to this report. Words to "Akai Kutsu" by Ujo Noguchi.