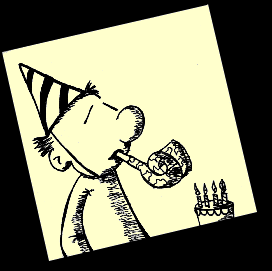 The Post-It Theater will soon turn five years old. No joke!
Just like in past years, we hope to celebrate it in style, and our preferred mode is to have a little contest.
To enter, all you need to do is come up with an idea for a Post-It Theater movie. We'll do the drawing, all we need from you is a great plot. We'll happily accept any ideas, but if it's winning you're interested in, try to suggest a fully-formed plot, not something like "What if the bald guy is in a tree?" At the same time, try not to make it too complex. Remember, our drawing skills are severely limited, so simple gags are best.
The most important thing, though, is to send your entries! We appreciate any effort, so don't hold back! Get your thinking caps on and send send send.
The winning entry will be shown on The Post-It Theater the week of August 26th, and will live forever in the archive. Plus, the winner gets an original Post-It movie of his or her choice - the actual flip-book pad! Wow!
Email your entries by August 22nd.