Mrs Filthy's Real World Review
December 27, 2000
The Second Annual "Mrs. Filthy's Real World Review" Survey
Bonjour, darlings! We begin this statistical bonanza with a few cold, hard numbers. This year I had fewer usable responses than last year, 180 total, but they were no less fervent or opinionated. 66% of the respondents were women and 34% were men. Respondents ranged in age from 14 to 56, with an average age of 28. Who knew that TRW was an experience that could unite the generations? Most people who answered my survey are frequent, if not weekly, watchers of "The Real World." And, as if we couldn't get enough of some producer's warped idea of "reality," many of us also faithfully watched "Road Rules" (58%) and "Survivor" (62%). "Big Brother" commanded a much smaller share (30%), and they were probably rolling their eyes the whole time.
Over half (56%) the respondents said that they would like to be a cast member on "The Real World," while the rest demurred, probably wisely. Sure, the house might look cool, but you know what I always say: a hovel without Melissa is much finer than a maaan-sion with Melissa.
The audience size of TRW just keeps increasing and increasing, darlings. Season 9 was the most-watched season. New York, because it was just so long ago, and London, for obvious reasons, were the seasons with the fewest viewers.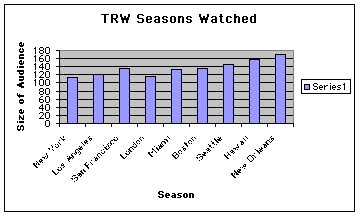 After all the complaints I've heard about the rather prosaic hijinks in New Orleans, I was surprised to learn that this season was voted the favorite among the respondents. Not by much, though- New York, San Francisco and Hawaii seasons were close behind. Actually, among those respondents who have endured all 9 Real World Seasons (and a shameful 37% of you have!), New York is the favorite. It is indeed a quandary. Do I believe these folks, because they've seen every Real World Season? Or, do I discount their opinions because they obviously just cannot say no?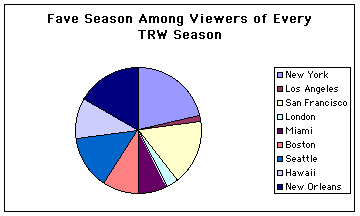 However, the London season, according to these results, still sucks rocks.
Oh, what short memories we have, dearies! Or, maybe throbbing libidos? Anyway, judging from his high marks, there are mobs of heartsick folks roaming the streets, pining for Danny. Unfortunately for you, this crush-magnet, at last word, had no immediate plans to break up with his own G.I. Joe. I have to wonder, is anyone on the NO cast really worthy of being a favorite? The other favorites remain pretty steady from last year's results. I guess likable people on "The Real World" really stand out.
Favorite Real World Cast Members of All Time
1. Danny, New Orleans
2. Teck, Hawaii
3. Julie, New Orleans
4. Julie, New York
5. Melissa, New Orleans
6. Pedro, San Francisco
7. Dave, Seattle
8. Judd, San Francisco
9. Janet, Seattle
10. (tie) Cynthia, Miami and Amaya, Hawaii
And, here we have the Hall of Shame. The cast members on this list range from the whiny to creepy, to icky. But, they all share something important; they were frighteningly self-involved. Interestingly, Amaya is both a favorite and a least favorite among respondents.
Least Favorite Real World Cast Members of All Time
1. Puck, San Francisco
2. David, New Orleans
3. Kaia, Hawaii
4. Flora, Miami
5. Amaya, Hawaii
6. Matt, Hawaii
7. Montana, Boston
8. Rachel, San Francisco
9. Beth S., Los Angeles
10. Melissa, New Orleans
There's just something about palm trees and golden sands... The land of luaus and tiki torches was the favorite Real World location of all time. But Bunim-Murray should still be pretty pleased with themselves; New York City got a decent share of votes as well. It's a good thing that the coming season is set in the Big Apple, and not in stinky old Los Angeles!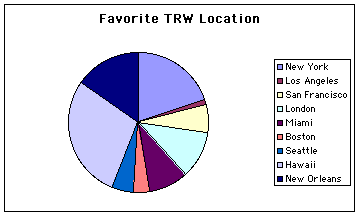 When Bunim-Murray chooses a locale for "The Real World," I have a feeling that they use the following criteria: 1) It must have wild night spots which encourage ridiculous and photogenic behavior. 2) It must have some semblance of a unique "culture," i.e. crazy crap to decorate the walls of the dream house. 3) It must be in an English-speaking country, since five months of linguistic flailing from our castaways does not compelling TV make. A few non-English speaking locales made this list of prospective locales, but otherwise, these cities are natural TRW locations.
Favorite Prospective Real World Locations
1. Chicago
2. Paris
3. Sydney
4. Las Vegas
5. Atlanta
6. Washington D.C.
7. Amsterdam
8. Venice
9. Tokyo
10. Austin

I noticed that people approached this question from different angles, depending on how they felt about the show. Some wished to experience, albeit vicariously, an exotic location, and so they picked places like Barcelona, Marrakesh and Prague. Some chose to eschew glamour altogether, and so they asked to send the kids to Sri Lanka and Beirut. These places have the added value of being dangerous. A relatively high number of respondents nominated midwestern towns, large and small. Do the respondents want to be closer to the RW action? Or, do the respondents want to see the kids struggle to occupy themselves and avoid insanity in Petosky MI, Kalona IA and Smith Center KS. Finally, there are the respondents who are trying to maximize the cast members' suffering. One person wants the next TRW season to be shot in Hell. Sacre bleu, think of the decorating possibilities!
Favorite Real World Moments of All Time
1. Stephen slaps Irene, Seattle
2. Shower threesome, Miami
3. Ruthie's alcohol poisoning, Hawaii
4. Puck's ejection from the house, San Francisco
5. David pulls blanket off Tami, Los Angeles
6. Pedro's illness and death, San Francisco
7. Justin's manipulative machinations, Hawaii
8. None
9. Ruthie and Teck skinny-dipping, Hawaii
10. Naked Danny looking for a place to rest his weary head, New Orleans
To tell you the truth, dearies, I was a bit surprised to see that Miami moment so high up there, but that just goes to show that sex really does sell in an otherwise unremarkable season. Ok, sex and violence. The far-and-ahead winner, if you can call it that, was Stephen slapping Irene in the Seattle season, even if people didn't always get the names right. At times, I was forced to decode references to the "dude" who "punched" the "leprosy chick," and some people thought that it was sensitive-guy Dave who hit Irene! Anyway, the slap is what counts.
You might notice that the Hawaii season has the most memorable moments on the list, followed by San Francisco. The number of answers that ran to the effect of "You have to be kidding" dropped significantly from last year. You probably don't remember, my loves, but last year, "None" was #1!
Season IX, as I'll say for about the millionth time, lacked drama. Sure, we could chortle at Melissa's amateurish daubings (She's the Hello Kitty of art!) and groan at David's delusions of grandeur, but where were the ambulances? But, we can't just sweep the whole five months under the carpet, mes amis. Not yet, anyway.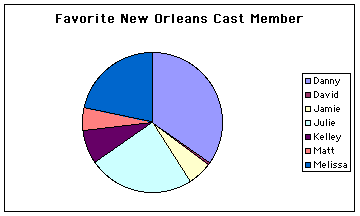 Big surprise here. Danny is everyone's favorite, with a significant (although not crushing) lead. He seemed like an affable enough fellow, but he wasn't a doormat. He sinned, but he admitted his faults. And the most important thing: he wasn't David!
For the male respondents, Danny was the favorite, followed by Julie, then Melissa. For the female respondents, Julie and Melissa switched places. Are women more tolerant of acting out? Less tolerant of naivete? Something to think about.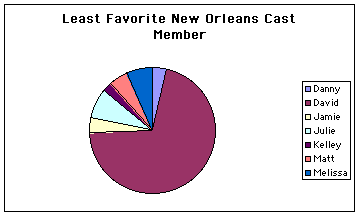 Ok, this next result made me laugh out loud. Do you realize, my little chickadees, that David received almost seven times the votes of any other New Orleans cast member? Even I didn't expect quite this extreme of a result. But, what can I say, the people have spoken!
Another concept to ponder: not one single male respondent voted Julie as their least favorite, but twelve percent of the women did. Instead, they put Melissa and Matt on their naughty lists. Women voted for Julie and Melissa in this category. But, believe me the percentages are puny compared to David's.
The rest of these questions were attempting to isolate certain qualities in the housemates, as we perceived them. It's not always enough to say one likes or dislikes someone. Who's the most industrious? Who is fun for a short time, compared to fun for the long haul? Of course, I can only do so much nuance; this is "The Real World" we're talking about here. Thus, we have the questions about kissing and alligators.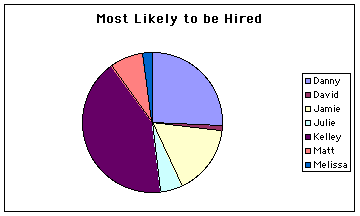 Kelley might not have been a party on a plate, as a good friend of mine would say, but respondents generally felt she would've been the most responsible one on the job. After all, everyone else still seemed to be trying to find their bellybuttons. For heaven's sake, they were like newborn chicks wobbling around up there on the tv screen.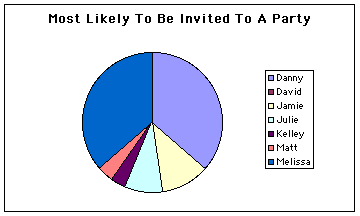 Looking for a fun time? Danny or Melissa, who indeed seemed like very social animals, are the ones people chose to be festive with. After all, Melissa can't hold her liquor and Danny will head into the nearest coat closet with someone. Sounds like a party to me, darlings!
Not one single voter bothered to invite David.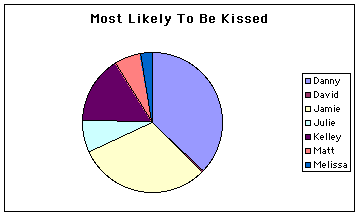 I think we're looking at a major cultural shift here, folks. Guys and girls, in significant numbers, wanted to kiss Danny. It seems that everyone wants to kiss the gay guy.
But Danny didn't get first place when I broke it down to gender. Guys put our own little Vulcan Kelley as their number one preference, and girls yearned for the Neanderthal lip-stylings of Jamie. Only one person in the whole survey wanted to kiss David.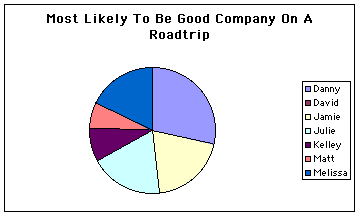 By now, the results are getting old. Danny wins again. No one could stomach the idea of being stuck in a small vehicle for weeks with David.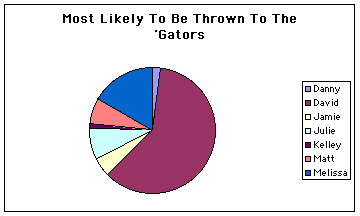 Finally, a category that David can place in! Melissa was a distant second. Not only is David the most annoying of the housemates, but he'd provide a nice toothsome meal for those hungry, hungry gators.
You can see that David gets mentioned on the list below, too. We may have memories of him, but they certainly aren't happy ones. The most frequent comment I heard about his singing was something to the effect of "Make it stop!"
Top Ten New Orleans Moments
1. David's "singing"
2. Mardi Gras
3. None
4. The Battle Royale between Julie's Dad and Julie
5. The Tripping Stripper
6. Musical beds, Naked Danny and the Aftermath
7. Melissa's Cuss-Out at NOAtv
8. The Big Confrontation
9. Danny dallies with Forrest
10. Julie's and Matt's Farewell Kiss
I think that wraps it up, my dears. It's been a long hard road, and I have to re-energize for the upcoming Real World/ Road Rules Challenge. Merci beaucoup to all you patient souls who participated. A bientot!
Want to tell Mrs. Filthy something?