Part 3 - The Sun Is Too Bright on a Vegas Morning
As is the way with Saturday mornings in Las Vegas, Saturday morning began with trouble. Mark awoke to the foul sound of Matt snoring his fool head off. Fashioning a sophisticated missile launching device using only the remote control, mounted on a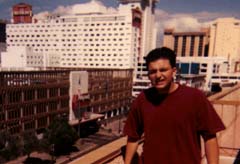 Steve greets the new day with a scowl.

rotating base attached to the dresser, and an Atomic Fireball, he pelted Matt in the head six times before finally waking him with a start. Matt, being a big baby, felt himself somehow wronged and leapt from his bed to Mark's, with a pitiful attempt at a war cry. Mark, remembering his training from Desert Storm, swung into defense mode, crushing Matt's knee with a vicious judo chop and clearly knocking him senseless, muddling his recognition of the whole incident.

After cleaning up the blood and washing away the previous night's dirt (in the posh showers replete with hot water, a commodity not always available in the non-suites of the Gold Spike) the gang headed onto the streets for nourishment.

Settling instead for the $2.49 buffet at the Sahara, which closes to switch the trays from greasy breakfast food to greasy lunch food precisely at 11:00. The group arrived at 10:50, to the dismay of the hostess, who couldn't believe the audacity of people trying to eat breakfast while the buffet was open. She threatened to charge everybody for lunch if they stayed past 11:20. She then stuck her tongue out at Dan.

After a mediocre meal of mediocre breakfast foods, Mark and Brett stormed to the dessert bar and demanded it be immediately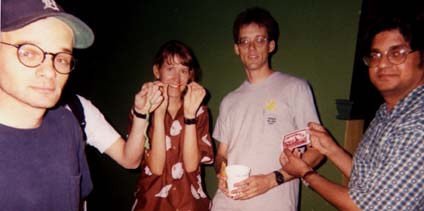 Brett, Amy, Robert and Ghizal display prizes Robert won in the New York New York arcade. From left to right, prizes are: a dumb plastic snake, A dumb rubber extra-terrestrial, a dumb cup and a pretty neat plastic fish with ESP.

opened, whereupon they returned to the table bearing pastries for everyone. Since dessert counts as lunch, they all had to hop over the planter and beat a hasty retreat for the outside while the hostess was distracted by a kid spilling jello.

Brimming with expectation and excitement, they headed for the newly christened Monte Carlo super-resort and casino. Upon entering, however, their enthusiasm was dampened by the discovery that like other casinos, it offered slot machines, felt tables and a gift shop or two, but nothing new.

The next stop was New York New York super-resort and casino, which is impressive for its attention to detail, right down to Steve having his wallet snaked by a pickpocket.

Upstairs at New York New York is what they say is an authentic replica of Coney Island, featuring an enormous arcade with bumper cars and lots of ripoffs that spit out tickets you may then exchange for worthless prizes, and a roller coaster with a line too long to be worthwhile. In the wink of an eye, we were out of there and heading to the Boardwalk next door.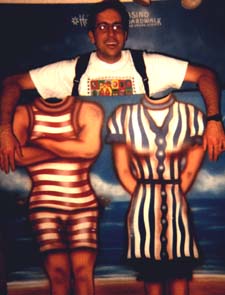 Mark poses for hilarious gag photo where one might think he is actually at a beach around the turn of the century.

The Boardwalk Casino is a small, relatively empty, and pretty clean place, but the question remains as to why they would try to attract customers with a faux rollercoaster right next to a place with a real one. Outside, an unmanned sunglasses sales cart provided a perfect opportunity for Ghizal to use his Brooklyn street smarts to take control and sell a good part of the actual owner's inventory at rock-bottom prices before he felt his luck running out and ducked inside. Steve received a free deck of playing cards for telling an employee he was rude. Mark tried fruitlessly to find a drinking fountain and instead came across a fantastic "gag" photo opportunity which was cleverly placed in the very back of the casino, right next to the room service kitchen.

Amy slipped away from the group for a moment and was finally found in the bar wagering with a man on the number of toes she had on each foot. She had bet six toes, but the man was at least generous enough to give her two to one odds. We pulled her out of there before any shoes came off.

Having seen all of the strip that it is proper for anyone with a heart condition to see, the gang traveled back north to the safety and comfort of the Gold Spike Hotel and Casino, where they could afford the gambling. They each made a mental note not to go back to the strip unless there was something free in it for them.