A WEDNESDAY IN JUNE
We came from all corners of some parts of the United States. The flyers were Burt from Chicago, Jerry from Austin, Jeff from Phoenix, Matt from Denver, Robert from wherever he had laid his air mattress the night before. Dan would arrive Thursday from San Francisco.
Phil, Ghizal, Mike and Steve drove from Southern California, a trip we all used to take together in college. They met at Steve's place and embarked on what promised to be an unforgettable journey.
"Stevie, you're the guest of honor, so you can ride shotgun," Mike told him. "And you have first dibs on connecting your iPod to the stereo. Do you have the Cannibal Corpse and Wally George music?"
He grinned. "Even better!"
The car speakers emitted sounds that had only ever been endured in a dentist's waiting room.
"What is that shit?" asked Phil.
"That is good music, Phil," declared Steve. "It's the greatest singer in the world: Michael Bublé!"
"You're kidding, Steve. Right?" Ghizal asked in disbelief. "Personally, I'd prefer Harry Connick, Jr.--and I can't stand Harry Connick, Jr.!"
"I'm not kidding. Bublé is the best! My fiancée introduced him to me, and we've already gone to three of his concerts."
"You ripped on him when he sang the national anthem at the ALCS," Mike reminded. "I believe your exact words were, 'That A-hole should go back to Canada.'"
"You must be mistaken," stated Steve, as if making remarks to a jury. "Clearly, you guys don't have refined musical tastes. That might explain why none of you are engaged like me, or for that matter, dating anyone now."
The others could have picked a fight then and there, but instead bit their tongues out of respect for our soon-to-be-married friend. Plus, Mike had to concentrate on changing crowded freeway lanes with Phil's constant traveling companion, a giant stuffed animal Julius, blocking the rear-view mirror. Phil changed the subject.
"Ahem. Steve, in honor of you, I've selected a very special piece of literature from
Penthouse Pet Party Volume 22
for an adult 'Mad-Lib.' Give me a past-tense participle. A sexy one."
"No. I am not going to participate in your prepubescent games. I'm sophisticated now. Let me see that magazine."
Phil handed him the well-worn copy. "It's on page five, starting on column three. The one that starts 'I never thought I'd be writing to you.' I highlighted the best parts."
Steve opened the window and tossed the magazine into the desert wind. "I had hoped that we could enjoy this trip as mature adults. But if you guys are going act like a bunch of teenagers, you might as well turn the car around now."
Phil started to ramble even more incoherently than usual, something about how Bob Guccione was an unheralded genius, all of the times he had enjoyed that particular issue and the fonts used in publication.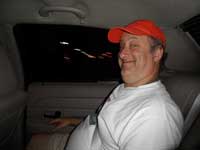 Phil goes for a ride.
(click photo to enlarge - ESC to exit)
Steve ignored Phil by turning up the volume, staring out the window, and singing along to the stereo. "I just haven't met you yet. La la la la la..."
Nobody spoke to each other for two hours, until they reached the halfway point near Barstow and stopped for lunch. Steve insisted on eating free-range meats at Chipotle instead of the usual box of frozen waffles in the gas station parking lot. Mike, Phil and Ghizal grudgingly agreed and Steve took it as a good omen: this weekend would be classy and refined, not barrel-bottom-scraping business-as-usual. He hoped it would be the first of many culinary delights in three days full of sophisticated revelry, massages and strawberry margaritas by the Bellagio fountains.
Steve was filled with a sense of optimism about the trip and his belly was filled with a burrito. He ducked out of the restaurant so he could speak to his fiancée about curtains and the latest issue of Martha Stewart's wedding planner.
"Sorry, guys, I didn't expect that to take so long," Steve said when he returned thirty minutes later. Mike was slumped over a table with his head in his hands, and Ghizal leaned against the beverage fountain.
"Where's Phil?"
Ghizal and Mike pointed toward the restroom.
"Really? How long has he been in there?"
Mike checked his watch. "Almost thirty minutes."
On cue, Phil emerged and proclaimed, "I did it!"
On the way back to the car Ghizal pulled the groom aside. "Stevie, this is going to be a big weekend."
"I hope so."
"But it can be bigger, oh, so much bigger. I can't wait to put some money on some sports." Ghizal tried to give Steve some sports tips, based on his "inside" knowledge from the broadcast industry.
They did not shop at the nearby outlet stores, Steve assumed this was because they'd hit the Forum Shops at Caesars. Their high-end retailers were more in line with the elegance he foresaw for the weekend. He told his friends as much, and they laughed at him. Anyway, the last time they stopped at the outlets, Phil bought a trench coat and wore it for the entire trip.
As they rolled through the high desert, Steve spent most of the time speaking on his phone to his soon-to-be wife about flowers, cakes, seating arrangements, favorite Katherine Heigl movies, photographers, reception hors d'oeuvres and texting smiley emoticons back and forth. In the few minutes between calls, he talked about how his life would change for the better: the lavish dinner parties with other couples, and how he wouldn't have as much time to help his friends move, watch the WNBA games and go out to bars. How his 2012 Angels season tickets would be shared with his wife instead of with Mike.
"Say that last part again," Mike asked.
"Well, she's a big Vernon Wells fan. And with her, maybe I can get on the Kiss Cam."
There was a dark silence, interrupted only by the tap of Steve's fingers on his cellphone keypad.
"Look at that!" Mike shouted. He pointed across the car to an amusing roadside sign featuring a fat man sitting on a toilet. In doing so, he knocked the cellphone out of Steve's hand and out the window.
"I'm so sorry," said Mike as they watched the phone shatter into a thousand pieces on the pavement behind them.
"I have a lot of work to do this weekend," said Steve, frustrated. "She's going to be worried if she can't get a hold of me.
"Maybe if we got some tape," offered Phil.
Steve grumbled, "I didn't even want to come on this trip."
Mike nodded and opened his phone while steering with his knees. "I'll send her a text, let her know to send any messages to my phone. I'll make sure you get them."

Once everyone arrived in Las Vegas, the bachelor party started for real. Ghizal chose the dinner spot: Montesano's in Henderson, Steve's favorite Italian restaurant. He reserved a table in the back where we feasted on tangy red and creamy white sauces over clams, linguini, spaghetti and lasagna. Hot, buttery bread knots filled the air with pungent garlic. Wine flowed freely, some from the restaurant and some from the four-liter box of Carlo Rossi that Burt carries.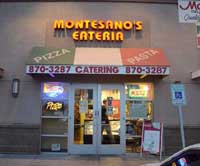 Italian food awaits inside.
(click photo to enlarge
- ESC to exit
)
The conversation and camaraderie was every bit as good as the food. Although we all keep in touch through the Internet, it's more fun to get together in person and do what is impossible over computer screens: have a lively debate, share a laugh, punch each other in the face.
"Has she called?" asked Steve. Mike checked his phone and shook his head.
Five minutes later, Steve asked, "Are you sure?"
The setting and the meal were wonderful and set the bar high. The rest of us knew our plans for the weekend would have to keep up and really dazzle Steve. Ghizal even let our groom order anything he wanted off the menu, so long as it didn't add up to more than the cost of his own meal, because that was the requirement of his two-for-one coupon. Total class.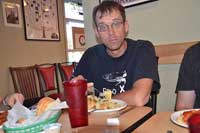 Robert gorges on Italian.
(click photo to enlarge
- ESC to exit
)
"You know," Steve said as he lifted his glass of wine for a toast, "this might not be so bad." He'd had his doubts going into the weekend, and losing his cellphone had been upsetting. But it was clear to him that we were really trying to make this an unforgettable trip.
"So, the Fontana Lounge at Bellagio for some smooth jazz and a nightcap?" asked Steve.
"Better," we promised.
We pointed our cars toward the Joker's Wild on Boulder Highway, home of the Valley's only one-dollar, ten-times-odds craps game. It's a smoky joint filled with sad, lost souls, but the games are cheap.
"And then the Bellagio?"
"We'll see," we said.
We hoped to see Mom and tell her about Steve's upcoming nuptials. Mom is a regular at the Joker, a retired secretary and a fire hydrant of a woman. We say fire hydrant because of her squat, sturdy frame, and also because she smells of dog urine. She takes no crap, but she gives out plenty, and she's never been impressed by us, or able to remember who we are from one visit to the next. Too bad Mom wasn't there.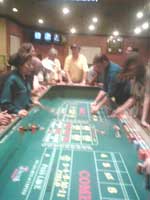 The elegant craps pit of the Joker's Wild.
(click photo to enlarge
- ESC to exit)
Most of us bought in for a hundred bucks. That's the big time at the Joker's Wild and a VIP hostess gets involved. At least, we think that's who kept bringing drinks in our favorite colors.
The table stunk, and only a little of that was from years of Mom. The dice came up sevens when we needed points, snake eyes and boxcars when we needed sevens. We put our reds and blues out and the dealers took them. Other players grumbled and left. We persisted, though, fully aware that you can't win if you don't play. Also, you can't lose. And you can't get free drinks from that nice lady.
Even Steve, with his reliable and unorthodox knuckleball style, couldn't win. We usually expected him to turn our evenings around. Our first Benjamins vanished, taken in bits and chunks by dealers who didn't even have the courtesy to laugh at our hilarious jokes. We dug into our pockets for more. Things didn't improve.
Our second buy-ins were whittled down to shavings when Jeff got the dice. That was a bad sign. His last winning roll was at the Plaza in 1994, shooting for rat biscuits. He's so unlucky we encourage him to throw the dice off the table just to keep the game alive. Not tonight, though. The man was on fire. He rolled a four, hit the four. He rolled a six, hit the six. We bumped our odds, we raised our come bets. He threw a nine, he hit the nine.
Jesus was there, watching over our shoulders with Bob Stupak by his side telling him dirty jokes. They smiled upon us. They laughed at the dirty jokes. They smoked giant, novelty cigars. Another point. We maxed our odds, we hopped the five-three and the four-deuce. Burt propped the hard ways. Another point and we screamed so loud a blackjack dealer at an adjacent table put her finger to her lips.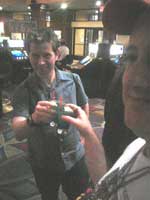 Jerry and Phil share a blue moment.
(click photo to enlarge
- ESC to exit
)
We won back our first and second buy-ins. Jeff kept rolling. Points, come bets, hops and fields. He threw two deuces and a small skyscraper of chips grew on the hard four. He rolled it again. Voices went hoarse from hollering. We squirreled away money in our pockets, and still the racks filled, first with blue and red, then red and green. Finally, the dealers handed over the dusty black chips that rarely see action at the Joker's Wild.
The boxman looked at his watch and declared, "Last shooter." It was almost midnight. We booed.
Steve asked Mike, "Any messages?" Mike checked his phone and shook his head.
Jeff hit his seventh, eighth and ninth points and then, finally, with an arm so fatigued he could barely get the dice down the table, sevened out. We celebrated our miraculous comeback with bright orange drinks, then blue. We didn't know what was in them, neither did we care. Had Jeff not hit nine straight points, we would have been broke before the weekend even started and unable to treat Steve to the decadent bachelor party he deserved. Now, we were larded with cash, the kind that burned like hot coals in our pockets. Jeff's roll was the most wonderful and generous gift Steve could receive.
Everyone congratulated Jeff. Matt gave him a paper "King of Craps" crown he carries in his wallet alongside emergency toilet seat covers. Burt gave him a T-shirt that said "Dice Coach". We spoke of the things we would buy: Segways, pineapple plantations, hot rods and soup.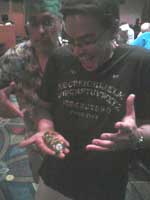 Burt and Jeff flash their wads.
(click photo to enlarge
- ESC to exit)
Meanwhile, Dan was still in the Bay Area with his family. Jerry swears he wasn't trying to gloat when he sent a text message at midnight on a Wednesday.
just made $312 playing craps.
A few minutes later, Jerry sent a follow up.
everyone's way up. going 2 make Steve's last free weekend
extravaganza 2 break all records.
Dan texted back:
Thx. I have to wk tomorrow. Nice of you to rub my ns in it.
Jerry answered:
Jerry is sincere to a fault. He then texted Dan some of the promises people made to Steve. It all sounded very materially focused, so Dan texted Steve. He wanted the groom to know he understood what a bachelor truly wants to experience before taking the plunge.
Fine prt: whn I get thr I promise to give you a moonbeam and a song! Thats beyond the value of anythg you cn win at crps.
Of course, Steve didn't respond. The message had gone to a coyote's belly alongside Interstate 15.

While we floated on cloud nine, and Steve's cold indifference to the weekend began to dissolve, Burt announced his gift: a suite at the Rio.
There was a time when this would have been really impressive. When we first started coming to Vegas, the Rio was as classy as they came, and a standard suite would run hundreds of dollars a night. But after Harrah's let the place stagnate for years, weeknight rooms can be had for the price of a Motel 6. With a pocketful of Joker's Wild chips and a quick call to Rio reservations, Burt negotiated an upgrade to a massive, wraparound 1200 square foot suite. Two bathrooms, a living room, kitchenette, Jacuzzi tub and marble floors. All for Steve.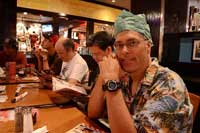 Jeff sports his craps crown.
(click photo to enlarge
- ESC to exit
)
This was the kind of sophistication he had hoped for. He wondered aloud, "Gosh, can life possibly get any better?"
Phil grabbed a cocktail napkin, performed a quick calculation "Carry the two, multiply the derivative..." He set down his pen. "Yes, it can. But not much."
As we walked out of the Joker's Wild, Matt said, "I'm not drunk, but I'm so happy I feel drunk."
"You know what would make that feeling better?" asked Mike.
"What?" Matt asked.
Mike leaned over and whispered just barely loud enough for Matt to hear, "Four Loko."
"No, we promised..." he said, but the gears had started turning. Mike's mere mention of those two words got Matt focused. Sweet, sticky, malted visions danced in his head. He began to salivate.
Burt saw the spittle dripping from Matt's chin. "Whatever's making him drool, I want some too."
Through a spit bubble, Matt said, "I shouldn't say."
Mike: "Do it."
"No. We made a promise."
Mike whispered, "Cuatro Crazy."
Burt translated in his mind, then slobbered. Mike added, "And Pop Rocks." That settled it; he and Matt had to have some.
Ghizal, Robert and Phil wanted to celebrate the night's success at the Rio's Burger King Whopper Bar, which serves made-to-order shitburgers and crappy beer all day and all night.
But before we got there Jerry declared his special gift for the bachelor: a visit to TGI Friday's in the Gold Coast to scarf from their limited graveyard-shift menu.
"Pretty awesome, right?" Jerry asked Steve as he slapped him on the back.
Steve was diplomatic. "Uh, something like that. I heard the Venetian has a midnight truffled lobster special. Maybe we could go to your place another night."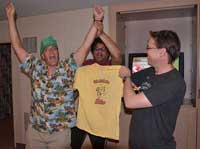 Ghizal and Burt give Jeff his Craps T-shirt.
(click photo to enlarge- ESC to exit)
""Only amateurs go to TGI Fridays on a Friday. The cool cats know Wednesday is prime time. And look, those guys are excited." Jerry pointed at Matt and Burt, whose shirtfronts were now soaking wet with thoughts of Four Loko.
"And to make it even better, I'm letting you keep half the TGI loyalty stripes we earn. You can use those to buy TGI Friday T-shirts, TGI Friday hats and TGI Friday pants. Like the ones I'm wearing. Better yet, you can use them to take my girlfriend and me out to dinner sometime. After you find me a girlfriend."
"At TGI Friday's?"
"That's where I'd go."
Steve dropped the lobster suggestion. He thought it would be déclassé to argue. And besides, he had a pocketful of cash thanks to his friends, and a whole weekend of elegance and sophistication ahead.
Jerry explained the byzantine rules of TGI Friday's "Show Your Stripes" program and called himself the "Rewards King," which infuriated Robert.
"Wait a minute, I am the Rewards King. When the Rapture comes, all will be judged by their stash of points. Frequent flyer points. Hotel points. Gambling hall points. I'll go to points heaven while you all burn in hell. And not points hell. Real hell."
Jerry stood his ground. "But I'm the Stripes King."
"We'll see about that." Robert waved the waiter over and ordered seven desserts and an application for a new TGI Friday's account. The rest of us tried to thank him for the extra food, but Robert said, "These are mine. All mine."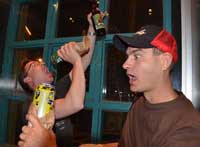 Burt and Matt find what they've always wanted.
(click photo to enlarge
- ESC to exit
)
While Robert worked his way through the cheesecake and sundaes, Burt and Matt slipped out in search of someplace to quench their insatiable thirst. Luckily, convenience stores are as common in Las Vegas as goth chicks in a cemetery. The bad news was that the first gas station had only watermelon and lemonade flavors. Matt preferred the grape and fruit punch because he can't tell the difference between them, and they have a hint of blackberry and the smoky note of oak reminiscent of a 1974 Pont de Neuf Cabernet Sauvignon, which is also great for getting blotto.
They each chugged a can in the parking lot and then staggered back to TGI Friday's, winding their way across two parking lots, what they swear was a jungle full of snakes and under a shimmering lake of fire. They returned to the table, high-fiving waiters, waitresses and strangers along the way, just as Jerry and Robert settled their bills.
As he put his wallet away, Jerry smugly said to Robert, "That's 44 more stripes."
Robert looked at his receipt. "How'd you get 44? I only got seven."
Jerry shrugged. "Rewards Kings know what to order."
Robert, infuriated by being outscored, double-checked his receipt, then flipped through the 32-page Stripes brochure and scanned the rules.
Steve said, "Well, guys, I'm beat. Thanks again for a great night."
"You're going to bed already?" we asked.
"I might soak in the Jacuzzi tub first. I brought some kitchen remodeling magazines I want to browse through."
Burt, still drooling a bit, said, "Stare the room."
"I'd like to see the suite, too," said Jeff.
"Can I check out the closet?" asked Robert.
"And the bathroom," added Phil.
Steve chuckled, "Boy, wouldn't that be fun if I let you into my suite for God knows how long and to do God knows what. What I wouldn't give to have you guys trash it before I even get to enjoy it. As tempting a proposition as that is, I think the hotel only lets people onto the elevator with a room key. Imagine my disappointment."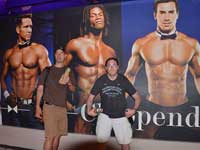 Burt and Matt dream of future employment opportunities.
(click photo to enlarge - ESC to exit)
The problem was that Burt still had the key. He invited all of us up by shouting, "Izzle party!"
The suite was in the Rio's Masquerade Tower, which is the newer one, but still faded and tattered. It filled the twenty-fourth floor's curved end, commanding a 180-degree, floor-to-ceiling view of Las Vegas. We entered a marble foyer through double doors into a massive space, bigger than anything the rest of us had ever had. After expressing appreciation at the luxuriousness and spaciousness, Steve scouted for the bathroom door and planted himself in front of it.
Mike asked Matt, "Did you get your Four Loko?"
Matt removed a fresh can from his shorts. He said, "Lookee, lookee."
"Ground Rule Number Two!" Steve shouted. "Ground Rule Number Two!"
Matt: "I motion that we amend the rules to make Ground Rule Number Two into Ground Rule Number Four. All in favor?"
Burt burped loudly.
"That settles that."
"It's still a rule, though," said Steve weakly.
"But it's not in the top three."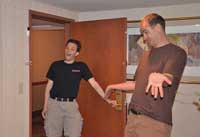 Steve is pleased by his Rio Suite.
(click photo to enlarge - ESC to exit)
Burt held out another Four Loko and shouted, "Can!"
Mike's camera flash strobed as he captured the impromptu party.
"This could ruin my law career," shouted Steve as he scrambled to block Mike from snapping any photos of him in the proximity of the contraband. This left the bathroom door open.
"Nice tub!" said Phil.
Steve shouted after him, "Rule Number -- now I can't remember. Does anyone know?"
"Too late," said Jeff. There was running water and splashing. Steve abandoned the struggle with Burt and Matt in order to try to contain Phil. Mike filled his first memory card.
While Steve and Phil grunted and water splashed in the bathroom, Burt and Matt passed their beverages around.
"It is meant to be shared," said Matt. "With you, with presidents and priests, with teachers and students. If everyone drinks Four Loko, we'll have world peace."
Burt nodded and added, "Now!"
"Surf's up!" came a shout from the bathroom. We all went into the spacious marble room where Phil soaked in a tub the size of a small pool. Steve stood in the middle of the room, looking resigned and wet.
"Hot tub party!" shouted Robert as he took off his shoes. The rest of us, minus Steve, did likewise. The tub fit the eight of us perfectly.
| | | |
| --- | --- | --- |
| Making use of the hot tub. | Hot tub party in full swing! | Four Loko makes us happy! |
(click photos to enlarge - ESC to exit)

"This clearly violates Ground Rule Number, uh, the Phil one," complained Steve.
"That's now Ground Rule Number Five," said Phil as he lathered his feet.
"Whatever, it goes double for the rest of you."
"But there's a rule that overrides that ground rule," said Matt.
"What's that?"
"Ground Rule Number FOUR LOKO!" He shook his can and sprayed the walls with its sticky, carbonated goodness. Burt passed more cans around. Upon first taste, the rookies screwed up their faces in disgust, then took another sip. Soon their drags were longer and deeper. The magical chemicals hit their bloodstream.
"This party needs dirty sluts," opined Jeff. We excitedly jumped up and down, sending cascades of water over the tub edge and across the marble floor. We chanted, "Dirty sluts, dirty sluts, dirty sluts!"
"No dirty sluts," said Steve. "That's now Ground Rule Number Eight."
Phil shook his head. "Eight is reserved for emergencies."
"Then Nine."
"Nine is okay."
"What about clean sluts?"
Steve thought and finally said, "No sluts, regardless of hygiene."
| | | |
| --- | --- | --- |
| Everyone loves Four Loko. | Phil and Matt have a literal pissing contest. | Stevie is loving the hot tub! |
(click photos to enlarge - ESC to exit)
Steve's a lawyer so everything is negotiable. Mike took him into a sidebar conversation and got him to agree that if he joined us in the hot tub we wouldn't violate Ground Rule Number Nine. He joined us but refused the Four Loko. Mike captured it all on his cell phone.
We followed the soak with a bachelor party tradition: pillow fight! We took them from the bed, the sofa, and the extras in the closet. When we couldn't find any more we used our fists. We knocked over a table and the sofa and bloodied some noses. Fortunately, the blood blended perfectly into the drape pattern.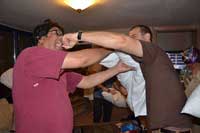 Pillow fights are fun!
(click photo to enlarge - ESC to exit)
The fight burned off most of the energy that the Four Loko had given us. People dropped out and sat down at the table and on the overturned sofa. Conversation turned to philosophical topics, such as how much filth makes a slut dirty and where do the porn slappers in front of Bally's live?
"Okay, guys," said Steve. "This has been a lot of fun and I want to thank you again for your generosity. Burt, the suite is amazing and --"
"Do you smell what the Texan's cooking!" screamed Jerry as he leapt out of the powder room. At least, we think it was Jerry. Nobody knew for sure because this person wore a rhinestone-encrusted blue Mexican wrestling mask.
"Ground Rule Number Six!"
"Sucks," added Burt.
Jeff (again, presumed) stomped out of the bedroom in a purple lamé mask and snarling, "¡Claro que sí!"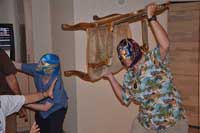 What's he going to do?
(click photo to enlarge - ESC to exit)
Jerry and Jeff were already grappling, scattering the rest of us and breaking furniture. They used the overturned sofa as a turnbuckle to jump off and the dining table chairs as foreign objects. One by one, the rest of us joined in. Sometime between when Jeff clotheslined Burt and Phil passed out under the coffee table, Steve left the living room. Nobody paid much attention until after Mike counted Burt out and declared Jeff the Intersuite Champion. We searched for Steve and found him tucked into the king-size bed, dozing.
"Okay, guys," Ghizal whispered. "I think it's time to go." He made Jeff, Jerry and Burt remove their masks and then herded us toward the front door. At least, he tried to. We hesitated because, independent of each other, each of us had thought that Steve wouldn't notice one little roommate in his giant suite. The other suckers can pay for a room.
Ghizal sneered with disgust. "You people are unbelievable. We're supposed to make this weekend special for Steve. This is supposed to be about fulfilling his wishes. He said no roommates, Ground Rule Number Three."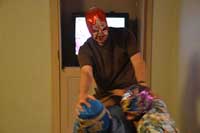 Two headaches coming up!
(click photo to enlarge - ESC to exit)
Phil said, "It's Number Two now."
Ghizal continued, "Whatever. How hard is it to understand 'No roommates'? How hard is it to do that one little thing for Steve?"
We bowed our heads in shame.
"Now get the hell out of here." Ghizal ushered us to the door. "Out. All of you."
"But we have nowhere to go."
"That's your problem."
Jerry said, "I guess I can go sell my body on the street." Nobody said anything. "That would be bad if I had to do that, wouldn't it?" Nobody said anything. "I mean, if I became a prostitute. Nobody wants to let that happen."
"Can we crash in your room, Ghizal?" asked Jeff.
Ghizal chuckled. "Funny thing, that. I'm, uh, staying here tonight."
While we kicked and bit him, Ghizal argued, "It's not a ground rule violation. I'm not going to be his roommate; I'm going to be his butler."
Brilliant. So much so that there was enough to go around. We would all be butlers. Robert was closet butler, Jeff and Jerry the Mexican Wrestling butlers, Matt the Four Loko butler, Phil the bathtub butler, Mike the manservant and Ghizal the executive butler. Burt was the absentee butler because he had left, either through the open window to his death, or out the front door to the elevator, to the ground floor, out the casino and into oncoming traffic, to his death.
We spread out, some sleeping on cushions, some on counters. Phil slept in the tub. The lights went out.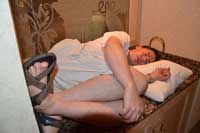 Burt tucks in for a restful sleep.
(click photo to enlarge - ESC to exit)
Around four a.m., Matt woke up, his neck strained from an awkward sleeping position under the coffee table. He thought that he'd sleep better in the bed, which was huge while Steve was small. He felt his way through the darkness to the bedroom and crawled in. He felt the warmth of another body: a leg, an arm, a gut, a hand, two heads, another leg, three more arms. He was the last person to climb into the bed.
Because of the snoring and being crushed by the others, Steve didn't sleep well. He thought about his fiancée, wondering what she was doing and if Mike would have a message from her in the morning. He was not too disappointed with the weekend. After all, he had a pocket full of cash, and he needed that to pay the a capella orchestra they'd hired for the wedding, as well as for the eight-foot ice sculpture of Venus de Milo. Plus, his friends had made some attempts to give him a classy weekend and they had only broken half of his Ground Rules.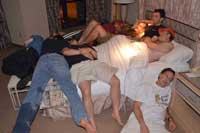 A Rio suite can sleep a lot of people.
(click photo to enlarge - ESC to exit)
He told himself that tomorrow would be better. His friends had probably planned a private tour of the Bellagio art gallery, maybe a visit to the symphony and a gourmet meal at the new Cosmopolitan. At the very least, he still had the suite for two nights.