PART 2 - Inside, Up Close and Personal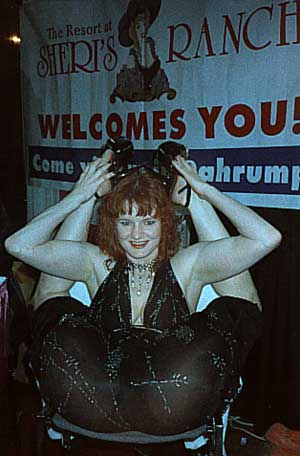 Though not exactly erotic, this sex industry worker caught our attention with her contortionist act.
With the fan base now fully entrenched in the show, screaming for free T-shirts, massing around porn stars, and scooping up every giveaway they could, finding Phil was not easy. I stopped for a foot massage. (They always have foot massagers at trade shows because your feet get so tired walking on the cement floors.) When I got up, I spotted Phil. A blonde woman was balancing her gargantuan breasts on top of Phil's head while another fan snapped their photo.
"Nice one, Phil."
"Thanks."
Phil and I looked around to see who was in attendance at the show and found that about two thirds of the people were fans, dressed normally. Of the industry people, the majority were women, dressed revealingly. Several tags read "talent," meaning that these were stars and starlets who had sex on camera. The talent consisted of big-breast queens; lithe giggling blondes; corseted undie-less models; and the royalty of the adult scene, stars whose names you may have heard, e.g. Jenna Jameson, Teri Weigel, Ron Jeremy. There were some male stars, too, dressed in cowboy chaps, leopard-print spandex and the like. Phil--in a sort of daze like the one you get from crushed Ephedrine and whiskey on ice--was only marginally dismayed that his lab coat raised only a handful of eyebrows the whole afternoon.
Phil and I both recognized several people. Phil couldn't remember names, but I was captivated at seeing Nina Hartley. We actually followed her through the Venetian on the way to the show, and I thought it was her but couldn't tell. Once we were inside, it was clear that she was indeed, Nina Hartley, owner of the finest hiney in adult show biz. Having seen her speak years before in her (and my) native San Francisco, I was impressed by her genuine intelligence and was forced to divorce my preconceptions about porn stars all being dim in direct proportion to their prettiness. I wanted to tell her I admired her sex-positive work, aiming at the number one high of life--being noticed by a celebrity--but I only managed to catch her eye for a second as she hurried past me, flanked by an ever-present entourage.
The Sex Biz
As an aspect of the world's oldest trade, pornography has crystalized into very specific modes. The kind of sex that sells is the athletic, aesthetic coupling of individuals without emotional attachment. Buyers determine the trends, and purveyors of porn stick closely to delivering what the viewers demand. Some trends come and go, some are here for good.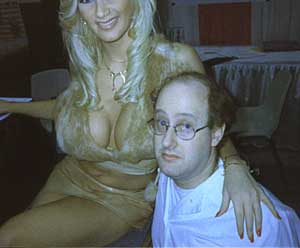 Phil attempts a scientific comparison, but realizes that he's left his protractor in his other pants.
This year seemed to be another good year for slim, huge-busted women well under 25. Anal seems to have popular ascendance as do fast cars and spy-genre plots within porn scripts. Production values, in many corners, seem to be going up. "The Money Shot" is still very popular. In fact, the entire multi-billion dollar porn business seems to revolve around good film captures of the male orgasm. And is it any wonder? Orgasm is the 12th greatest high of life! Love is only number 28.
The trade show became a swirl of over-stimulation. A cadre of chicklets was screaming at the top of a two-story booth. They wanted to throw T-shirts to the crowd, but first they wanted the crowd to be whipped into a frenzy. I was too numb by then to offer more than a spoken "woo-hoo," and I wasn't the only one. The fans near me looked up, but remained more or less silent. From her perch on high, one of the models judged us harshly, "you suck," and kept her T's to herself.
But really, who did she think she was fooling? The show was about business. Business and gawkers. We knew they weren't going to "take it off." The talent, new and used, was there to sell, to expand the companies that make their money. When the veneer of a party atmosphere is that thin, it's hard even for cute women to keep a crowd of porno fans screaming.
Playing By the Rules
Nudity was, strictly speaking, not allowed, though there was certainly a good deal of leeway around the rule.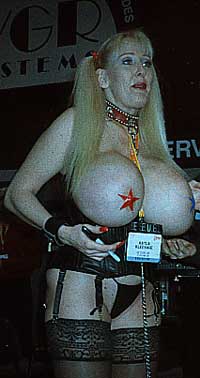 An older bust queen does a video interview. Phil and I watched her back into the camera tripod and knock it over.
Displayed video was carefully edited, and one manufacturer of an interactive DVD had been forbidden to show his product because it was too explicit for the trade show's rules. He had put up an angry and grammatically horrendous hand-written sign to explain his situation, and sat bitching about the unfairness to all passers by.
"It's ridiculous," he said. "This whole show is about sex, but we can't show sex?"
This paradox is central to the adult entertainment industry. It's not really about sex, after all, but titillation. The trade show itself had much more to do with business than with sex. We saw makers of lubes, handi-wipes, DVD holders, bar-coding systems, camera equipment, soaps, costumes, and Web designs. During my privileged hour alone at the show, I overheard two normal-looking men making a deal on bulk blank videotapes.
Phil didn't seem to mind that free-swinging breasts had to have Bandaids over nipples and areolas at the very least. If you were in the right place at the right time, you could see much more. We watched a tiny-waisted model demonstrate a new kind of rocking chair designed for "adult activity," and as she got up we looked directly up her too-short skirt. We couldn't help it. A guy behind us knew the score: he had his camera at the ready just at the right moment. Now that's a fan.
Back Door People
Apart from the fans and the talent, the rest of the people were less glamorous industry workers: guys manning booths, distributors and materials dealers, and press folk like me. Most of the booths were for video companies, large and small. The big ones had stages for popular stars to sign autographs. The smaller booths typically were hawking one or two new titles with the starring starlet present to sign giveaways. Phil looked at a poster of "School Sluts 6," while the starlet stood grinning in person just next to it.
"Is that you?" said Phil.
"Yeah," she chirruped.
"School Sluts #6, starring you, huh?"
"Yep."
"You must be very proud," said Phil without guile.
Not every booth was an enormous party trying to happen. Between the glamorous booths showing 3D porno, hot sports cars, and gussied up girls, there were also the video companies that seem to fall in the "other" category. Besides the gay video producers, there were also various fetish companies, specializing in overweight people, spanking, peeing, amateur acting, and things I don't want to talk about right now.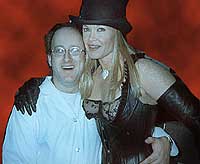 The cutest magician Phil has ever seen conjures away the last vestiges of "soft science." Phil feels like he's walking around in a hazy red cloud.
Many products and services tangential to the industry were also represented. About a dozen porn distributors were there, selling videos and DVDs. Several adult-toy makers displayed their extensive lines of prosthetics and paraphernalia. At least one local strip club had set up a stage where dancers were doing the clothed versions of their pole dances. They were there to lure fans to the club itself that evening.
There were some advanced technologies there, too, particularly a 3D imaging demo that Phil said was quite impressive and worth the 20-minute wait. "Porn leads technology," stated Phil. "That's Fleischmann's First Law of Pornographic Technology. Many technological breakthroughs, especially during the digital age, have gotten their starts with adult entertainment. The Internet, DVDs and the return of Smell-O-Vision are but three examples. And now, there's the 3D thing."
"Man, that was great," concluded the man in the lab coat.
The Best Videos of 2002
You can't judge a porn tape by its cover. They all have sexy models, but that don't mean a thing once you pop it into the VCR. The action could be tepid as a beached flounder. However, you CAN judge a tape by the title, and these will be the hottest tapes of 2002:
10. United Colors of Ass
9. Stinky Stained Panty Party
8. Sluts with Nuts
7. Asstravaganza
6. I Saw Mommy Eating Santa Claus
5. Crouching Tiger, Hide the Dragon
4. The Sopornos
3. Ally McFeel
2. A Peeing Trilogy
1. 9021 Ho

The End