Shipwrecked: Japan's Theme Parks
Japanese Entertainment Up-Close
It was an early Sunday morning. I knew this only because I had been awakened by my office window's typical May allotment of morning sun. Many times Saturdays are the busiest of the week and require a little added effort that, frankly, most reporters in this business aren't prepared to give. Dedication of this sort is what separates a hardened newsman from a mere copy boy or your average linotype operator. Hence, if my smiling Eisenhower wall portrait greets the first blinks of my eyes, as was the case this morning, I know it is a Sunday and I can take solace in a job well done the day prior.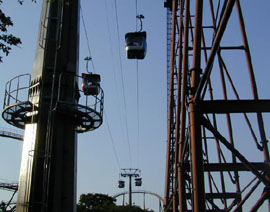 I rolled over on my desk onto my side. I then noticed a bass drum pounding on the front inside of my head...
"Oh my!" junior reporter Junko exclaimed. She was standing in my doorway. All of a sudden the bass was accompanied by a series of trumpets.
"Morning, my dear," I coughed. "Working on a Sunday are we?" I rubbed some of the stubble on my chin with the back of my left hand.
"Where were you yesterday?" she said in a tone that would have customarily been followed by a folding of her arms. However, the documents she was holding made that impossible.
"Finishing up the theme park angle. You know, a newsman's job is never finished until he gets his story." I popped a grit into my mouth and crawled off my desk while simultaneously pawing for my lighter.
"You went to the Bloomberg picnic at Yomiuriland and got stone drunk didn't you? Don't you know that they are a competing media organization?"
"I'm not certain, but refreshments of some sort may have indeed been provided," I conceded, now upright in my chair. "But need I tell you the story of the Trojan horse?" I shook my lighter between the thumb and forefinger of my right hand.
"The Greeks weren't in a drunken stupor when they subverted!" she scolded.
"Is that right?" I asked with little sincerity. I put my feet on my desk and crossed them at the ankles. I lit my cigarette with absolute sincerity.
"Anyway," she said, "I already finished the theme park story." She tossed a report on my desk and exited with the horn section going right along with her. After a couple of puffs, the thumping bass had dropped to the low rumble of a kettledrum and I began reading.
In Yamanashi Prefecture, a conception of Jonathan Swift's Gulliver lies on his back tied down to a small artificial island at the base of Mt. Fuji in the village of Kamikuishiki. The 45-meter giant moans in Japan's weekly magazine Focus, "Nothing is possible anymore!" The island and surrounding lake is the central attraction, amongst the Bobsleigh Land and Nordic Village amusements, of Gulliver Kingdom - "The Natural Amusement Park." So what has Gulliver so depressed? The Lilliputians have applied a little too much rope tension? The appalling costumes in the French puppet show in Gulliver's Theater? Nope. The combination of slagging attendance and a bankrupt lender.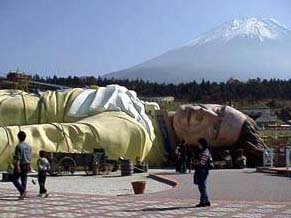 The theme park, whose property also includes a hotel and golf course, has suffered a recent fall off in visitors and will be auctioned off to the public after Ryutaro Omori, former president of the park's failed lender Niigita Chuo Bank, was arrested in March for criminal negligence. The Yomiuri Shimbun explains that he has been accused of "running the bank like a personal fiefdom." Omori orchestrated loans to a variety of projects, specifically ones that "he had an interest in." That interest was in the form of kaiinken, or stock kickbacks ambiguously linked to golf course usage. All told, Mori loaned $350 million to Gulliver. That's quite a few reindeer oats.
But these days, sadly, Gulliver's tale is not unique to Japan's theme park industry. Born of bubble excess in the late '80s, dozens of such parks are on the verge of closing their windmills, sleigh rides, and ethnic villages. Some of the big foreign names, Disneyland for one, thrive. But most of the domestic creations just chug along, garnering few visitors after opening day. Some outright collapse under their debts, resulting in, well, hardly a ripple.
Ripplewood Holdings LLC, Kyodo reports, announced that it will take over the bankrupt Phoenix Resort complex in Miyazaki Prefecture. In addition to its $3.3 billion debt, the resort includes a hotel and Seagaia - an artificial beach with wave making machine covered by a retractable dome roof. Even with a natural beach just outside its doors, the resort anticipated 10,000 bathers each day. But primary lender Mizuho Holdings Inc. will be only ones doing any swimming as they paddle in a $1.8 billion sea of red ink.
Not all is so glum. Tokyo Disneyland's business is booming. So popular that even the sons of third world dictators are trying to get in. "I wanted to go to Disneyland," said the 29-year old Kim Jong Nam, son of North Korean ruler Kim Jong Il, after being detained and subsequently deported by Japanese immigration authorities. But it is not just the diplomats. Kyodo reports that Disneyland was the beneficiary of a 4.8% increase in customers in 2000 from the year prior and topped 17 million guests for the first time in two years. As a result, they are hiring. Not a lot, but this is a recession...
Yumi Ishihara was one of 8,500 applicants that came to Disneyland during a 6-day job search to fill 25 posts in late April. She recalled, "I asked them for any job they had." The jobs available were in the security, food services, nursing, cleaning, tailoring and wig preparation fields. "I have been taking computer classes so I wanted to work inside as a clerk or computer operator. But I was desperate for anything." Yumi waited three hours for an interview, only to be rejected.
Not only is Disneyland adding employees, but they are also expanding with their new park DisneySea - giving the marine theme one more try in Japan - next to Disneyland and set to open in September. In addition to such physical attractions as Mermaid Lagoon, Arabian Coast, and Mysterious Island (the Jules Verne's estate ought to be getting a cut), Disney's Web site promises a "conceptual leap in the world of theme park entertainment. Featuring a wonderful blend of old-world charm, futuristic adventure, history and fantasy."
But with competition seemingly crumbling with the fortune cookies at Asia Park in Kumamoto and sinking on board the flag ships at Naval Land in Fukuoka, why wouldn't Mickey sit back on his laurels, laugh at the competition, scoff at hiring and expanding, and simply count his cheese? Well, it's simple. Because there's a new woodpecker in town. Or at least in Osaka.
Universal Studios Japan opened for business in Osaka on March 31st. The Los Angeles Times reports, "Universal spent years studying the habits of Japanese visitors at its U.S. parks, creating special test kitchens, mounting focus groups and poring over Japanese demographic data." Did it work? So far so good. Kyodo reports that Universal had to temporarily restrict entry for three days in a row during a recent holiday period, when the number of visitors reached the maximum capacity of 39,000. By May 9th, it had welcomed its one-millionth visitor. Disney concedes that it will lose visitors to Universal during the first year. But, Yoshiro Fukushima, the company's executive managing director says to the LA Times, "They'll return."
Thus a turf war has been born. Both sides though seem content, at least for now. Says Jim Cora, president of Disney International, "It keeps us both on our toes to stay sharp." The LA Times warns, though, that Universal ought not drop its guard, "Most Japanese theme parks do fine the first year. Universal's challenge will be to keep people coming back."
Domestic theme parks, however, remain undaunted. Tokyo German Village opened this year and offers six miniature golf courses, a ferris wheel, and a German restaurant, all on a 6,800-square meter section of Tyrolean landscape. Additionally, the New York Times reports that six Santa Claus-themed parks are in the planning stages.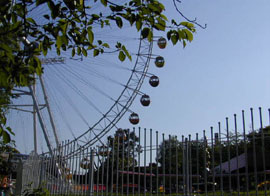 But whether boom or bust, why the relatively sudden rush for theme parks in Japan? The NY Times says that theme parks were the logical answer to an overworked and under-relaxed population in the '80s. The LA Times then postulates, "Many projects were conceived by older men, based on their memories of the high-yen days when foreign travel was expensive and difficult." As a result, Swiss, Canadian, and Mongolian parks, amongst dozens of other variations, were constructed throughout Japan in the past 10 years. Ira West, president of Duell Corp., an international theme park designer, tells the LA Times, "Left alone, the Japanese went a little nuts."
But then there's Gulliver's unique reason for being. In 1995, the Aum Supreme Truth cult sarin attack took place in the Tokyo subway system. Since Yamanashi Prefecture is the home of the group, government officials wanted to improve the area's image. Hence, on opening day in 1997, the enhanced image of Yamanashi included such attractions as Gulliver's Lilliput Circus and Alpine Floral Festival. Even if nothing is indeed possible anymore, you've got to give them credit for trying.
I stubbed out my smoke and got up from my desk. I grabbed my coffee cup and stepped into the newsroom.
"You know," I said, standing at Junko's desk while she did some paperwork, "Yomiuriland is doing quite well. Three roller coasters, a ferris wheel, a tram, a dragon swing, and a freefall."
"Of course," she said, turning her head from her work, "they are owned by the same company that owns the Giants, Japan's most popular baseball team."
"Speaking of which," I added, placing my coffee cup at the edge of her desk, "they have a practice field out back. I went down to the bullpen for a few throws in case some scouts were poking around. You never know when a team is looking for a late inning specialist." I stepped back and gave her an example of my windup.
"Nice," she snapped. "But your shoulder flies open just before your follow through. Your fastball sails on you and your curve doesn't bite. Am I right?"
Kevin Costner once declared the pitcher's mound to be the loneliest spot in the world. He has obviously never set foot in this newsroom.
Note: Nobuko Chuma and Eric Prideaux contributed to this report. Gulliver picture provided by Saito. Coming Soon: For Love of the Lame - The State of Japanese Baseball.