The Wacky, Wired World of Thanko (Part II)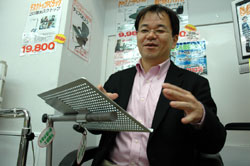 ...back to Part I...Yamamitsu's beginnings were similarly humble. He previously worked for a company that imported gadgets from overseas. Thanko started in 2003 as an online venture called Rare Mono Shop. The company has since grown to include four stores, three in Tokyo and one in Osaka.
Further growth is expected with overseas sales, which began soon after the launch of an English version of Rare Mono Shop late last year. But with shipping costs from Japan being extremely high, Yamamitsu is looking for distributors in the U.S. and Europe to complement his existing partners in Singapore and Korea.
The versatile USB port has been the company's bread and butter, but ventures into such wireless systems as Bluetooth and Wi-Fi are probable once demand for products using these technologies in Japan increases.
Like product pitchman Ron Popeil and his eccentric company Ronco ("Mr. Microphone" and "Pocket Fisherman"), Yamamitsu has visions of moving to everyday items. (When asked, the Thanko president had no idea that Popeil marketed a smokeless ashtray decades ago.) "Right now we are focusing on a small market," he says. "We would also like to expand beyond the PC market to more mainstream items."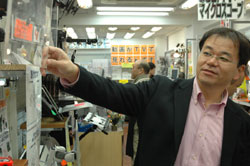 This might mean upping the company's current monthly output from two or three new products to six. "If we stop developing new products," he supposes, "we will lose customers."
Certainly thoughts of going mainstream is heresy to any tried-and-true otaku consumer, but they would not be alone in raising a caution flag.
"The otaku market is highly segmented," says Ken Kitabayashi, a contents and communications consultant at the Nomura Research Institute. "In general, companies can not expand their business simply by increasing the number of articles in the otaku market."
Yamamitsu agrees, explaining that Thanko will continue challenging itself in all areas. "We need to make our products more interesting and useful for not only the otaku market," he says, "but also for the common market."
Note: Thanko can be found on the Web at http://www.thanko.jp
The Thanko Catalog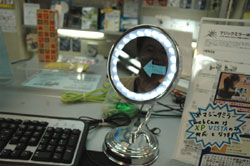 With the holidays just around the corner, the Thanko catalog, which boasts a female model who dresses as a maid when she works part-time as a tour guide of Akihabara's attractions, could serve quite nicely as a one-stop shopping point for the gadget-minded friends on your list, or alternatively as a coaster for a glass of eggnog. Here is a rundown, complete with commentary from Thanko president Hiroyasu Yamamitsu, of a few notable items:
Magic Mirror Webcam (5,980 yen)
Check for pimples as you simultaneously ask your friends whether you are the fairest of them all with this Webcam that doubles as a mirror. LED lamps rimming the edge of the reflecting surface illuminate the user's face. Unfortunately, the only magic will be when your wallet instantly becomes a few bills lighter following a purchase.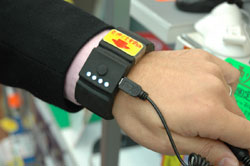 The offset position of the mirror makes communication easier compared with typical Webcams where the lens is near the monitor, Yamamitsu explains, adding: "The lights help to highlight the beauty of women."
Silent Keyboard (3,980 yen) and Mouse (2,980 yen)
The specs reveal that tapping away on this keyboard creates six silky decibels of sound - near library-like when compared to the 30 decibels typically emanating from one of Logitech's clunkers. Special silicone inserts under its keys are the reason for those smooth strokes. Be bold and add the click-less mouse for a virtual taciturn twosome. But with noise in the workplace often linked to productivity, you could find yourself out the door. Best for use in the home...and Yamamitsu tends to agree.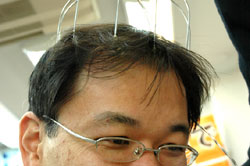 The president explains of the mouse: "When I used to use my PC late at night, my wife often complained about the noise." So Yamamitsu and his team changed the internal shape of a typical mouse's case to reduce vibration and, as with the keyboard, inserted silicone around the switch. He says that the keyboard has recently been deleted but will return soon with added features, which for now are top-secret.
Charger Bracelet (4,980 yen)
Give a battery boost to a fading keitai or Sony PSP with this black strap-on wrist charger and coiled cable. At a mere 85 grams, you will be the belle of the geek ball as the four LED lights indicate the strength of the charge, which at its peak would mean more than a dozen hours of dating sims. The only foreseeable problem will be the onlookers who will ponder which direction the juice is running.
Yamamitsu says that the product's beginnings go back to a Thanko staff member who kept running out of power on his DS Lite and PSP: "There are a lot of rechargeable batteries for portable game machines, but all of them have a boxy style, and their short cables create an obstruction for proper playing. I thought that if the shape of the external rechargeable battery could be changed into a kind of wrist band, it would not obstruct play and would be very portable."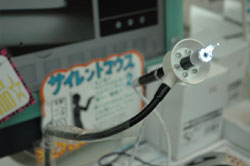 Octopus Head Massager (2,480 yen)
The start of the ad copy reads: "Switch on this octopus and let it ride on your head!" Eight vibrating wires powered by USB or battery and dangling from a central pod - Get it? It's an octopus! - will then begin rubbing the crown of your noggin. The ad closes by mentioning that it is perfect for relieving work stress and would make the perfect gift.
The president explains the evolution of the product, which apparently is not a novelty and actually receives sizeable usage, thusly: "Originally the power source was only two AAA batteries. But it became troublesome to replace them after they went dead. So I thought that if the power source were drawn via USB, the user wouldn't have that hassle."
USB Anything Microscope (12,800 yen)
Probe anything on your anatomy and display it on your PC with this handy scope shaped like a wand. Nozzle and scoop attachments for the tip work with an LED lamp to reveal those hard-to-get areas - like that troublesome molar or the hairs of your nose. The perfect gift for aspiring doctors or a Webcam amateur looking to create the next bizarre fetish.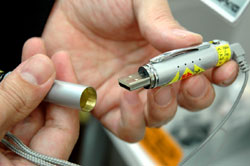 Yamamitsu has found that Japanese people love to examine the inside of their ears. "This is perfect for that," he says. He adds that the Dino-Lite series includes wider scopes that are more geared for investigating the skin and scalp.
USB MP3 Pen With Voice Recorder (6,800 yen)
The top of this pen is removable via a USB connection to allow for hookups with supplemental attachments that both record and play sound. With a capacity of 512 MB, it is ideal for jotting down that Roppongi honey's number and later bringing back just how sloshed you were when you asked. A 1 GB version is also available.
Yamamitsu, however, had more noble intentions in mind: "I thought that it would be good for business people who wanted to make recordings in a conference room. Or if a good idea appeared while riding the train, for example, it would be easy for them to document that idea."