The Destroyer: World's Greatest Masked-Man (Part II of II)
The Interview Series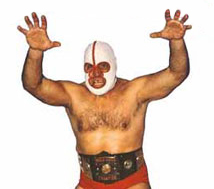 "One time we came out and out front they were building the Shuto Expressway to go to Haneda [Airport] for the Olympic Games in '64. It was wintertime, December, so it was cold," The Destroyer says of a particular night in 1963 after a few beers and dinner at his favorite Italian restaurant in Tokyo. "And all these Japanese workers were sitting around a coal fire. They were hitting something with a sledgehammer. So Ilio Dipaolo, who was big and strong, grabs that sledgehammer and busts it down."
The construction lesson The Destroyer is speaking of took place during his first return to Japan after his initial confrontation with Rikidozan in May of the same year. He and Ilio were in town for six-man team matches that took place in Tokyo, Osaka, and Hamamatsu. They were the participants in more of the continuing series of bouts pitting Japanese against foreigners. Buddy Austin rounded out the card for the gaijin side with Michiaki Yoshimura, The Great Togo, and, of course, Rikidozan representing the Japanese. Unknown to the Japanese fans though was that The Great Togo wasn't Japanese at all.
A number of wrestlers born in the US, including Mr. Moto and Kenji Shibuya, became wrestling stars in the US because of their Japanese roots. The Destroyer says of The Great Togo, "He was from LA but he lived in Texas. In the early '50s [in the US], he was a big star because he was [of] Japanese [ancestry]. Guys that were Germans and Japanese were the heels." Thus, the appeal of watching a native son battle a wrestler from a former WWII enemy country was not just appealing to the Japanese. Still, when The Great Togo came to Japan to wrestle, he checked his US passport at the door.
"The Great Togo wasn't allowed to come into the room," The Destroyer remembers of a sayonara party thrown for the three foreign wrestlers by Rikidozan after the final match in Hamamatsu. "We [the foreign wrestlers] were inside with Rikidozan, drinking beer and eating sushi. On the edge of the room were the Japanese wrestlers, kneeling. Even Togo, just watching."
This military-like discipline was a characteristic of Rikidozan's philosophy concerning wrestling. "He was a very tough and mean individual," The Destroyer says of Rikidozan. "He wanted wrestling - and his wrestlers - to be tough like he was."
Giant Baba told The Destroyer that Rikidozan would sit in the Japanese dressing room with a whip-like stick and he'd make the Japanese wrestlers stand in a circle and do 1,000 squats. "Japanese always had great thighs because of this," The Destroyer claims. "Then if someone did something wrong, he'd make them do 2,000. Then some nights they'd do 3,000. Baba told me how they used to cheat on him. The guys that were behind him [Rikidozan] would just count: ichi, ni, san, shi... But they weren't doing them [the squats]."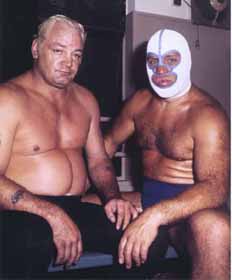 Buddy Austin and The Destroyer share a few thoughts

Strict demands from Rikidozan, however, were not just reserved for the Japanese wrestlers. The Destroyer found this out first hand when Rikidozan told him he could only drink the beer of his sponsor - Kirin. "So I only drank Kirin," The Destroyer says. Also, he also told The Destroyer, "I don't want you coming out on the streets without a mask. I pay you big money to come over here so you wear a mask."

On that tour in December, The Destroyer, with mask firmly attached to head, wrestled Rikidozan three times; one win, one loss, and one draw. The matches would prove to be Rikidozan's last.

"We had a train. It was a mule bumper. We picked up the milk and dropped off the cows. It took us 6 hours. We got back to Tokyo at 7:00 the next morning," The Destroyer recalls of his long trip to Tokyo from Hamamatsu on December 8, 1963. That same trip today only takes 2 hours by Shinkansen.

That night The Destroyer went to meet Rikidozan at a Japanese restaurant for a final farewell and his share of the "big money" before his 9PM flight from Haneda Airport back to the US. "It was at a Japanese [place] with sliding doors. He [Rikidozan] clapped his hands and they [other Japanese] scattered out of the room," The Destroyer remembers.

Rikidozan began the party by asking him in English, "Cocksucker-son-of-a-bitch! You want drink? You want girl?"

The Destroyer politely declined the offer of a woman but readily accepted the drink. With his English ability now fully taxed, he demanded through their interpreter, Mr. Q, "You stay tonight and we go to cabaret! Kampai!" At that, they clinked glasses and chug-a-lugged a full glass of Kirin. That was followed by some Korean rock gut and three cups of sake.

With both of them properly lubed, Rikidozan once again encouraged, "Come on, now we go to cabaret!"

But The Destroyer had a tight wrestling schedule ahead of him back in Portland, Oregon and had to decline the offer. He took his pay and caught his scheduled flight from Haneda. He was met at the airport in Portland the next morning by his wife. "She showed me the newspaper that Rikidozan had been stabbed in a nightclub. It happened an hour later [after I left him]."

In that one hour, Robert Whiting writes in Tokyo Underworld, a drunken and disorderly Rikidozan got into a scuffle and was eventually stabbed by gang member Katsushi Murata at the New Latin Quarter. Though details were a bit cloudy, the fight possibly had its origins in a bit of business betrayal. Murata's gang had been supplying goods and services to some of Rikidozan's wrestling matches. But a recent deal for the concession, brokered between separate rival gangs, wound up "leaving young Murata's organization out in the cold."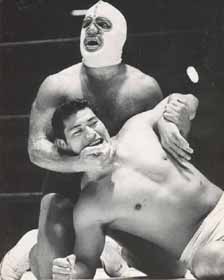 Antonio Inoki asks The Destroyer for mercy

Rikidozan died 10 days after the stabbing from rather uncertain complications after an emergency surgery at St. Lukes Hospital in Tokyo.

The Destroyer was surprised by Rikidozan's death but not of his affiliation with mobsters. "Some of the towns we wrestled in were promoted by gangsters. The yakuza would buy up all the tickets and then go out and go to a shop [in the town]. They'd say, 'buy 10 tickets.' So they'd buy 10 tickets. If not, the next morning, a few lights [in the front of the store] would be gone. That's the way a lot of the towns were."

With Japan's wrestling hero now gone, it would take a giant to fill the void. The Destroyer would stand by his side.

In the mid '60s, Giant Baba would lead Antonio Inoki and Oki Kintaro into the formation of Japan Pro Wrestling. During the years leading up to 1971, The Destroyer would leave his job as football line coach for Syracuse University two or three times a year and come to Japan to wrestle for Japan Pro.

But in the late '60s and early '70s, divisions started to form in the ranks. Separate wrestlers left Japan Pro and formed Kokusai Pro Wrestling and New Japan Pro Wrestling.

"I maintained my loyalty to Giant Baba," The Destroyer emphasizes of those days. "That's where I got my start. He helped me in the early days in LA. So I kept coming back for Japan Pro Wrestling." That is, until Japan Pro folded.

"I was here in December of 1971," he remembers. "That was the last match that Japan Pro had. They went down the tubes. Giant Baba finally went out on his own. So that left me free to choose."

Choose he didn't. Rather, he challenged Giant Baba in a TV interview in December of 1972. He said, "If I can't beat Giant Baba, I'll join him." They wrestled the next day on live TV to a draw. Afterwards, The Destroyer said, "I'm a man of my word, I'll join him."

All-Japan Pro Wrestling would be the result of the union with Jumbo Tsuruta becoming the final pillar in their wrestling triumvirate. "So the next night in Korakuen Hall, he [Giant Baba] and I were tag team partners against two gaijin. One was Moose Morowski and the other was Cyclone Negro. And we beat 'em two straight falls."

Thus, All-Japan Pro Wrestling had a new masked man. He would go on to fight in Japan full-time for All-Japan Pro from 1973 to 1979.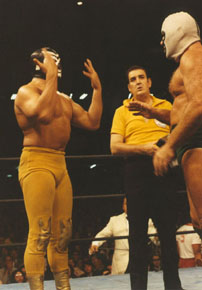 Mil Mascaris has a word with The Destroyer

During this period, Tokyo Sports gave him the title "World's Greatest Masked-Man" after he defeated ten of the world's greatest masked-men, including Mil Mascaras, The Tornado, The Avenger, The Black Devil, and The Blue Shark. From there, his legend would only get bigger.

From 1973 to 1977, The Destroyer starred on Japan's version of Laugh-In, a sort of musical comedy called uwasa no channel. "I wore shorts, my wrestling shoes, the mask, and a German helmet," The Destroyer recounts of his role on the weekly Friday live show that was rated number one on Japanese TV over those four years.

"They used to hit me on the head with everything," he says of the origins of the German helmet. "As the show started, we'd come out in a line and I was the last one. [One time] the prop man put the helmet on [me]."

This show made him a star in the Japanese public eye. Making the cover of Japan's TV Guide in late 1973 didn't hurt either. "That's when I figured that I'd made it," he waxes proudly. "When you get your picture on the front of TV Guide - anywhere - it's good."

But not good was the funny persona he had developed. At least Giant Baba wasn't laughing. "I was already popular from wrestling," he says. "But after this show, I was funny. So when I got into the ring, I had to be careful not to do something that would make the people laugh. It was a challenge."

Giant Baba, like Rikidozan before him, took his wrestling very seriously. He said to The Destroyer, "Oh, you make the people laugh!" The Destroyer though would maintain his innocence with Giant Baba because he too took wrestling seriously. So he tried his best to keep from turning the match into the silly shenanigans that dominate today's WWF.

"I am very thankful that All-Japan Pro has kept as much wrestling as they have," he says. "It was always my perspective and knowledge of the game that people love wrestling - the wrestling end of it. The kicking, the punching and this and that can be used occasionally. But the fans will still buy wrestling. Especially the Japanese, they like a contest."

The Destroyer's retirement match came in 1993 at the Budokan in Tokyo. The match featured The Destroyer, his son Kurt, and Giant Baba wrestling against a team of three Japanese. Though The Destroyer had wrestled alongside other Japanese wrestlers as tag team partners many times before, it was at this point that he was able to reflect back on how far Japanese wrestling had come.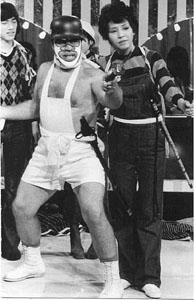 The Destroyer is a TV star

"In the early days, wrestling stayed healthy here [in Japan] with Americans wrestling against Japanese," he says. "Now they've gotten to where they go Japanese against Japanese, just like back in the days in the States when I would wrestler Killer Kowalski or Freddie Blassie."

Things were indeed different in those days. Heels were heels and baby faces were baby faces. Today, heels can become legends.

Junko wrestled the issue of Flash out of my hands. She pinned it to my desk and turned to the picture of The Destroyer, striding forward, sword in hand, and helmet on head.

"So did he wear this mask the entire time you spoke with him?" Junko pointed at the picture. I put a figure-four-finger-lock on another cigarette.

"Sure, like the figure-four-leg-lock, it is one of his trademarks or symbols." I pulled my lighter up into a suplex. "In fact," I added, "I got a demonstration of the figure-four right there in our meeting room."

"Why?"

"I asked him if wrestling is fake. So he gave me first hand proof that it's not."

"Did you break it?"

"Nope," I said, lighting my cigarette. I took a few puffs and looked directly at her. "But the attempt alone at a feat now commanding $1,000 ought to certainly be worth a mere cup of coffee for the effort, now wouldn't it?" I changed my gaze toward my cup on my desk.

Without even a ten-count, she turned, ducked in between the top and middle ropes, and left the ring for her desk in the newsroom.

The closing bell rang from ringside.

Note: wrestling photos used with permission of The Destroyer.