Phil!
Born in Ankara, Turkey, Phil quickly realized that his condition was permanent. Never having been abducted by aliens, he is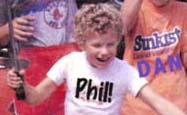 quoted as saying"They're afraid of me, and rightly so." A man who enjoys sentences that begin with non-restrictive appositives, Phil has great talent for annoying people. He knows when to stop, but doesn't always want to. He also has a tender side, which is fortunately protected in most places by a thin, but continually renewing mucus membrane. He would like people to know that he is fabulously rich. In order for people to know this, he will first have to become fabulously rich. He doesn't get enough riboflavin in his diet. His turn-ons are exotic food, good typography, courage, and naked women. His turn-offs are traffic, bad typography, improper etiquette, and being stabbed. His message to the people of America is, "Hello, America." His message to the people of the world is, "The same as the one for America, except with the word 'world' in place of the word 'America.'"

You can still send him email, though.