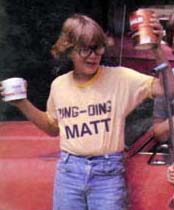 Matt!
Matt, a.k.a. Ding Ding, is what many consider to be an exemplary student of moderate intelligence at Woodrow Wilson Junior High School in Hampton, Nebraska. Matt finished in the top half of his class this year for the first time and nearly earned a "Honor Student" bumper sticker for his mother's car. "My dad says," remarks Matt, "that the good kids don't peak until Junior High School, so I know that he'd be proud of me."
Matt's life philosophy is "You gravitate toward what things make you want to eat more."
Currently, Matt enjoys collecting old car magazines from the 1980's and watching arena football. He hopes to some day repair small engines for a living, "like that retard in that movie I saw. I can't remember the name."

Matt says working for theThe Gift Electronique is "sort of neat, except that other kids make fun of me." And he hopes that his musings "don't make anyone real mad."
Matt also said, "If you see my dad will you tell him I miss him."