Up close with the Super Tean
by Wendy Nelson, The Yorba Horn, Yorba Junior High School
"Go away! I don't want you here! I already get a newspaper, so leave me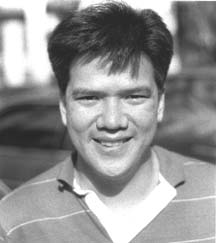 alone!" After another attempt at the doorbell, superswanky teen star and just plain nice guy Michael Ho graciously allowed me to enter what he calls a humble abode, but what everyone else would call a mansion.
"I hope I didn't startle you," explained the steamy Ho, "those pre-teen newspaper kids will stop at nothing to make a buck." It was immediately apparent to this reporter that he is the kind of guy that could stand on a street corner and give candy away to underprivileged street urchins.
"...those pre-teen newspaper kids will stop at nothing to make a buck."
I asked the hot teen star how he got started in show business. "Actually, I didn't get my start in acting. My friends suggested - dared actually - that I go on "Star Search" for the male spokesmodel competition. I didn't win - I think my opponent padded his briefs. Anyway, I got invaluable exposure standing next to Ed McMahon."
Shortly after "Star Search," Michael landed a small role in the rock-umentary "Uptown with Hanson" as one of the screaming crowd in Super-hot HoosierDome. From there, it was all uphill.
It was this brief screen appearance which caught the attention of hot, hot, hot director John Hughes. Hughes cast Ho in the enviable role of Sammy in "I Was a Teenage Groupie of BackStreet Boys." SuperMacho Mike won a prestigious "Teenager's Choice Award" for "Best Supporting Actor in a Movie With Lots of Cool Dance Music."
"All of the sudden, I wasn't just the guy working at the local donut shop," confessed the scalding hot teen fave with a twinkle in his eye. "I was a sex symbol - and popular, too! I've been going to a lot of high school proms ever since."
"All of the sudden, I wasn't just the guy working at the local donut shop."
I asked him how at age 29 he maintained a youthful look.
"I can't cook," he revealed, "so I make alot of TV dinners. I think it's the preservatives that keep me so young looking. I took physics in high school, so I know alot about the way these things work."
After playing Sammy, Mike was afraid he'd be typecast as a confused, good-looking teenage rock groupie. To prevent this, he purposefully chose to play Ted in "Risky Times at Rock 'n' Roll High School."
"I played Ted, a confused, good-looking, and sex-starved teenage rock groupie. I could feel the growth in my acting as I struggled with the sex-starved aspect of my character. The scene where Ratzo and me drill a hole through the wall of the women's locker room was a turning point for me.
"It was a difficult role for me, because I'm not really very good looking," he laughed with that grin that makes cheerleaders take bites out of their pom-poms.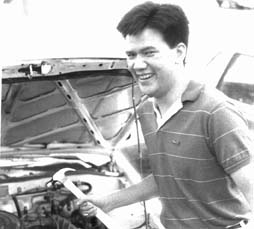 Of course, Mr. Modest's great looks are one of his biggest assets. He can be seen regularly on TV promoting Clearasil for Men and Super Teen ColaTM. "Filming commercials can be tough. But the money's good. After the last commercial, I bought myself a car."
Proudly, Michael led me to his carport and revealed to me his dream car: a ocean green 1972 Ford Maverick complete with sunroof.
There may be more cars where Michael is headed, and even some that run! He is appearing in an upcoming feature film titled "Uh, oh. Looks Who's Wearing my Shoes!" Mike stars with screen legend Judd Nelson, who plays his father. "I can't tell you much about the plot, but it's about a father and son who - can you get this? - trade places! I couldn't resist an original idea like that! Besides, the Ashley twins didn't want the role."
But not only will fans be treated to Michael on screen, but also a soundtrack featuring teen sensation Hanson!
"These guys are ten times better than the Beatles," insists Ho. "Their music's cool, and they can really dance."
Our teen heartthrob had to leave for an autograph engagement at a local record store. As I was being shown out of his home, I threw away my drained can of Super Teen Cola. Michael smiled coyly and picked the can out of the trash.
"I recycle. The money comes in handy." What a super guy!!!
"I recycle. The money comes in handy."