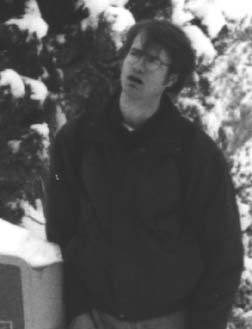 "I am a more mature man."
Declares Matt at the beginning of our interview, making it clear that he is a sophisticated, particular kind of guy.
"What I mean," he continues, "is that I don't want your readers sniffing around my house. If you want to do photos, I want you to take pictures that reveal nothing about where I live. Just pictures that say, 'hey, teen girls! I love all of you, come and see my movies."
This is Matt Weatherford, hot charcoal briquet in the Neet Tean pile of hot ashes. Since he was thirteen, Matt Marvelous has sat atop a throne as new hunks of pre-pubescent manhood made their attempts to overthrow him. None have. Matt started as host of the popular news program "It's a Teen's World" and has remained its host for 17 years.
But recently, he has tried his hand at music and films and he has been as successful as anyone could ever have imagined. Matt's first album, a hot collection of cool songs and titled "Teen Party in My Room!" is a runaway success, almost reaching Billboard's Super hot modern teen dance rock album charts.
And we don't even need to discuss the success of his movies which include "Teen Wolf III", "License to Drive IV", "Matt Weatherford Goes to Cheerleader Summer Camp", and his new box-office-record-buster "Dad, You're Grounded!"
"This is the wildest, most original, funniest movie ever made," Matt says enthusiastically. "It stars me and Mick Jagger as my father, a down and out electrician that is working on a dream monitoring machine.
Somehow, and this is the wacky part, he crosses some wires just as he and I are thinking that we wish we could be the other one. Bango! He's me and I'm him! It's nuts!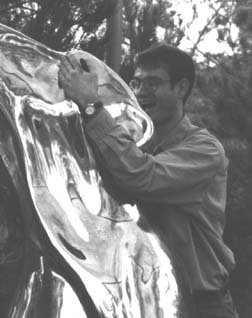 "In the course of the movie, we learn valuable lessons about how difficult it is to be a parent. I think alot of kids will take home a strong family message. And I'll take a ton of money to the bank."
And what about your love life, Matt? "Well, I'm 30 years old and I'm still looking for that special teen. Why? Do you know someone?" Asks Matt, slyly.
"I mean, I love your readers. They've made me a wealthy man and I hope they come out in big droves for 'Dad, You're Grounded!' because I'm getting a piece of the gross."
"You know," Matt says to me as I leave his Bel Air townhouse, "if you know some teens that want to meet me, give them my phone number. It would have to be discreet, though."