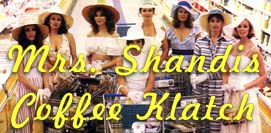 by Mrs. Randy Shandis

I can always tell when Mr. Shandis is excited about some new project. Something about that gleam of ambition in his eye- right away I know that I should probably not expect him home for dinner for the next couple weeks. He'll be working the wee hours, trying to make the world a better place. And it's my job, as his spouse, to support him wholeheartedly, without necessarily knowing every little thing that he does. I make our home a peaceful, cheerful environment for my workplace warrior to nurse his wounds from the business battlefield and to strengthen himself for the next tussle.
So you can imagine how surprised I was when Mr. Shandis actually wanted to tell me about this latest enterprise, The Gift Electronique. However, I'm always ready and willing, and when Mr. Shandis asked me to write a woman's column, I agreed. This way, my husband figures he can double his readership (with us gals!) and increase his corporate sponsorship all at once. Plus, he joked that I'll be one less person that he has to pay (but he should know that he'll have to take me out to dinner!). You see, it all works out wonderfully.
So, my topic for this issue is Making the Most of Your Dollar. Mr. Shandis, as you might imagine, runs a very tight ship financially, so I'm always trying to squeeze each dollar in my allowance for all that it's worth. Here are a few tricks that I've learned over the years.
1. If your house is a bit drab, but your husband nixes new fixin's, you can jazz it up by covering every available surface with simple materials like contact paper and tin foil. Paint "throw rugs" on the floor, instead of buying real ones- saves on the vacumning, too!
2. Stock up on free samples of shampoo, toothpaste, cereal, etc. that often come with the Sunday paper or in the mail. Your neighbors probably would find these trial sizes a nuisance, so feel free to go up and down the street, reaping the bountiful harvest.
3. Leftover soup can make a novel and zesty salad dressing.
4. Most blood plasma centers are more than happy to loan out their needles, bags, etc. to frequent donors. While the family is asleep, why not allow them to give the gift of life? They won't miss a pint or two, and you'll get some extra pin money.
5. Most of us know about the discounts available to those who get their hair cut at barber colleges, or get their teeth cleaned at dental colleges, but what about the other services colleges provide? The kids need entertaining? Take them to clown college! You need a ride somewhere? Forget the bus- find a willing student out at the local truck driving institute! I'd bet that even Harvard has some discounts, if you needed some inexpensive foreign policy or art history studies.
Finally, have fun with your penny-pinching! Be creative! Sure, it's inexpensive to live in a hovel, eating only day-old beans, but is it the good life? It just takes some pep and old-fashioned ingenuity, and you can make your home a palace, without spending His Majesty's Royal Fortune. Happy saving!