I love Fords.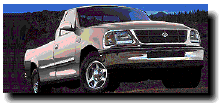 This is the new Ford F-150.
I want to buy one of these. All I have to do is convince my wife. Chevy's suck and anyone that drives a Chevy and is a man, is probably a woman.

If you want to know more about Ford Pickup Trucks, click here to go to a place called Yahoo, where you can then type in Ford and it will find stuff for you.

If you want to go back to my home page, then click here.