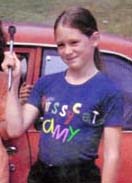 Amy!
Amy is a small brown and white puppy, only 7 months old. She is very affectionate and willing to please, but not completely housebroken. She sheds quite a bit in the summer, and her favorite toy is a chewed-up tennis ball. She eats approximately two cups of Puppy Chow each day.
Before writing for the Gift Electronique, she spent her days at the Daisy Hill Puppy Farm chasing her tail and wrestling with her siblings. She also wrote a popular advice column for the Canine Chronicle, called "Barking Up The Right Tree". Amy would like to be a guide dog when she grows up, as well as to pursue her writing career.
If you would like to provide a home for Amy, please send email to the shelter before she is put to sleep.